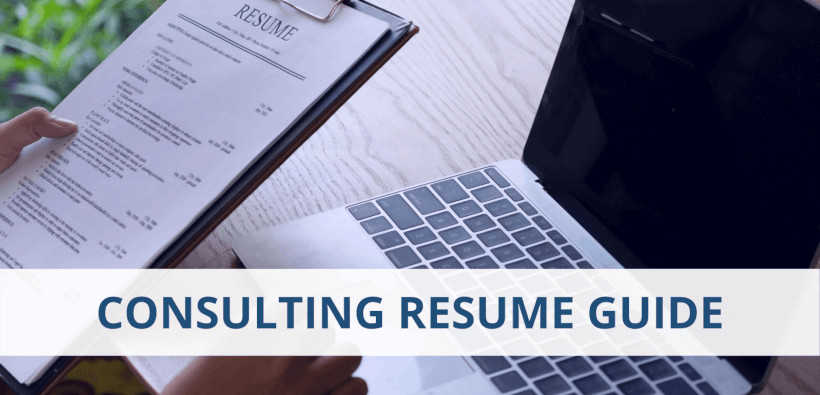 Consulting Resume – The Ultimate Guide Including CV Templates (2023)
Did you know that over 60% of management consulting applications will fail to make it past the initial screening phase? Their consulting resumes end up in the rejection pile, while the chances of a management consulting job drop to zero. Recruiting teams at top consultancies like McKinsey, BCG, or Bain (MBB) receive hundreds of applications, so they decide within just a few seconds if they want to take your CV forward. This makes your resume one of the most critical parts of the application process.
If you want to seriously pursue a career in management consulting, it is crucial that your consulting resume makes an instant good impression. Your CV must go into the actual requirements of a job in management consulting, so you can convince the reader instantly of your skills. In this article, we will explain to you step-by-step how to build a resume that will help you secure an invitation to your interview!
To be able to write a resume that is appealing to your reviewer, it is important to understand what it is they are looking for. The consulting firm is looking to hire graduates that not only have strong academic records, but that have the underlying potential to grow into the role of a consultant.
Junior consultants are never expected to be industry experts however, they are expected to possess a good balance between IQ (intelligence quotient) and EQ (emotional quotient), these should be complemented by any relevant work experience you have gained.
The skills that fall under IQ for a consultant are predominantly problem-solving and analysis. This is because the nature of consulting projects is to solve a problem the client is facing, and a robust strategy must be built on sound analysis.
Demonstrating your problem-solving and analytical abilities on your resume can be easier for candidates that studied subjects such as engineering, computer science, and economics at university as these subjects exercise both skill sets. However, even if you did study a subject that involves problem-solving and analysis, then it is still just as important to highlight when you have demonstrated these skills in any prior work experience.
Emotional intelligence is highly regarded in consulting for multiple reasons. The first reason is that a lot of the work is client-facing and so being able to build strong working relationships is important, senior partners and directors need to be confident that you are 'safe' to put in front of a client. Another reason that social skills are valued is that you will often work on small teams (3 or 4 people) and potentially work away with that team, meaning you not only work together but socialize together. Being easy to get on with makes everyone's lives easier.​
To communicate EQ on your resume, include examples of working within a team successfully (sports teams included), volunteering work, extracurricular activities, and highlight any work experience that involved client-facing elements.
You are not expected to have loads of experience as a graduate applying for a consultancy job, but any relevant experience is taken into consideration. They hold value because they can display your motivation to pursue a career in consulting, the working environments you have been exposed to so far, and allow you to demonstrate your IQ and EQ.​
Of course, the most relevant experience you can have is a prior consulting internship, the majority of applicants, don't have this experience, so what experience is valued?
Experience at big brands and investment banks is looked upon favorably by resume reviewers for a couple of reasons. One is that they have extensive application processes, so the reviewer can be confident that any candidates with experience at big brands and investment banks are probably going to be high achievers. Another reason is that, in these roles, applicants will have been exposed to similar tools to those required for the job, such as Microsoft Excel, PowerPoint, etc.​
Increasingly, consultancies are looking favorably upon entrepreneurial activities and experiences. This is partly because industry incumbents (clients) are becoming increasingly aware of the threat of rapid changes in their industries due to smaller competitors, but also because this is a clear signal of favorable characteristics for consulting, such as work ethic and creative problem-solving skills.​
Whilst big brands and entrepreneurial efforts are beneficial, they do not carry as much value as your EQ and IQ. You also cannot control the names and experiences on your CV at this point, but you can control how you portray those experiences on the page. Use any components involved in the experience in which you can highlight your IQ and EQ clearly and concisely.
You may think that you can just use your regular CV as a consulting resume. If you do so, you will most likely fail the CV screening. Regular resumes are highly different from consulting resumes. They focus on the input, such as what you have done in a company, whereas consulting resumes focus on the output, i.e., what exactly you have achieved during your position in the particular company.
You will see that regular resumes are by far more vague than consulting resumes, which aim to be as specific as possible about achievements and outcomes. Besides, normal resumes allow creative formatting and are more flexible than consulting CVs, which follow standardized rules and rigid. Here are the most important differences between regular resumes and consulting resumes that you should keep in mind when creating yours:
| | |
| --- | --- |
| Regular Resumes… | Consulting Resumes… |
| …focus on the input. Example: "I implemented xy." | …focus on the output. Example: "By implementing xy I achieved a cost reduction of xy." |
| …are vague. Example: "I finished strong" | …are specific. Example:  "I ranked #3/90 pilots" |
| …are explicit Example: "Showed excellent negotiation skills" | …are implicit Example: "Negotiated the biggest deal in company history, resulting in…)" |
| …are flexible. Example: Creative formatting | …are rigid. Example: One page, black and white, traditional font size, ordinary spacing. |
| …are forgiving. Example: Normal resumes can be longer and small errors are overlooked more often. | …strive for perfection. Example: One page should be flawless and small mistakes will be detected immediately. |
| | |
| --- | --- |
| Regular Resumes… | Consulting Resumes… |
| …focus on the input. Example: "I implemented xy." | …focus on the output. Example: "By implementing xy I achieved a cost reduction of xy." |
| …are vague. Example: "I finished strong" | …are specific. Example:  "I ranked #3/90 pilots" |
| …are explicit Example: "Showed excellent negotiation skills" | …are implicit Example: "Negotiated the biggest deal in company history, resulting in…)" |
| …are flexible. Example: Creative formatting | …are rigid. Example: One page, black and white, traditional font size, ordinary spacing. |
| …are forgiving. Example: Normal resumes can be longer and small errors are overlooked more often. | …strive for perfection. Example: One page should be flawless and small mistakes will be detected immediately. |