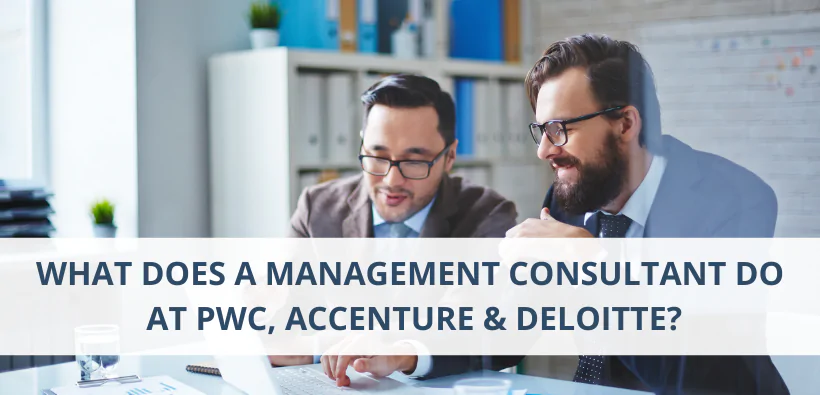 What Does a Management Consultant Do at PwC, Accenture & Deloitte?
Accenture, Deloitte, and PwC are amongst the biggest management consulting firms in the world. All three firms provide various professional services on a global level, including accounting, risk advisory, tax, and legal and consulting services, amongst others. Consulting services at all three firms are one of their largest business operations.
Management consulting is a branch of consulting that focuses on implementing change in an organization, and that can be via improving existing operations or implementing new strategies. Management consulting projects typically follow an approach originating in technology deployments i.e., pilot, learn, iterate, implement, monitor.
Management consultants tend to work in a number of industries on the implementation of projects to bring to life new and sustainable strategies that will improve company performance across a variety of business functions.
This article gives a brief overview of all three firms, explaining the various industries consultants work and specialize in, the nature of projects they have taken on as well as some notable alumni from these organizations, to give you a more comprehensive understanding of what management consultants at these firms do.

Originally founded in 1854 under the name 'Coopers and Lybrand', PwC, or PricewaterhouseCoopers is ranked as the second-largest professional services network in the world, and is part of one of the 'Big Four' accounting firms. With an annual revenue in 2017 of around $37.68 billion, it is estimated that about a third of this revenue was from their consulting and advisory services. It operates worldwide and offers a range of consulting services in areas such as IT, technology, actuaries, human resources.
In the 90s, PwC's consulting services fell under what they termed 'Management Consulting Services' or MCS. It was largely profitable due to its worldwide use of Enterprise Resource Planning systems (ERPs), which is a business management software. Eventually, MCS was renamed as PwC Consulting, and it was later announced that it would run as a separate entity to the rest of the company.
PwC's 'advisory' or management consulting services work with client organizations across various business functions, particularly in the implementation of mergers and acquisitions, customer relationship management, human resource transformation, enterprise strategy transformation, finance transformation and operations transformation. They own a large share of the global advisory market and have various areas of expertise in all the major industries, but have been known to do a considerable amount of consulting work in government, healthcare, oil & gas and financial markets.
On a global level, PwC's management consulting services are rivaled by those of the other 'Big Four' firms i.e., EY, KPMG and Deloitte as these three firms offer comparable services and have similar structures.

Founded in 1953 as an accounting firm under the name Arthur Andersen, consulting used to be a division of the organization. Both accounting and business & technology consulting divisions of the company worked side-by-side until 1989. After this, Arthur Andersen and Andersen Consulting became independent entities. Headquartered in Dublin, much of the company's operations currently occur in the USA.
Accenture is known for their technology and IT consulting services, among their other service offerings. The average consulting project's at Accenture focus on cost-optimization, efficiency and operational management. Accenture, too, has numerous practice areas such as cloud migration, cybersecurity implementation, technology transformation, digital implementation, business process management etc.
In terms of industries where they operate, Accenture covers a broad range-from aerospace and automotive to capital markets to media, communications and technology. They have taken on a large number of projects in various industries, most notably tech-related client organizations, though they have expert consultants in many other industries too.

Founded in 1945, Deloitte has been the largest professional services network globally by revenue for several years. Deloitte, similar to many of the other 'Big Four', was founded as solely an accounting firm but developed a consulting arm in 1995 when the Deloitte & Touche Consulting Group was created. As of 2017, Deloitte's annual revenue stood at $38.8 billion, of which the largest sum of money ($14.4 bn) came from their consulting and advisory service offerings.
Today, Deloitte's management consulting is within the 'Deloitte Consulting' division. The branch is further divided into sectors of Human Capital, Strategy & Operations and Technology. The majority of management consulting projects are under S&O in several key areas of business functions which Deloitte offers consulting services for such as finance, mergers and acquisitions, supply chain and manufacturing operations, to name a few.
Deloitte specializes in offering tax consulting services and is a leader in the tax industry. It also has leading consulting practices in technology and human capital areas. Deloitte offers management consulting services in consumer industries as well as energy, resources, financial services, healthcare, technology and telecommunications, to name a few.
As with PwC, Deloitte's largest competitors are the same due to the similarities they share in size, structure, service offerings and nature of projects they take on, though Deloitte as a firm has held the title of 'largest' by revenue for many years.

To give you a more thorough understanding of the type of problems that management consultants at these firms work on with leading organizations and institutions across the globe, this section aims to outline examples of past projects taken on by each company. During their many years of operations, all three companies have taken on some noteworthy and high-profile client projects such as:
Some examples of client case PwC has taken on are:
British Business Bank: (UK Government) examine fraud risks of UK's Covid-19 loan program (risk advisory)

Unilever: facilitating the sale of one of their businesses (mergers and acquisitions)

Paperchase: Covid-19 response strategy implementation (enterprise strategy)

UNDP: Covid-19 response strategy implementation (public sector/government)

Premiership Rugby: Covid-19 response strategy implementation- specifically legal issues and risk management
Some examples of client cases Accenture has taken on are:
Airbus: helped leverage wearable technology to optimize aircraft assembly (aerospace and defense)

Accenture x Rolls Royce: as part of Ventilator Challenge UK Consortium, coordinated production of medical ventilators for NHS (healthcare)

Nokia: sustainability management solution through software implementation (technology)

Rakuten Mobile: facilitating the building of the world's first virtual cloud-native telecoms network (communications & media)

Radisson Hotel Group: implementation of digitalizing operations to lover costs and improve services (travel/hospitality)
Some examples of client cases Deloitte has taken on are:
Burntisland Fabrications (BiFab): oversee administration of the company (renewable energy manufacturing)

Project Moonshot: (UK Government) Covid-19 test administration-national testing programme (government/healthcare)

Social Security Scotland: digital solution implementation to integrate IT systems within the social security programme (government/technology)

Victoria's Secret: oversee administration of the company's UK wing (retail)

British Business Bank: implementation of the Bank's 'Future Fund' aimed at supporting businesses in Covid-19 crisis alongside KPMG and PwC (government/finance)

As a management consultant, you gain significant industry experience in various markets and areas of business operations. Given how well-established PwC, Accenture and Deloitte are, it is no surprise that many former consultants of these firms go on to take up leadership roles at leading companies and even government organizations globally. Below are some examples of notable alumni who have worked at these organizations, as well as where they are now.
Ed Bastian - CEO of Delta Airlines

Phil Knight - Founder of Nike, Inc

Dhivya Suryadevara - Former CFO of General Motors

Mike Dooley - Author, speaker and entrepreneur

Karen J May - Former VP of Global HR of Kraft Foods, Inc

Richard Kramer - Chairman, President and CEO of Goodyear Tire and Rubber Company
Scott Davis - Former CEO of UPS

Michael D White - Former VP of PepsiCo

Brad Feld - Founding Partner of Foundry Group
Orin C. Smith - Former CEO of Starbucks

Fred Goodwin - Former CEO of Royal Bank of Scotland

Sergio Marchionne - Former CEO of FCA, Ferrari, Maserati

Pierre Pettigrew - Former Canadian Minister of Foreign Affairs