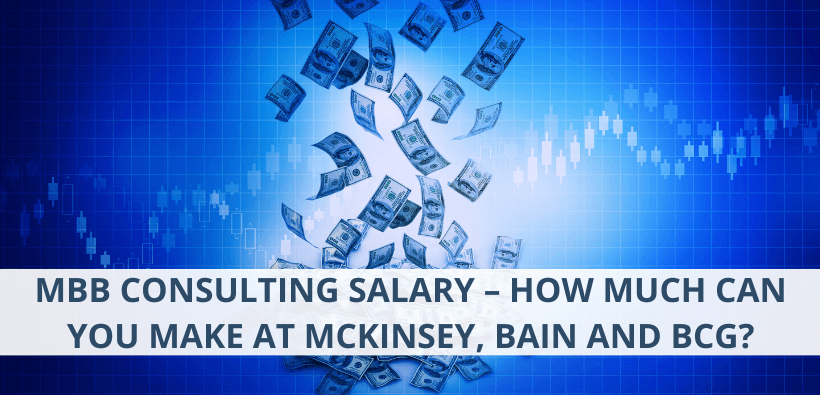 MBB Consulting Salary – How Much Can You Make at McKinsey, Bain and BCG?
Have you ever wondered what the salary is like at these three leading consulting firms?
That depends on a variety of factors, of course. But one thing is clear: At MBB, you have the opportunity to make a career and draw an above-average salary. Our expert Francesco explains why the jobs at MBB are so attractive and what kind of salaries you can expect. The coach also goes into what you should expect in terms of competition in the application process and in the company itself, and what factors besides salary should be considered when choosing a company.
What to Expect in This Article

Management consulting has always been a very attractive career, with top consulting firms being one of the highest-paying employers outside financial services, Big Tech, and corporate law. Amongst these top consulting firms, McKinsey, the Boston Consulting Group (BCG), and Bain – collectively known as the MBB firms – stand above the rest. They recruit from some of the best schools and have rigorous recruitment processes that result in acceptance rates far below those of the schools they recruit from. For example, McKinsey is notorious for having acceptance rates as low as 1%.
These insanely low acceptance rates are a testament to the allure of the MBB firms. Besides usually paying the most, they also offer fast career progressions and provide the best opportunities for a subsequent career in other highly desirable domains, such as private equity, product management, and corporate strategy. Additionally, joining these firms also comes with substantial prestige and a sense of fulfillment, as successful applicants will get to work with some of the best minds available on challenging yet highly impactful projects across the world.
With the global economy recovering from the pandemic, recruitment in management consulting has picked up again in 2021 following a slow 2020, and this trend is expected to continue in 2022 and beyond. Accordingly, this article will specifically explore the compensation packages offered by the MBB firms.
The offer package usually consists of the base salary, performance-based bonuses, signing bonuses, pension contributions, and potentially relocation assistance. Note that the figures below are for the US offices only, as the US is the largest market for consulting. Pay in other MBB offices tends to vary depending on their geographical region, but, in general, they tend to be lower outside the US.

Below are typical US compensation packages for the MBB firms at the two most common entry levels. The salaries for new college graduates (undergraduate and masters) are shown in the table below:
The compensation packages for MBA, Ph.D. (or equivalent level for experienced consultants) are presented in the following table: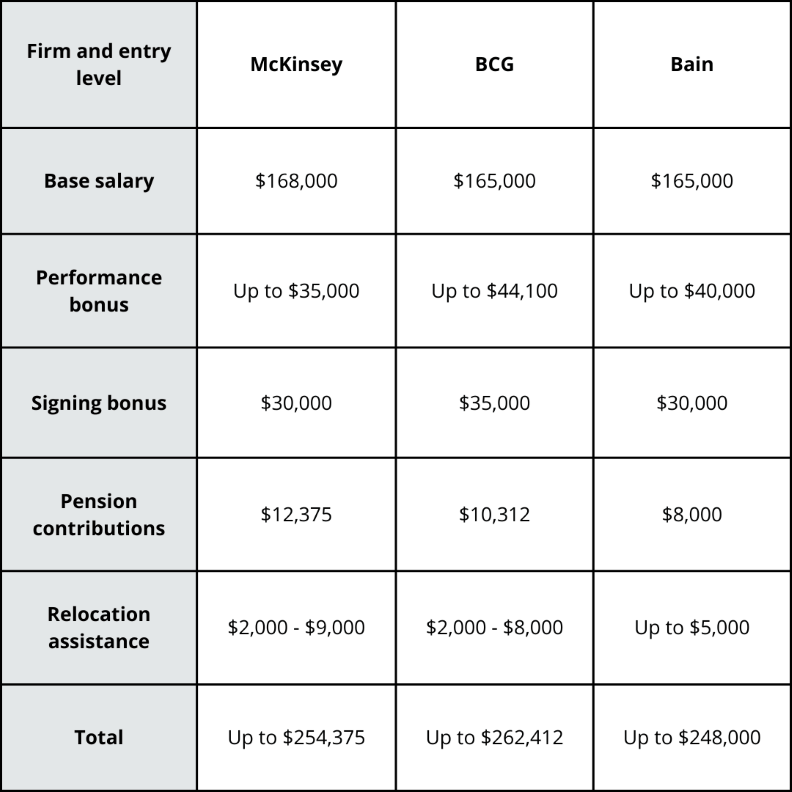 The remuneration looks very attractive, right? Well, this is just to start. MBA hires have reported annual raises in both their base salaries and bonus packages by double-digits, and this is excluding promotional salary bumps.
Once a consultant is promoted to manager (2-3 years post-MBA; 4-5 years post-college), their base pay increases to around $220,000. Bonuses also increase to around $90,000 - $130,000 (unfortunately, no reliable detailed breakdown between firms and remuneration components is available for this position). Be a rock star for another couple of years, and one could see themselves becoming a partner in their respective firms. This is where the real money is made; in fact, senior partners are expected to bag more than $1,000,000 every year.
With compensation like that, it is little wonder that candidates spend months networking and preparing for their interviews - who would not want to make six digits straight out of undergrad?
Finally, while many candidates join the MBB firms full-time directly, some first join as interns to get a taste of the consulting life and are later offered full-time positions (if they performed satisfactorily during their internships). These interns are also well compensated, often with salaries close to the pro quota of the full-time base salaries (the firms want them to come back, after all).
If you would like more information on how to successfully apply for an internship at McKinsey, click here.

It is important to note that these are ballpark compensation figures and there will be slight variations, especially between offices from different cities (although nothing major, as the MBB firms, usually offer the same salaries at each career level for offices within the same region). There is also some room for negotiation: for individuals joining immediately after their university or business school, this is usually limited to the signing bonus and relocation assistance; however, experienced hires will have more room to negotiate their base salaries and, in some cases, their seniority (which in turn also influences their overall compensation package).
Additionally, these figures are for generalist roles. The compensations (and career progressions) for the implementations/operations and digital practices of the MBB firms differ somewhat from their generalist counterparts. Nonetheless, the MBB firms have been rapidly growing these practices; therefore, deep industry knowledge and skills in project management, change management, and digital transformation are in high demand. Individuals joining these practices with the aforementioned skills may have the leverage to negotiate a more lucrative compensation package.

While the MBB firms will always be a top-tier graduate destination due to the associated prestige and career opportunities they unlock, their financial edge has been challenged in recent years. Boutiques and the strategy consulting arms of the Big Four accounting firms have begun offering increasingly attractive packages. For example, EY-Parthenon and Strategy& (part of the PwC network) were both reported to offer post-MBA packages that were higher than their MBB counterparts in a few countries. With firms increasingly competing for limited talent, it will be exciting to see how consulting compensation packages evolve in the coming years.

While pay is a key consideration when choosing which firm's offer to accept, or even which firms to apply to, it should not be the only factor under consideration. Some other factors to consider include:
While all three of the MBB firms have clients across all the major industries, each firm has sectors where they are the dominant consulting firm. For example, Bain is famous for its work with the private equity sector, with many PE firms approaching the firm for due diligence projects. Another example is McKinsey having a long history of working with the Federal Government. Every person has their own career aspirations and goals, and the choice of a firm should reflect this: someone interested in eventually exiting to a private equity firm may prefer joining Bain as it gives them the most opportunities to develop relevant skills and experience, as well as network with industry insiders; similarly, someone interested in pursuing a career in public service or taking up a public office might consider joining McKinsey as it provides the best opportunities to learn about the inner workings of government and policy-crafting. 
While individuals across different industries are increasingly prioritizing cultural and lifestyle fit over prestige, the latter is nonetheless still a key consideration in the management consulting industry. If you are someone who would pride yourself on working for a particular firm, you will likely take this into account when making your choice.
As a management consultant at one of the MBB firms, you can expect to spend up to 70 hours or more at work each week. You will be flying to the client's office together with your colleagues, you will be making the finishing touches to your SteerCo deck together in the taxi, and you will be crunching numbers on Excel together in your hotel lobby. Therefore, it is important that you connect well with your colleagues; otherwise, your time with the firm will be miserable. If your interactions with the firm throughout the recruitment process are not enough for you to form a picture of what it is like to work there, you can also consider reaching out and talking to the firm's consultants outside of the recruitment process. 
When you work for one of the MBB firms, you can expect work to take up a large part of your day-to-day life. There will be endless deadlines and long nights. However, it is still important (maybe even more so) that you take care of your physical and mental well-being. The firms have recognized this and have rolled out several work-life balance initiatives in recent years. Be sure to take these into consideration.
While the career paths are almost the same between the MBB firms, they do somewhat differ in the factors they consider when deciding on a promotion. Some firms might place greater importance on certain factors compared to others. This information is usually not readily available; nonetheless, it is always a good idea to try and talk to senior consultants to learn more about this before making a final decision.
Overall, these factors are not exhaustive. You might not care about some of these at all, or there may be other elements not mentioned above that you deem important enough to be considered when deciding between firms. Additionally, the relative influence of these factors on your decision will be unique to you - some factors will be more important to you than others. Regardless, it is up to you to make an informed decision using a combination of them.
#1 Expert for Coaching Sessions (4.000+) | 1.400+ Reviews with 100% Recommendation Rate | Ex BCG | 9+ Years of Coaching
Professional Experience: BCG
Languages: English, Italian, Spanish
Location: Singapore
Francesco is an interview coach, former BCG consultant, and tech entrepreneur. He is the #1 coach on PrepLounge.com for meetings done, where he completed more than 4,000 expert sessions. As a coach for consulting interviews, Francesco helped hundreds of candidates to land offers from McKinsey, BCG, and Bain. Since 2016, he organizes consulting boot camps in some of the leading universities in Europe. As a consultant, Francesco joined BCG in the Milan office, where he worked on projects in the energy, industrial goods, and consumer goods sectors. After BCG, he worked in venture capital in Germany as an angel fund associate. As an entrepreneur, Francesco founded two companies in Europe and Asia in the entertainment and EdTech sectors. He is currently leading a Singapore-based company and supporting startups as a strategic advisor.
Further Interesting Articles for You