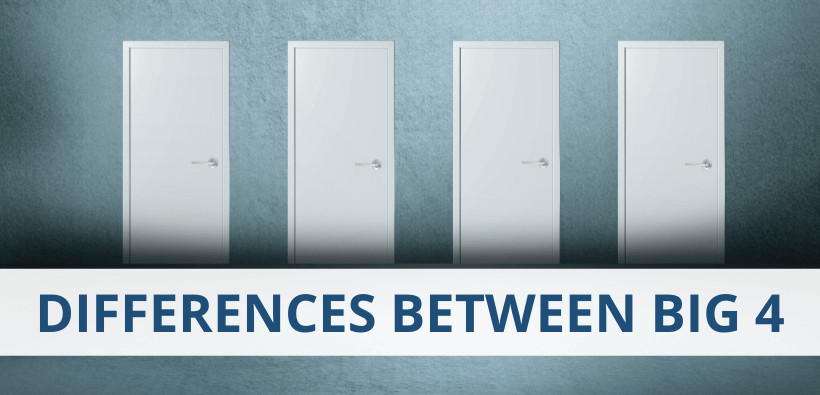 What Are the Differences Between the Big 4: KPMG, PwC, EY, Deloitte?
The Big 4 is the name given to the four biggest accounting firms in the world. They are: PricewaterhouseCoopers (PwC), Ernst & Young (EY), Klynveld Peat Marwick Goerdeler (KPMG), and Deloitte. All of them have grown to be multi-billion-dollar firms that employ hundreds of thousands of people across the globe. According to their own financial statements of 2022, they have a combined total revenue of nearly 190 billion dollars.
The four accounting firms offer a wide range of services, including audit, tax, risk management, financial advisory, accounting, management consulting, and more. They are known for their vast expertise and high prestige on a global and local level.
The history of the Big 4 dates back to the 1800s, when the first accounting and consulting firms were founded. Initially, the term "Big 8" was coined in the 1980s to refer to the eight largest international accounting and consulting firms at the time: Arthur Andersen, Arthur Young, Coopers & Lybrand, Deloitte Haskins & Sells, Ernst & Whinney, Peat Marwick Mitchell, Price Waterhouse and Touche Ross.
Due to a series of mergers and acquisitions in the 1980s and 1990s, the Big 8 became first the Big 6 and eventually the Big 5, with Ernst & Whinney merging with Arthur Young to form Ernst & Young. In addition, Deloitte, Haskins & Sells merged with Touche Ross to form Deloitte & Touche. Coopers & Lybrand and Price Waterhouse merged to form PricewaterhouseCoopers, and Peat Marwick Mitchell became KPMG.
The Big 5 eventually became the Big 4 following the scandal involving accounting fraud at the energy company Enron. Thus, in 2002, Arthur Andersen, the fifth member of the then Big 5, was dissolved. Since then, Deloitte, PwC, EY and KPMG have been known as the Big 4 and dominate the market for auditing, accounting and consulting. The majority of listed companies in particular rely on the Big 4, both nationally and internationally.
The Big 4 are regarded as one of the most reputable graduate employers and have been the training ground for many business leaders. But what are the differences between the Big 4? If you want to find out, read the article below.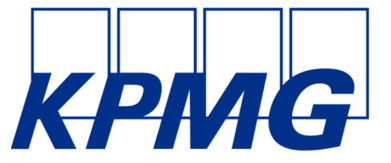 Revenue: $34bn+ (2022)
Employees: 265,000+ (2022)
Offices: 650+
Countries: 147
Revenue: $34bn+ (2022)
Employees: 265,000+ (2022)
Offices: 650+
Countries: 147
Background: Despite its position as the smallest of the Big 4 firms, KPMG has respectable annual revenues of $34.8 billion in 2022 and employs about 265,000 people worldwide. Headquartered in the Netherlands with offices in over 147 countries, KPMG provides audit, tax, business advisory, and deal advisory services. KPMG is known for its strong performance in audit and is an attractive choice for those looking to build their career in a dynamic and flexible work environment. KPMG has roots in the Netherlands, the United Kingdom, and the United States. Starting in 1815, the company grew via a number of mergers and acquisitions but it was in 1979 when the first signs of KPMG appeared when three firms merged; Klynveld Kraayenhof & Co. (NL), McLintock Main LaFrentz (UK / US) and Deutsche Treuhandgesellschaft (DE) formed KMG (Klynveld Main Goerdeler).
Then in 1987, the first 'mega merger' of accounting firms happened when KMG merged with Peat Marwick to form KPMG.
KPMG divested its legal disputes and consulting practices. It has since built these practices back up in a similar fashion to the other big four firms and offers a full range of professional services.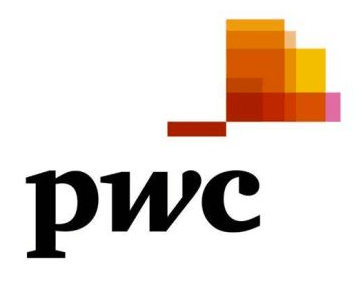 Revenue: $50bn+ (2022)
Employees: 328,000 (2022)
Offices: 742
Countries: 157
Revenue: $50bn+ (2022)
Employees: 328,000 (2022)
Offices: 742
Countries: 157
Background: PwC was formed in 1998 by the merger of two accounting firms with a history dating back to the 19th century; Coopers & Lybrand and Price Waterhouse. PwC, with annual revenues of $50.3 billion in 2022, also has an impressive staff of about 328,000. Headquartered in London with offices in more than 155 countries, the firm has a broad international presence. Originally founded in 1849, PwC provides audit, tax, management consulting, and internal corporate services and is known for its excellence in auditing. The firm particularly attracts those seeking strong training and career development, supported by robust internal professional development opportunities.
Since the merger, PwC has expanded from its accountancy roots into other professional services including consulting, law, and transaction advisory, and works on more transactions (acquisitions, mergers, and financing) than any other company in the world.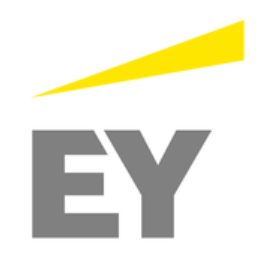 Revenue: $45bn+ (2022)
Employees: 365,000+ (2022)
Offices: 700+
Countries: 150+
Revenue: $45bn+ (2022)
Employees: 365,000+ (2022)
Offices: 700+
Countries: 150+
Background: EY is the result of a number of mergers between UK and US accounting firms over the last century. The key three mergers were between Whinney, Smith & Whinney (UK), Ernst & Ernst (US), and Arthur Young & Co. (US). These mergers resulted in a new company named Ernst & Young. 
Notably, Ernst and Young planned to merge with rival KPMG in 1997 but the deal fell through due to antitrust issues, client opposition, and cost. The company rebranded as EY in 2013 and also acquired Parthenon consulting to expand its consulting practice. 
EY, the third largest of the Big 4 firms, had revenues of $45 billion in 2022 and employs more than 365,000 people worldwide. Headquartered in London with a presence in over 150 countries, EY offers a wide range of services including audit, tax, business advisory, transaction advisory. EY is particularly known for its commitment to business ethics and compliance. The firm is therefore particularly attractive to those who value high ethical standards and social responsibility in their work.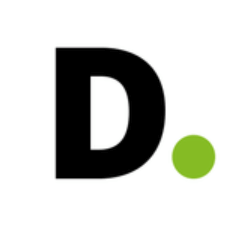 Revenue: $59bn+ (2022)
Employees: 415,000+ (2022)
Offices: 700+
Countries: 150+
Revenue: $59bn+ (2022)
Employees: 415,000+ (2022)
Offices: 700+
Countries: 150+
Background: Deloitte was originally founded in London in 1845 but grew via mergers and acquisitions later in the 20th century with other accounting firms such as Haskins & Sells, Touche Ross, and Arthur Andersen. Deloitte is the largest and one of the oldest Big 4 firms. Deloitte impresses not only with revenues of $59.3 billion in 2022, but also with more than 415,000 employees worldwide. Headquartered in London, the company also has offices in more than 150 countries. Deloitte is known for its wide range of services in the fields of auditing, tax consulting, management consulting and risk management. The firm is particularly attractive to graduates interested in applying technology and innovation to management consulting.
All four companies have similar services, including audit, accounting, tax and management consulting. They all have a strong international presence and impressive revenue figures. Despite these similarities, each firm has its own strengths and specializations that set it apart from the others.
In all the considerations of whether PwC, KPMG, Deloitte or EY is the right company for you, it should be taken into account that the company fits your individual career goals and personal preferences. In the following, we have tried to define the most important aspect that could convince you to apply to the respective company. After all, the Big 4 differ significantly in their strategic focus areas, which should simplify a decision depending on the focus.
The leader in auditing is PwC. They are known for their high quality and rigorous approach, which creates a high level of confidence in their audit results. Here, about 44% of total revenue per fiscal year is generated from auditing, which is well ahead of all other competitors.
KPMG, on the other hand, is increasingly focusing on the consulting business. Since an audit mandate may not be accepted in parallel with consulting, the share in auditing is accordingly much lower. KPMG is investing heavily in digital transformation and the use of technology to improve its services. This offers employees the opportunity to work in an innovative environment and familiarize themselves with the latest technologies and digital tools.
At Deloitte, the so-called Audit & Assurance business is in first place, followed by Risk Advisory. Thus, Deloitte has a strong focus on advisory services, which are a significant growth driver for the company. Deloitte invests heavily in the development and expansion of these advisory services, which gives employees the opportunity to work on exciting and innovative projects.
Fourth in line, EY has positioned itself as a leader in business ethics and sustainability. EY has received numerous awards for its sustainability, social responsibility and diversity, and inclusion efforts, and offers employees the opportunity to work in an organization dedicated to creating positive social change.
If you want to compare the Big 4 with MBB check our article about the differences between the Big 4 and MBB.
The Big 4 companies offer numerous opportunities, both in terms of developing professional skills and the chance to work in an international environment. Regardless of which company you choose, each Big 4 firm offers a unique work environment and career opportunities that can lay the foundation for a successful career in management consulting.

Perhaps unsurprisingly there is little difference in the glassdoor ratings of each firm and this most likely reflects the similarity in work they do and the constant movement of employees between them.
All of the firms are ranked in the top graduate employer lists consistently year on year and are deemed to be great places to work.
Taking a look at the keyword counts we can see what is good and bad about each of the big 4 accounting firms from the perspective of the employees.

The themes that are common to all four firms are low pay and long hours. In the professional services world, it is very common to work 12 hours + days, 5 days a week. For the audit teams, this is compensated for in part by the sponsoring of exams which cost tens of thousands alone.
The work environments and people also score highly across the four firms. With huge revenues, they can afford luxury offices in popular areas of the cities in which they are present. This makes the environment pleasant.
Interestingly, EY is the only company to have office politics mentioned frequently in their negative reviews suggesting this is an issue that EY struggle with significantly more than the other three.
Deloitte has a heavy focus on the quality of their people whilst the other three balance people, environment, and learning opportunities between them.
At this level of detail, there is still little difference between the big four firms.
Making a job decision based on salary is unashamedly important but asking the question in the interview room is not always appropriate. Looking across the big four firms, there are differences in salary between the four and also between the professional service practices e.g. the strategy consulting practice of PwC, Strategy&, pays roughly 50% more in starting salary than they do for audit graduates.
For entry-level positions, EY and PwC pay roughly the same and about 10% more than Deloitte and KPMG. All firms pay similar bonuses on top of the base salaries offered.
In summary, there is little difference between the big four firms but if you want to focus on digital consulting work then Deloitte may be the best choice for you, for tax it is probably PwC and for audit, there is probably negligible difference and so the 10% higher salary at EY and PwC is probably the deciding factor.