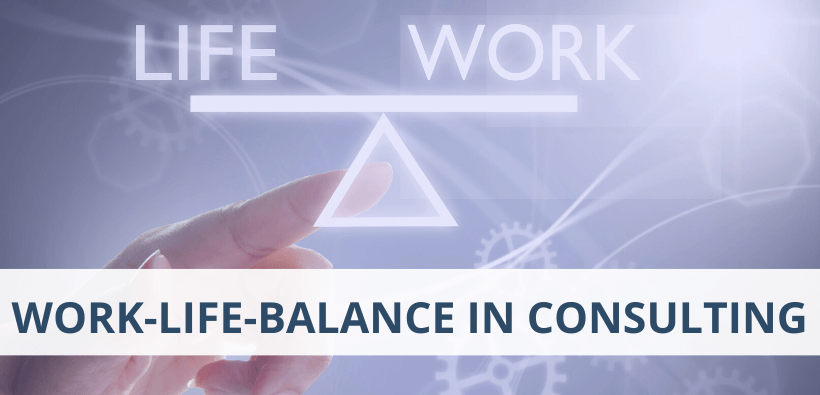 Work-Life-Balance in Consulting – Everything You Need to Know
Consulting is a glamorous career, and for many good reasons. The CEOs of numerous top firms started their career at MBB, where consultants get paid handsome salaries and receive top-notch benefits. Overall, the role has a high prestige factor associated with it.
As with all top jobs, this comes at a high cost, namely that of a lack of work-life balance. In consulting, there is an unsaid expectation that the work involved is going to take long hours and that ends up being a self-fulfilling prophecy. Additionally, what consulting has that other demanding careers like Banking and PE do not have is weekly travel for work. Time spent traveling can greatly eat into the time one has to unwind and spend with family and friends or pursue other interests.
This combination of long workdays and endless travel can make consulting difficult for sustaining a balanced life. So how does one counter it? Broadly speaking there are four steps that can help you find a better work-life balance while consulting.
The most important thing you can do before you start your career as a consultant is to be mentally prepared for the long hours. The following are 3 helpful ways to prepare for the long hours ahead:
Consulting is not for everyone and the long hours can seem okay in the initial stages but have a tendency to creep up on your life as you get settled in. To perform at your best throughout your consulting career, it is important to have a clear conception of why you choose to do the job. It could be as simple as that you need 2 years here to get to your dream role or even that consulting is the best career path for you as you enjoy influencing decisions made by executives at large firms. Something that only consulting will let you do at this time. Whatever your why is, make sure it is valid and works for you.
It is truly hard to imagine what life is like prior to starting your first project. Try your best to replicate this by noting down where and how you spend your free time and what activities give you the most happiness and meaning.
Accept that despite your best efforts, things can and will go awry. There is always a high chance that your flight is delayed, that you are asked to work on a weekend, or that you will be staffed on a very demanding client project with long hours. There are things we cannot control and they have a tendency to impact our lives as a whole. If you accept that this is likely to happen, you can control your reactions to it better and with good planning/foresight minimize the impact it can have.
At the end of the day, the people you work with, and travel are the two largest factors that impact a healthy work-life balance. Optimize for both during your consulting career:
We all have different priorities for what is important for our well-being. For me it was not traveling every week for work - the best way to do that was to work in an industry that is in the location I live in. Examples of this are Oil and Gas in Texas, Finance in NYC, Pharma in Boston, etc. The more you can optimize the office preference for the industry the less likely you will have to travel for work every week.
The truth is that not everyone cares about work-life balance. There are many people in consulting who want to work long hours for all the wrong reasons. Either they think it makes them 'better' or they feel like if they don't, it reflects poorly (insecure), or they are hanging on to some weird notion that working 18 hours a day produces better outcomes than working 10 hours a day. Either way, the people you work with will have the biggest impact on your work-life balance. The best way to work with the right people is to ask around to see which partners are known for delivering good work and taking care of their teams. Many partners will burn teams to the ground for their own success, but the best ones will be universally known to be caring mentors.
A powerful thought that was common at McKinsey is that we are each individually and collectively responsible for ensuring a good working environment. This means that everyone should proactively discuss and follow guidelines that work for them and the team without compromising the quality of the output.
When you start a project, there is usually a discussion on team norms of some kind. The purpose of the session is to collectively agree on a set of working norms as a team. This is a great opportunity to agree on actions that can make your life more balanced. For example, you can agree to start at a certain time every day (barring early meetings) or to work from the hotel/home after 6 pm instead of working from the client site or office. Another thing to discuss here is whether you want to fly to the client site every week or every other week and the number of days to spend at the site. All of these are small things that add up over time to help with a better work-life balance.
While work tends to always take priority at MBB, we all have certain activities that are important to us. For some this is spending time on a video call with their children or partner, for others, it is getting in a workout during the day or spending an hour on meditation. Whatever your priority is, have a clear boundary on what is nonnegotiable and make it clear to the team that during that time you will be unavailable for any team meetings or discussions.
Typically consultants enjoy going out for team dinners and events to take a break from work and as a team bonding exercise. While fun, these can often eat into personal time, and very frequently you might have more work after team dinners. Pick events that make sense for you depending on what you value most (sleep vs great sushi) and how it fits in with your overall goals.
Consulting firms know that life as a consultant is not easy and that burnout is extremely common. To mitigate the effects of demanding projects, firms offer various benefits that many consultants fail to take advantage of. It is in your best interest to take full advantage of these opportunities to recover and recharge at regular intervals.
Most firms give a healthy amount of PTO to consultants. Make sure you take the time off you need to recover and recharge. There is often the temptation to push PTO out till one is completely burned out. A more sustainable approach to schedule regular PTO so you feel refreshed throughout the year.
Sometimes regular PTO is not enough time off to recharge from demanding projects or to work on your personal goals. Many firms offer the option to take additional time off without pay. For example, at McKinsey, many consultants can take up to 12+ weeks off a year including vacation if they accept a 20% pay cut in return. For a lot of consultants, this tradeoff in pay is completely worth the lower income.
Often, firms pay for concierge services to make life easier. For example, the ability to hire someone for tasks such as getting the oil changed in your car or organizing a function such as a birthday party, etc.
Many firms will pay 100% of out-of-pocket expenses for a therapist. Make use of this service as needed. Therapy can be great as a way to ease stress and have an objective view of stressors and anxieties in your life and work.
I hope these strategies above can help you accomplish your work-life balance goals in your consulting career. The reality is that a career in consulting is very demanding on your time and energy, which is why most people choose to quit in two years or less. To make consulting work, in the long run, it has to be sustainable, and it has to work for you so do all you can to enjoy your career both during and outside of work.
Top rated McKinsey Case & PEI coach/Multiple real offers/McKinsey EM in New York /6 years McKinsey recruiting experience
Professional Experience: eBay, McKinsey & Company
Languages: English
Location: United States
Udayan is a 5-star rated coach at Preplounge with several years of experience at eBay and McKinsey. Over the past 10 years, he has helped more than 200 students master their interviews and get their desired jobs. Through his years of experience at McKinsey in New York, London, and India, he focuses on management consulting and specifically on the McKinsey interview-led recruitment process. Moreover, he provides networking help and resume and cover letter reviews.