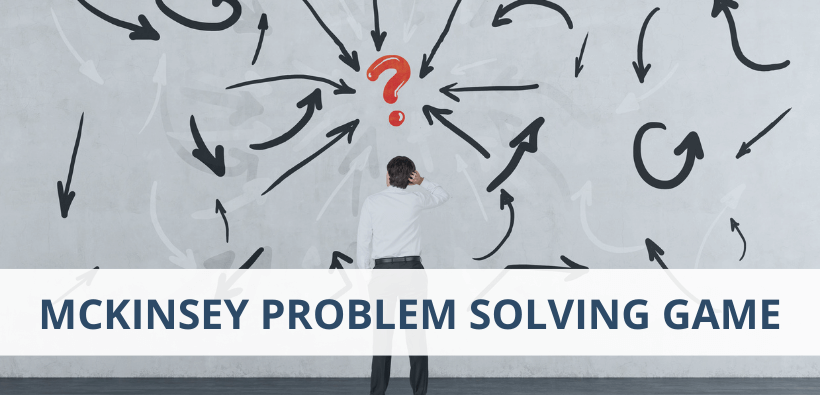 McKinsey Problem Solving Game – Guide 2023
Games-based assessments are being used by a number of the top strategy consulting firms now. BCG has partnered with Pymetrics and launched a BCG Online Case, Arctic Shores is working with Strategy& (via PwC), and McKinsey launched their problem-solving game developed with Imbellus in 2019.​
The game (officially called Solve, but also referred to as the problem-solving game/PSG, the Imbellus game, or the digital assessment) replaces the in-person, pen-and-paper te­st that McKinsey has used for many years up until recently (the McKinsey Problem Solving Test). The game proved very effective in assessing candidates more holistically while reducing bias against those unfamiliar with standardized testing and helping scale recruitment during the era of pandemic-driven lockdowns. As of May 2020, it has been used to test 15,000 McKinsey applicants in more than 30 countries. These numbers have undoubtedly grown exponentially since then as more cohorts take the test and McKinsey rolls it out to the rest of its firm network.​
Overall games-based assessments are gaining popularity for the ability to filter down the candidate pool in an intuitive, unbiased way that tests both numerical reasoning and logical reasoning skills. The McKinsey digital assessment is used for exactly that purpose.
The McKinsey digital assessment provides a way of testing candidates' thinking ability and personality traits that are harder to revise for and therefore offers a way of testing that does not reward those that prepare more extensively. It also provides a safe environment to test how comfortable candidates are making decisions with imperfect information, a skill particularly important for strategy consultants.​
McKinsey prides itself on being a firm with some of the leading thinkers in the world and has been described as the 'CEO factory' for its alumni list that includes Cheryl Sandberg (COO of Facebook), Sundar Pichai (CEO of Alphabet and Google), James Gorman (CEO of Morgan Stanley), and many more. For this reason, it is unsurprising that their games-based assessment focuses on testing thinking over personality traits.​
The five skills that McKinsey specifically looks to test with their digital assessment are:​
Critical thinking is the conceptualizing, analyzing, and synthesizing of information based on observation, experience, reflection, or reasoning. For strategy consultants such as McKinsey, this is an important skill as client problems are often unique and complex. To reach clear and concise recommendations or conclusions, strategy consultants must practice strong critical thinking skills to reduce the noise down to the critical points only.​
Decision-making based on fragmented, imperfect information is critical as McKinsey advises some of the world's largest companies. The discipline of strategy consulting brings structure and logic to some of the most important decisions CEOs will make in their tenure and so McKinsey expects all their consultants to be competent and comfortable making decisive decisions.​
Metacognition is the ability to assess your own thinking and learning. Throughout a client engagement, a consultant's knowledge and information base will increase and perhaps change the previous opinions put forward. The ability to critique and change thinking and logical reasoning based on the emergence of new information is important to reach the best possible outcome for the client.​
Situational awareness has historically been tested using situational judgment tests and is the decision-making of an individual in a social-based scenario, such as the workplace. As consulting is a project-based, client-facing profession, the ability to make sound, appropriate decisions is important to building and maintaining working relationships.​
Systems thinking is the holistic approach to analysis that considers the whole system, its individual parts, and how they interact with each other. Organizations and business models can all be conceptualized using systems thinking and it is also a strategy consultant's preferred way to isolate issues and present recommendations as it makes it easy for clients to understand their thinking and where it fits in the wider picture.
It is important to note that candidates are continuously assessed on these traits throughout the game and not just based on the outcomes at the end. Even something as minor as a keystroke, a click, or a movement of the mouse will be tracked and assessed. The traits will then be benchmarked against a benchmark to see if the candidates will be a good fit for the firm.