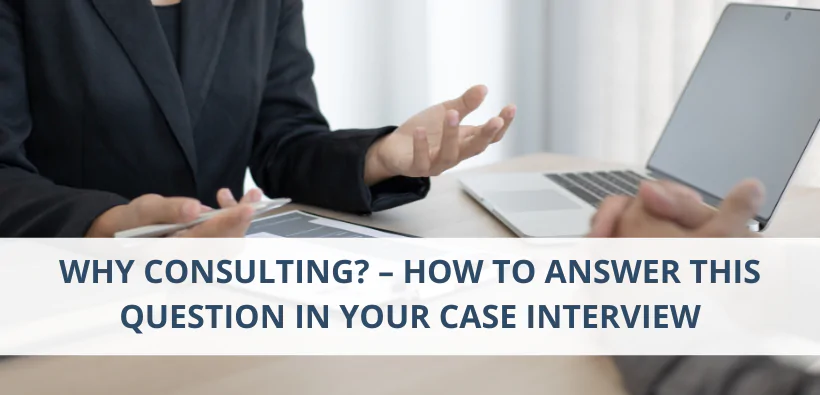 Why Consulting? – How to Answer This Question in Your Case Interview
"Why consulting?" – It's one of the most common questions during your case interview and as it's so predictable, make sure to be prepared. Top firms such as McKinsey, BCG or Bain ask the "Why consulting" question to assess your motivation for the job and find out if you are a good personal fit for the position as management consultant. After all, consulting is not only one of the most prestigious industries to work in, but also known for its long working hours and competitive work environment. It's not a job for everyone, and interviewers want to make sure that you know what you are getting yourself into and choose this demanding career path for the right reasons.
In this article, we will cover what interviewers expect when they ask the "Why consulting?" question and how you can shine with your answer. We will also present you some sample answers and give some tips and tricks.
A lot of candidates in consulting interviews think that the question "why consulting?" is just a conversation opener or a formality to check off. However, if this would be the case, you would not get this question from every single interviewer you are talking to. The real reason why interviewers ask this question so frequently during case interviews is that it helps them to instantly separate good from bad candidates. In general, this question assesses four major criteria that are crucial for the job in management consulting. They want to know:
1. Do you have a basic understanding of the job in management consulting?
By asking the question "why consulting", the interviewer can analyze whether the candidate understands what the job and role are really about. This allows the interviewer to seed out candidates who only applied because of the popularity of the job or its exit opportunities. After all, there are also many candidates who apply because in a lot of cases the application itself only requires your consulting resume and not even a cover letter. This wave of applicants can be broken by this question that gives insight into a candidate's real intentions behind the application.
2. Are you able to think in a structured way?
The candidate is not only required to think in a structured way during the case-solving part of the interview but also when answering any other question during the interview including "why consulting". The job of a management consultant requires taking up a lot of data, information, and complex problems and break them down into manageable problems in a structured way. Therefore, it is also important to show consistent structured thinking by delivering a coherent and structured answer to "why consulting".
3. Can you communicate well?
We cannot repeat this more often: Consulting is a people's business. You will be working closely with clients, industry leaders, and other team members with who you need to effectively communicate. Your interviewer wants to see you communicate concisely, confidently, and clearly! This question must be seen as a mini-pitch in which the recruiter wants to see whether you have the communications skills to present yourself in front of a client. Make sure to practice your answer to this question before the actual interview to make your reasons clear and easy to follow.
4. Do you have the passion and enthusiasm for management consulting?
The recruiter wants to see if talking about the job brings a sparkle to your eyes and a smile on your face. Generally, a consulting firm needs consultants who are willing to stay in the firm and not those who will lose motivation and interest after a few months. Showing your passion for the job while answering "why consulting" will show the recruiter your enthusiasm.
In anticipation of the questions about which answers are desired in "Why Consulting" and which are not, here is a foretaste of what your answers can trigger in the interviewer: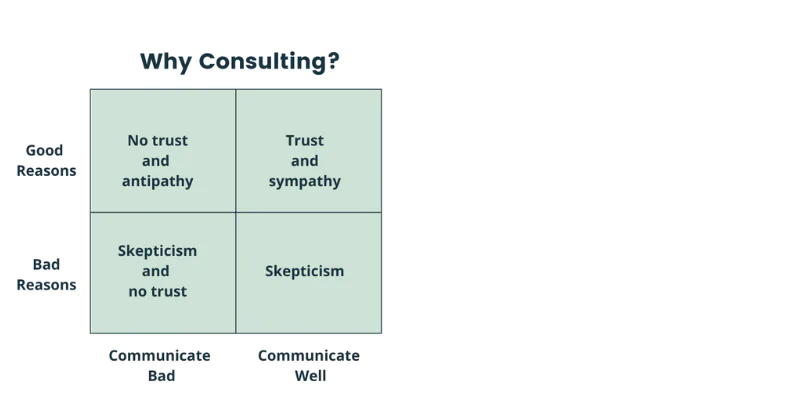 During your case interview, the interviewer not only wants to find out whether you have the right skills for a career in consulting, but also if you have the right motivation and want to join for the right reasons. They want to see if your expectations of the job match the reality and try to find out if you will be happy with this career path in the long run. Hiring (and firing) is expensive, so it does not make sense to recruit candidates that will only stick around for a couple of months, use the brand name to polish their CV and then run off to the next career opportunity.
With the "Why consulting?" question, MBB and other consulting firms want to make sure that you will be a good personal fit for the job and can handle the demanding requirements that come along with it. They expect stories of evidence that you will manage and enjoy the environment in consulting, which includes the following specifics:
Consulting is a very fast-paced, high-pressure environment. Deadlines are tight and client-expectations high. You will constantly need to deliver excellent results despite a very high workload. Full commitment and ambition are necessary to keep engaged and stay motivated, even with working hours of up to 14 hours per day.
If you want routine, predictability and order, consulting may not be for you. Projects can be fast-changing, complex and diverse. You may work on topics that you do not know anything about and need to be able to familiarize yourself quickly with new problems, industries and functional areas. Your ability to cope with uncertainty, embrace the unknown and face ambiguity needs to be very high in order to be successful as a consultant.
Consulting is people's business. You will work very closely with clients and team colleagues, so you need to be open-minded and emotionally intelligent. Good communication skills, empathy and flexibility are very relevant to build strong relationships with a variety of stakeholders.
Does that seem like a work environment you would enjoy? If the answer is a clear "YES", let's go on with how to communicate that during your case interview. If the answer is a "Maybe", do some more research on the industry, exchange your doubts and fears with other candidates (for example in our Consulting Q&A) and talk to (former) consultants to get a clearer picture if consulting is really the right career path to go. And if your answer is "NO", don't worry: There are plenty of other great career opportunities out there for you.
So, what should you answer when the interviewer wants to know: "Why consulting?"
First of all: Be authentic and honest. If you have stuck to our advice in the first part of this article, you have thought this career decision through and concluded that consulting is the way for you to go. So, no need to get nervous. Now, you only need to make your reasons clear to the interviewer.
Just as for the rest of the case interview, structure is key when lining out your motivation to become a management consultant. Come up with the three most important reasons for you to seek a career in consulting. Bring them in a logical order and explain to the interviewer how they fit in with your experience and skill set.
When communicating your answer on "Why consulting", be clear and concise. A good answer does not take longer than two to three minutes. Show self-confidence by looking your interviewer in the eyes and speaking up. Don't ramble around and don't be shy. The interviewer wants to get to know you, and there is no better way to deliver what he or she wants to see than being open and sharing aspects of your personality (especially the ones that fit the requirements of a job in consulting, of course 😉).
After all, a great answer to the "Why consulting" question is always one that is personal and specific. Stand out of the crowd and don't bore the interviewer with a standard answer that could have come from anyone. Make sure to tell personal stories that reflect who you are and why you are so enthusiastic about working in consulting. Demonstrate that you know what to expect (in terms of fast-paced work environment, demanding projects, stakeholder management etc.) by talking about situations where you have worked in a similar context and really enjoyed it. If you can show that you not only have experience with problem-solving, conducting research, performing analyses etc., but are also excited about these tasks, you will be one step closer to getting an offer.
 As preparation for the "Why consulting" is good, don't overdo it. Your answer should come natural and not be overly crafted. There is no "right" or "wrong" to the "Why consulting" question, but your reasons should match your personality and need to be genuine. Interviewers conduct dozens of interviews per year and can differentiate very well between authentic answers and those that come out of textbooks.
A great example answer on "Why consulting" comes from our coach Clara who worked at McKinsey for many years. She is a true expert when it comes to preparing for the personal fit part of your interview, so make sure to check out her Personal Fit Guide here.

Let's take a look at how Clara would answer "Why consulting":
"There are two main reasons why consulting is the way that I want to start my career. I studied Architecture since I loved the multi-multidisciplinary approach: from Math to History, from Construction to Aesthetics. However, I realized that, when it comes to working as an architect, the scope narrows down a lot. Hence, the 1st reason why I want to transition to consulting is to keep the multidiscipline and multi-industry focus. Furthermore, I love being constantly challenged and learning at high speed, and I know that consulting has one of the steepest learning curves. In a nutshell, the 2 reasons why I would like to join consulting are the multidisciplinary focus and the constant challenge that drives exponential growth "
So, what makes her answer outstanding?
It is structured, clear and concise.
It picks up relevant aspects of the work as a consultant and connects them with her experience, strengths and passions.
It is personal, authentic and enthusiastic. Wouldn't you want to have Clara in your team if she gave you this answer?
It does take some time and brain juice to come up with a really good answer on "Why consulting", but it's time well-invested as it also helps you to learn more about yourself, reflect on your experience and really question yourself if you are ready for a career in consulting.
Finally, we have summarized even more reasons why it pays to work in consulting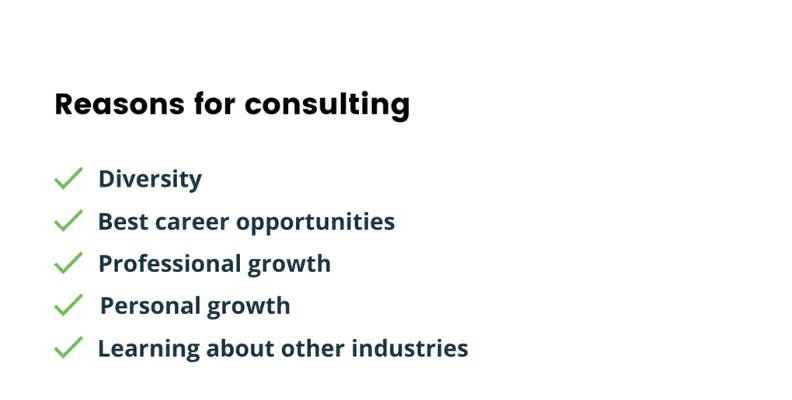 While there are reasons that may be mentioned to your interviewer, there are also those that should rather be kept secret. The following reasons are definitely understandable and legitimize your motives for sending off your application in management consulting. However, you should avoid mentioning these reasons during your job interview because it will decrease your chances to get invited to another round.
Earning Great Money for Your Work
It is no secret that management consultants earn a lot of money with the work they do. A top-tier consulting firm will pay around $83,000 if you just graduated from university. This is much more than jobs in the industry would pay. Generally, it is fine to also have a good salary as an internal reason to "why consulting?".
However, there are many other reasons related to the profession itself and personal growth opportunities that will help you increase your chances during the interview. Therefore, we recommend you focus on reasons directly linked to the job rather than the pay when answering the question.
Receiving a Sponsoring for Your MBA
It is widely known that consulting firms like McKinsey or the Boston Consulting Group (BCG) have programs to sponsor MBA programs of consultants in their firm. This means that the firm will pay the tuition of the consultant if he or she agrees to stay in the firm after graduating. The details of these programs vary by firm and you can discuss this after joining the firm.
If you just graduated from university and plan on doing your MBA after some years of work experience, entering consulting for sponsorship may be a reason for joining. Nevertheless, we recommend you leave this aside and bring up reasons that are more related to the work you will actually do as a consultant.
Taking Consulting as a Safe Option After Graduating
There are a lot of students who are not quite sure what to do after graduating. There are so many options but many simply don't want to decide, yet, in which direction it should go exactly. This is why a lot of graduates choose consulting as an option. They want to try out different industries, projects, topics, and locations and then benefiting from the exit options.
Obviously, this is not a very good argument in the eyes of the interviewer for being eager and motivated for the job. Recruiters from top consulting firms are aware of the fact that a lot of candidates use management consulting as a stepping stone for their careers. However, you should rather present how you will benefit the firm and not only how the firm will benefit your career.
Benefiting from Great Exit Opportunities
Your job as a management consultant will not only equip you with functional expertise but also with a wide network of top business leaders. Your expertise in research, project management, and analytical skills are not only relevant in consulting but also for other roles in the whole business world.
It is likely that companies including your clients will fight to have you on the team. You probably will not even have to look for a job yourself when you decide to exit management consulting. Headhunters will directly reach out to you to offer you a range of different jobs that might be interesting for you. In the following, we will show you some examples of amazing career paths waiting for you after spending a few years in consulting. Nevertheless, in the interview you should not talk about leaving the company for other opportunities before even joining it, right? Let's ask our MBB coach Ian about exit opportunities if you realize consulting is not the right path for you:
Happy to share my personal experience :)
Immediate Exit: While looking to leave BCG, I pretty much got any interview I wanted. I interviewed at DoorDash, Deliveroo, Quantium, and was scoping out other opportunities. Quantium was my #1 target which I selected. It was essentially data consulting/analytics (intersect of strategy consulting and data analytics)
Charting my own path: After leaving Quantium, I've been able to do pretty much what I want. I coach on a number of platforms, teach for various academies/schools, and am working on a startup. I also take on contracting work when I like the project (part-time, short term)
LinkedIn Messages: I get a number of messages (probably 1 a week?) with work opportunities. Various recruiters saying they need ex-strategy consultants. About half specify the need for MBB-only. Most of these roles are supporting CEOs and other senior-level executives in strategic planning. Some are for boutique consultancies. As you can see, there are lots of opportunities :)
There are many reasons to seek a career in management consulting. A steep learning curve, challenging problems, interesting people and high-impact projects are just a few of them. But what is it that really matters to you? What gets you excited? What will ensure that you stay motivated even when the days are long and the client is complicated? That's what you want to point out in your interview. And that's what will make you successful in the job. 💙💚