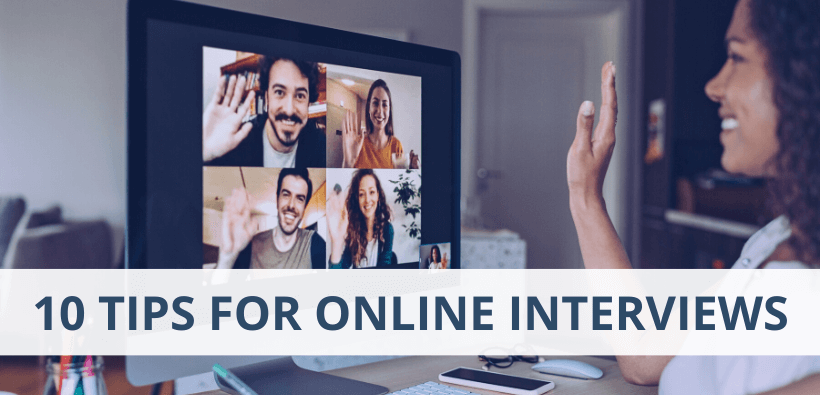 Online Interview: 10 Tips That Will Help You Impress Your Interviewer
Due to the global health crisis, some interviews in consulting are currently being postponed and a few are even put on hold completely. However, many companies are continuing their recruiting process and instead invite their candidates for online interviews via video or telephone conferences. Modern technology has equipped us with numerous tools that make it much easier for us to communicate with people independent of their location. High-speed broadband and apps such as Skype or Google Meets help us to connect and allow companies to continue to meet and recruit the best talents.
Your case interview will take place online? Congratulations! Now you can start with your preparation – but be careful! Just because the interview takes place online, it does not mean that it will be any easier or that your case interview skills are not needed anymore. The preparation remains just as important. Moreover, there are subtle differences to the face-to-face interview that you should be aware of. We have summarized the most important differences for you and give you ten useful tips that will help you master your next online interview.
Even before the Corona crisis, online interviews were already a popular recruiting tool used by consulting firms – especially for the first screening round as they offer many advantages for both employers and candidates. However, they also come with disadvantages. In order to successfully master your interview, it is helpful to get an understanding of the differences and facets of this interview format so that you know what you are up against. So, here is a list of the advantages and disadvantages of online interviews in the recruitment process:
1. You save time and money
If you can complete the interview online, this also means that you do not have to be at the company's site. This saves you (and the company) not only travel and possibly accommodation costs but also a lot of time. You can use this time effectively for your preparation for the interview! (And the company can potentially use this time to talk to more candidates!)
2. You can prove your communications skills
The position as a consultant requires candidates to have strong interpersonal skills which put body language and the ability to communicate at the top of the list of most desirable attributes. The good news is that both can be analyzed almost as effectively in a simple video interview as in a personal interview. The company can capture the essence of each candidate, assess the way you speak, dress, and present your ideas, and decide whether or not you are suitable for the company.
3. You feel less pressure
Many candidates drop out early in the application process, as they cannot take the pressure that comes with a case interview. If you are having trouble controlling your nervousness, online interviews might beneficial for you to prove your true potential. Online interviews allow you to be more relaxed while you are at your home and answer all questions at your own pace. You will also gain valuable insight into the interview process and the wishes of the consultants so that you will be less nervous the second time in case the interview is conducted in person.
1. Technology causes problems
In online interviews, part of your success depends on technology and a stable internet connection. Poor video quality or other technical difficulties can risk your chance of being hired because you could not present yourself as effectively as under normal circumstances. Unfortunately, the consultancies that are swamped with applications will turn to someone who has presented themselves better, even if it was most likely only externalities that were the reason for that.
2. You cannot meet in person
Another disadvantage of online interviews is that as a candidate you simply do not have the opportunity to get to know your potential future office and your colleagues at the company. After all, the atmosphere in the office, as well as the mood between colleagues, plays a particularly important role in the choice of a new job, especially if you have different companies to choose from.
3. It feels strange to talk into a camera
Finally, for some candidates, it may feel uncomfortable sitting in front of a camera. While interviewers have the opportunity to assess how the candidate handles stressful situations, there is a risk that an otherwise perfect candidate may be rejected for reasons (in this case feeling comfortable in front of the camera) that have nothing to do with the actual requirements of the job.
Just because your interview takes place online it does not mean that you should take it less seriously. Invest at least as much time in your preparation as you would for a regular interview. That means:
Acquire the theoretical basics and work on your case-solving skills
Practice online with other case partners
Get support from case coaches
Prepare for the personal fit part of the interview
Improve your mental math skills
For more tips on your case prep, don't forget to have a look at the following articles:
Case Interview – The Ultimate Guide for Your Case Prep
Case Interview Coaching: How to Make the Most out of Your Coaching Sessions in 6 Steps
Furthermore, it helps to find out more about your interviewer in advance. Therefore, check the LinkedIn profile for information that you can use in the interview. Also, remember to prepare questions that you want to ask the interviewer at the end of the interview. This will leave a positive impression and show that you have prepared yourself properly. The main objective is to have a good conversation and highlight your intellectual capacity and curiosity. Thus:
Ask:
Questions that cause positive emotions and highlight consulting pros (e.g. building a network, relationships with clients)
Questions on topics you are excited about (e.g. transformation of consulting in the age of data science and AI, specific industries/functions, firm expansion, and growth)
Non-business questions (e.g. team retreats, firm traditions, and celebrations)
Asking for advice (skills/behaviors/tools that can help you prepare in advance for the job)
Don't ask:
Questions that can cause negative emotions (e.g. working hours)
Information that you can easily find online (e.g. typical career path)
Questions that may show that you are unfamiliar with consulting
Here are some more examples:
There is a whole lot of great questions you can ask. My best advice is to really think through what interests you most about the job, the firm, or the industry! If you have a particular interest (industry sector, nonprofit area, social engagement, etc.) you can ask if there are touch points/adjacent areas in the firm you could explore. Also, make sure to relate your interests and questions to your background and/or career/life objectives.
That being said, here are a couple of example questions – but by no means exhaustive:
"Can you tell me about your background, and in particular how you ended up as a [company name] consultant?" (if the interviewer has a rather exotic professional/educational background)
"I'd be interested to hear what your most challenging case has been thus far in your career?"
"What do you think are the biggest misperceptions that applicants have about consulting?"
"I'm really interested in [particular interest, such as public sector consulting or renewable energy]. I'd be interested to hear what you know about that area at [company name]"
"I've heard from various people who say your firm is [something good about the company] but also that [something bad about the company]. To what extent is this impression accurate?"
"If the interviewer has enough tenure: From your position, how do you think the economic cycles have affected the consulting business over the years?"
"What was your perspective on [company name] before you came in, and how was that changed in your time there?"
"If you could recommend 2 books that all prospective management consultants should read, what would those be?"
"When you think back to your university days, what would be the 2 or 3 things that you wish you'd learned that would have better prepared you for the job today?"
One advantage of an online interview is that you can make a few notes in advance which may then serve you as a guide during the interview. These can be, for example, certain formulas, terms, or even concrete information about the company. However, extreme caution is required here: The interviewer should not notice that you have prepared notes. So, outside of the case interview part, only look at your notes if you really need to and then avoid being too obvious! Otherwise, this will not leave a good impression. Perhaps, you will not even actually need the notes in the end. Oftentimes, it is already enough to know that you could access them in an emergency in order for you to feel more confident during the interview.
When you move on to the case interview part, it is important that you take notes and that you have enough paper and pens at hand. Your interviewer may ask you to look at your notes, or it may help you to explain your structure by holding them up into the camera. If you feel comfortable with this, it can be a great way to keep the interviewer's attention for longer and actively involve him or her. If you are wondering how is the best way to structure your notes, here are some useful tips:
Split the main sheet into two parts and then the left part into two quadrants:

Upper left - initial information given at the beginning of the interview and while asking clarifying questions
Lower left - Your objective. The objective should be measurable and should have a timeline
Right part - Your structure and the whole case flow

Put the key numbers near the corresponding buckets
Have a separate sheet for math calculations
I recommend the following:
Work on single sheets: it's easier to navigate through your notes without turning upside down all the papers
Use two different types of sheets: A clean sheet with notes, structure, and results. A working sheet with your calculation and other potential messy writings.
When progressing in the case, refer to your clean sheet: this will both help you and your interviewer follow the flow of the reasoning.
Did you know that within the first three seconds we talk to a person, we already form an unconscious image of him or her? This is why, the first impression in a job interview – whether in a personal meeting, by phone, or video conference – is extremely important. Even though your interviewer will probably initiate and guide the interview at first, you can already score points in the first few seconds.
Therefore, consider how you would like to greet your interviewer in advance so that the interview does not get off to an unpleasant start. Shaking hands is unfortunately not possible, but you can introduce yourself again with your name, greet the other person, address him or her by name, and ask how he or she is doing. Waving is also completely fine. The main thing is that you appear relaxed, natural, and friendly.
In a personal interview, it is always advisable to arrive at least 5 to 10 minutes before the start of the interview. Possible delays should also be considered. The same thing also applies to online interviews. Even if you do not have to take into account traffic jams or train delays when video conferencing from home, there are still other factors to consider.
For example, it might take a while for you to log in, you might have to install another software or make some other unexpected technical preparations. You should have done all this before so that you are ready to go at the scheduled time of the call. Being late for the interview – for whatever reason – is not a good way to start the online interview successfully and make a good first impression.
It would be very upsetting if you found out that your microphone or webcam was not working properly just before or already during the interview. Therefore, you should check the following technical requirements a few days and again shortly before the interview (you can try this out with a friend):
Audio settings: Do your speakers and microphone work? Can you be heard clearly, distinctly, and without any unwanted noise? Can the person you are talking to hear her- or himself? Or do you hear yourself? If one of these cases occurs, we recommend using a headset or headphones and have them ready when you talk.
Camera settings: Is your face badly lighted or too bright? Does the background offer too much distraction? It is best to sit in front of a plain wall in a bright room. This will help the interviewer focus on you, not the background decoration.
Internet connection: If you sometimes have problems with your Wi-Fi connection, it makes sense to use an ethernet cable for a permanent connection. Video conferencing can use a lot of bandwidth and an unstable Wi-Fi connection can cause delays during the call. This only leads to frustration on both ends of the line.
Software installation: You should also familiarize yourself with the software that will be used for the interview. Please ask your contact person if you are not notified in time. Zoom, HireVue, GoToMeeting, Skype, and Google Meets are the most common platforms. Maybe you could sign up for a free trial or watch tutorials to get familiar with the tool.
"What should I do if I have technical problems and the interview cannot be continued properly?"
I don't see particular problems if there is a technical issue. However, please do your due diligence in advance to avoid problems from your side (check internet connection, install the software in advance, etc).
If you get stuck, I recommend:
Sum up the information until that point
Ask for one minute of time
Try to structure an approach based on X and non-X (eg internal/external, long term/short term) to facilitate brainstorming
If you are still stuck, ask for help
To conduct your online interview, you need a suitable atmosphere and environment without much distraction. In times of COVID-19, places like cafés or co-working spaces are out of consideration anyway, but because of the background noises, they are generally not very suitable. The ideal place for your online interview is a separate room where you can avoid any distractions and disturbing noises.
For instance, avoid open windows on busy streets, turn off your phone and make sure that roommates, family members, and pets cannot disturb the interview. Also, verify that your environment is tidy and that no external factors can interfere with the interview.
In online interviews, a poor internet connection can cause delays, or the microphone may not be able to reproduce your voice properly. Unfortunately, this is something you must always expect when technology comes into play. To ensure that the person you are talking to can hear and understand you well, take your time when speaking, do not swallow words and speak as clearly as possible.       
It is best to pay attention to your way of speaking when you practice cases with other case partners or coaches on PrepLounge and ask them for their feedback. This way you can make sure that you are well-understood by the person you are talking to and that you do not come across as unnatural.
During every interview, it is extremely important that you listen to your interviewer well, as this reflects your communication skills and is the basis for being able to answer questions correctly. For example, if your interviewer wants to know three character traits of you, it is essential that you tell him or her exactly three traits. However, good listening skills are even more important and difficult in an online interview than in a personal conversation.
In a video interview, audio delays can cause you to switch off or ignore non-verbal hints. So, it is essential that you concentrate on the person you are talking to and what is being said so that you do not drift off. Listen carefully to the interviewer and wait a few seconds before you start speaking to prevent yourself from interrupting the interviewer. If there are any problems with the connection, if you cannot hear or understand anything, do not hesitate to ask for clarification.
The right outfit is the most frequently overlooked tip for video interviews. Even if an online interview means that the interviewer cannot see anything from the waist downwards, it does not mean you should ignore the lower half of your body when choosing your outfit for the interview.
Imagine you have to stand up during the interview to grab something. You can avoid this risk by wearing your business look from head to toe. In consulting, this means: suit and tie or for women: pantsuit/knee-length skirt and blouse and a blazer. Also, look at your outfit in front of the webcam to make sure that everything looks professional. When asked about the dress code during an online interview, our coaches agreed on the following:
It depends on the company (e.g. for McKinsey a tie is a must) but in general, unless you don't receive specific instructions, it's better to be a bit overdressed than to risk appearing not in line with company's policies.
Nothing changes, dress just as if you were going to a normal on-site interview.
The other day, I was in a business call in which the most tenured person, half-joking and half not, made us all stand up to check who was wearing pajama-pants and a shirt... so don´t make this mistake ;)
Your body language during the interview can reveal a lot about who you are as a person. You can convey a positive image by...
... making sure that you sit up straight and with good posture. Try to avoid bending your seat or supporting your head with your hands. Instead, place both feet on the floor. This will make you look more confident.
... smiling. This can quickly fade into the background during video interviews, as there is no direct personal contact and a constant smile can feel weird. But a friendly appearance is extremely important (this also applies if the interview is conducted by telephone)!
... avoiding disturbing gestures or fumbling by putting your hands in your lap and using them only occasionally in your communication.
... looking into the camera. While it is always important to keep the interviewer in sight, keep in mind that looking at the screen means that you are not looking into the eyes of the interviewer. Therefore, look directly into the camera as often as possible, especially when you are speaking. This gives the interviewer the feeling that you are actively involved and not distracted by what is happening on the screen.
If you prepare intensively for your online interview and follow these ten tips, you should be sure to leave a positive impression in the mind of the interviewer! The more often you practice, the more confident and secure you will become, and the better you will master your interview. PrepLounge offers you the ideal platform to practice this online situation. Connect with other case partners, get feedback from experts, and be prepared for all questions in the interview. This will bring you one step closer to your dream job in consulting even in times of the Coronavirus!