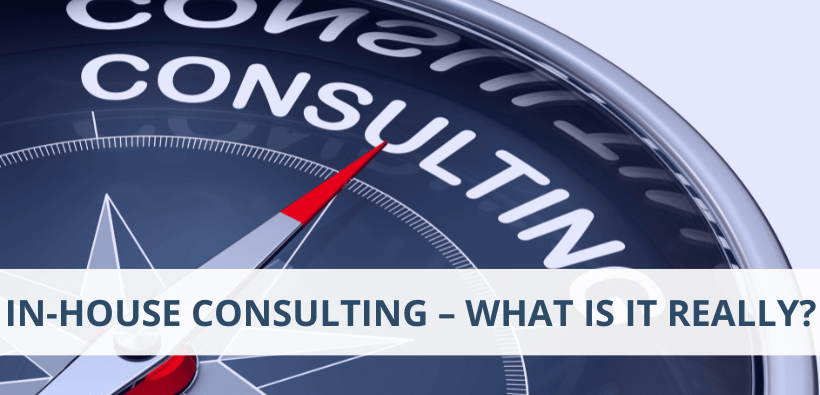 In-House Consulting – What Is It Really?
A popular exit from consulting companies is to move to what is often called 'in-house' consulting roles. These are teams that are part of usually larger companies typically filled with ex-consultants whose role is to serve as an internal management consulting firm for the company. The first thing to keep in mind here is that there is no standard work description for an in-house consulting role. There is a broad range of teams and the roles can vary a lot from one company to another. Broadly, there are two types of in-house consulting teams that you get in larger companies.
In this article, the expert Udayan explains exactly what your tasks as an in-house consultant will be and how the various teams of in-house consultants differ in their roles. Furthermore, advantages and disadvantages are listed and differences to usual consulting jobs are pointed out. This will give you a detailed overview of whether this work would be suitable for you.

Typically, companies have Central (often called Corporate) Strategy teams that go by many names but are responsible for setting the overall strategy of the company and working alongside the CEO, the board, and senior leadership on core projects and meetings. From my experience, corporate strategy teams typically take on the following responsibilities:
Preparation for big meetings – often this includes the quarterly board meetings, CEO updates, Executive team updates, and other important meetings where the core strategy of the firm is being discussed (e.g., leadership offsites focusing on a particular product strategy)
Overseeing large project management – while corporate strategy teams do not own a product or a deliverable, they do help with strategic planning and execution of high-priority projects. Work here involves defining the problem statement, helping align the vision and output, creating detailed work plans, working with different teams to ensure work is on track, and setting the project governance/check-ins to update stakeholders as needed
Special initiatives – there are often occasions where meetings and projects lead to special initiatives. An example of this could be that a company may decide to set up an internal venture capital arm to fund startups that they want to work with in the future. Oftentimes, the initiatives are led by corporate strategy team members who can then move into the roles full-time or hand it over to the new team once the initial setup work is complete
The product strategy function tends to be more specialized in the work it does, and its broader purpose is around ensuring that the product you are working on is successful and in line with market expectations
Helping define and create a product strategy/roadmap
New products: the strategy team can play meaningful roles across all stages of the new product development roadmap

Research to identify customer needs and work toward creating a product
Designing the product using a design thinking approach and product needs that you want to highlight
Launch strategy with an understanding of the relevant markets and customers for launch, identifying pilot launch criteria, designing marketing campaigns

Existing product:

Identifying top issues with the current product, benchmarking performance and features to core competition, detailing new functionality to make the product best in class, or tradeoffs if there is a limited budget for upgrades
Working with product engineering, design, and other teams to troubleshoot relevant issues, ensure that product changes are working within acceptable timelines, new features are addressing consumer needs, and leadership is aligned with all updates

Working cross-functionally to ensure deliverables are being met – as the strategy team sits in the center of the product team, they often play the role
In many organizations, the execution of the strategy falls into the regional teams who are responsible for doing a lot of the implementation and selling of the products/solutions. The key role here is setting the strategy to get to the core objectives/targets for the region, tracking performance, problem-solving solutions when there are major hurdles, and creating documents for leadership meetings (largely progress updates).
There are many instances where internal functions such as marketing, finance, or compliance have their own internal strategy roles. While these can be similar to internal consulting roles, typically they are more like chief of staff roles for the heads of the organization, with responsibilities such as
Designing the strategy for the function – usually focused on the 1–3-year view depending on the objectives that the team has aligned to
Preparation for executive updates – usually focused on short-term strategy, core objectives, and KPIs for the team
Tracking progress on key initiatives – playing a governance role for cross-functional initiatives as well as top priority ones for the function

As you look into exploring a career as an internal strategy consultant, here are some overall positives and negatives to consider.
In general, people leave consulting because of burnout from the brutal hours and are in search of a better work-life balance. An in-house consulting role allows one to pursue similar work with an overall better work-life balance and more control of their schedule
More control of outcomes and strategic direction – as an external consultant, your role is that of a trusted advisor to the client and is typically restricted to providing an overall vision. Often times this does not involve seeing the work through to its execution which involves its own sets of strategic decisions
Income – Most consultants see pay rises of 20% - 30% a year as they progress through the ranks, making it a high-paying job with frequent pay raises. In an in-house consulting role, annual raises are a lot more muted, with major pay bumps reserved for promotions
Prolonged career paths – consultant career progression is highly dependent on performance and client feedback. In McKinsey, it is not uncommon for consultants to make partners in 7 years or less if they are really good. In corporate roles barring exceptional cases, promotions are much slower and can depend a lot on luck (e.g., availability of roles for your skillset at a higher position)
Travel – most consulting jobs involve frequent travel. As an in-house consultant, these trips to different clients are less frequent. If travel is an attractive factor of the consulting job for you, then you need to know that in-house consultants travel less. But of course, it also depends on the particular in-house consultancy.
Advantages
Visibility with senior leadership – Companywide strategy roles often involve working with very senior members of an organization. This comes with the opportunity to impress your skills upon them and opens many doors in the future if you want to move into a different function/role in the organization
Opportunity to see many different parts of the business – as the central strategy teams work across different geographies and business units, just like in consulting you are presented with the opportunity to learn a lot about the business in a short amount of time
Disadvantages
Sometimes corporate strategy roles can end up being less about true problem-solving and mostly about producing slides for the organization. This sort of chart factory role is not a great one as it involves minimal strategic thinking and mostly focuses on the visual presentation of information that others have given you
The corporate strategy also has limited to no content ownership as the ultimate ownership lies with the team that owns the product or the P&L. This is similar to external consulting, however, often time this can lead to a project manager role vs a true consulting role
While the hours are better than consulting, during crunch periods such as Board Meetings, CEO updates, or Quarterly Reporting periods the work hours can be very intense with quick turnarounds expected often leading to long hours and weekend work
Advantages (in Addition to Overall Ones)
Specific strategy teams tend to have more content and operational ownership of projects given their role in the team. More often than not, they are viewed as SMEs in the organization and play a significant role in deciding the strategic direction for the content they own
Closer relationships with cross-functional and related teams which has many advantages of their own including the ability to build deep trust-based relationships
Disadvantages
More limited scope/view of the org when compared to Corporate Strategy: as expected, you will largely be an SME of your own domain, which is not necessarily a bad thing but it is more limited than more broad strategy roles which have a birds-eye view of the business
Visibility is also limited to the leadership of the function you are in

Overall, internal consulting roles are great for many reasons. First and foremost, if you enjoy consulting but are tired of the constant travel and long hours, internal consulting roles provide similar work but with a better work-life balance and the ability to engage with projects from start to finish. The other big advantage is that these roles can often be seen as a stepping stone to getting into an organization you want to work at and provide ample opportunity to network your way into other roles in the org as you establish yourself in the role. Internal consulting roles are not a great fit if you do not enjoy a consultant's work. In addition, they can be cliquey, with many companies only recruiting ex-MBB talent for many such roles. However, this can be overcome by networking and being highly prepared during your interviews.
Top rated McKinsey Case & PEI coach/Multiple real offers/McKinsey EM in New York /6 years McKinsey recruiting experience
Professional Experience: eBay, McKinsey & Company
Languages: English
Location: United States
Udayan is a 5-star rated coach at Preplounge with several years of experience at eBay and McKinsey. Over the past 10 years, he has helped more than 200 students master their interviews and get their desired jobs. Through his years of experience at McKinsey in New York, London, and India, he focuses on management consulting and specifically on the McKinsey interview-led recruitment process. Moreover, he provides networking help and resume and cover letter reviews.