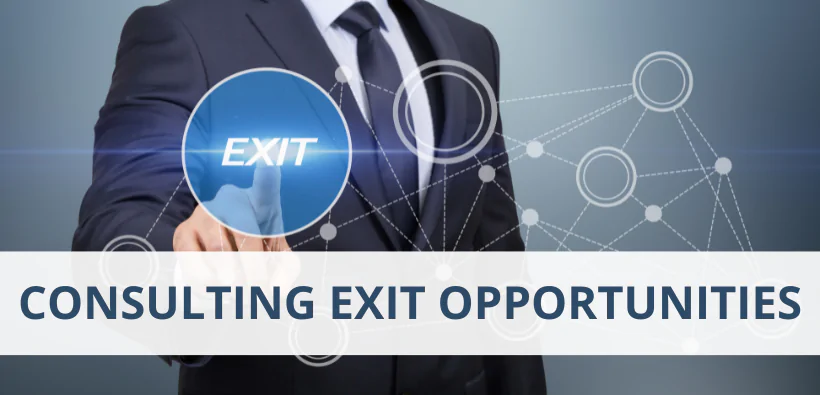 Consulting Exit Opportunities
Have you ever wondered what can come after a consulting career, and whether it is easy to get out?
In his article, Udayan explains the various exit options and what the differences are. He also names possible advantages that can result from this and points out what you should watch out for. Practical examples complete the article.
When it comes to exiting MBB, there are some roles that are more common than others. I refer to these as traditional exit options as this is the career path many choose to follow.
Corporate Strategy teams in house
The most popular exit option at MBB is to exit to an in-house consulting role. These are popular as they allow consultants to do similar type of work but with much better hours and eventual options to move into a more traditional business management role.
PE/VC (especially more junior exits)
While the most popular entry point into PE and VC remains Investment Banking, many firms will hire from MBB as well. The most popular roles that they hire are BAs/Analysts or people from the PE practices at MBB firms across role seniority. Some PE firms such as Advent and Bain Capital are well known to even prefer Consultants to Bankers for roles.
Biz Ops at a startup
Many consultants want to exit into smaller startups. Startups tend to be smaller, nimbler and with many opportunities to make a high impact at an early stage. A natural exit into a startup is in the biz ops team, given the relative similarity of the work that they do. As with all change, it helps to minimize the number of changes you are undergoing all at once (e.g., switching industry vs switching industry and type of role).
Client firms
While it is not as common as one would imagine, it does happen reasonably often. Especially at EM level or higher, moving from a project to the client happens more frequently. A common way this happens is an EM for example moving into the client to ensure connectivity for the project that the firm was working on, so moving the project from strategy to execution stage and ensuring some sort of connectivity.
In return, there are also some lesser-known options, which are compared below.
Product at a tech firm (large or small)
A popular exit option for a while, this is less common, largely because many PM roles require a tech background or experience at a startup. However, there are numerous instances of consultants breaking into this role, especially if they worked in the sector.
Starting your own venture
For those that have a great idea and like taking risks, starting your venture immediately following a stint at MBB can be a great option. The timing works really well, as the MBB brand brings credibility with investors and gives you sufficient options to fall back on should things not work out in the long run.
Non-profit
While not very common, this is an excellent option for those looking to make an impact in a social space. Whether large or small, all nonprofits value your experience as a consultant. Some of the most popular exits here tend to be organizations such as Bill & Melinda Gates Foundation, as they usually pay a very high salary when compared to others. However, any nonprofit is a great exit opportunity if it matches your core values and the work you want to do. Almost all have a shortage of talent and are very welcoming too.
Administrative roles in educational institutions
Many ex-consultants work in senior administrative positions in the academic world. These include roles such as chief of strategy or CFO at top independent schools and colleges/universities. 
Forget your path
This is an endless list that includes politicians, comedians, musicians, and athletes!
There are also various other opportunities that arise after a period of at least 2 years in a company. Five of them are listed below.
BA/Analyst - Most diverse set of exit options 
Exiting as a 2nd or 3rd year BA is when you will have the most opportunities open to you. Companies value the MBB brand & training tremendously and the fact that you are young, energetic and eager makes you an ideal hire.
All options are open to you at this stage. It is also the ideal time to explore options that are 'more risky' than the traditional PE/VC type exit opportunities. For example, starting a new company or working for a politician or nonprofit. Take your time to network and learn about all the roles that interest you.
While most people can take advantage of any option, if you are in a country such as the US and on a visa, many options may not be open to you at this time. I would encourage you to explore other countries or your home country with the knowledge that you can always come back to the US to do an MBA, which will be easy to get into given the MBB stamp on your resume.
Associate - Can be a red flag*
While people do exit as an Associate, unless you joined the firm as a BA and are leaving after being promoted to an Associate (after 2+ years of experience), this is not a good career move.
If you joined as an Associate and are to leave prior to making EM, especially if you are leaving before 2 years, it will be seen as a red flag. It indicates either that the career is not the right fit for you or that you were a poor performer and were let go for performance related reasons. So be very careful about a move as an Associate prior to making EM if you did not join as a BA.
EM - Most optimal in terms of experience and pay
The EM role is the level where most consultants choose to exit MBB. This role hits the sweet spot of potential opportunities and the ideal seniority for exit. This is because, many companies value the unique skill sets of the Manager from MBB, given that they have delivered on intense and high impact projects while managing multiple stakeholder interests.This is a skill that is not easy to acquire in a traditional job, and it sets MBB consultants apart. From a comp perspective also, EM is the optimal exit point where companies will come closest to matching MBB compensation as they see clear value in you. At higher levels, matching pay becomes a significant challenge for non client facing roles. This is a big reason why many people choose to leave at this level.
Additionally, post the EM role, while there is still a lot of growth and learning to be had, it typically focuses on a different skill set - namely sales. As you move closer to becoming a partner, you shift focus from project delivery to selling the firm's consulting and related services. While this is a great skill to have, not many people want to stay in consulting beyond this point, especially given the high personal cost involved of doing so.
AP - More focused exits, options limited by pay
Exiting as an Associate Partner is becoming more common as the number of promotions to this role increases, but partner growth is slower. This creates a bottleneck scenario for APs who must find a way to move up to partner quicker or work to find different roles internally to stay at MBB. 
The AP skill set is very highly valued, however at this level the challenge becomes finding a suitable opening. Opportunities that match your experience, pay expectations and seniority are a difficult combination to find, however not impossible. Typically, at this level a lot more networking is required, however you also have a huge network to rely on, and a great skill set to leverage.
Partner+ - Huge network to leverage, fewer options partner skill set overall
Exits at partner levels are usually to senior roles at the executive level of larger companies. This is largely a function of their expertise. The opportunities available and the network they can leverage. Many partners also exit to start their own practice or their own startups. At this level the main limiting factor is pay and risk appetite, but there is a huge demand for the across roles and industries.
MBB, unlike other companies, highly encourages employees to pursue external opportunities when they are ready. They know that for many employees, consulting is a temporary part of their overall career, given how demanding it is and the number of opportunities available to consultants after a few years at a top firm. Instead of being dismayed by it, they do a good job of helping their employees land great jobs and eventually turning them into clients of the firm or at least strong proponents of the firm.
Here are some of the options available to consultants at the time of leaving the firm:
Search time
This is paid time that consultants get, primarily based on their tenure with the firm. The longer your tenure, the longer the search time. During this time, consultants can continue to avail themselves of their work email and their benefits and get a full salary while deciding on the best step for their career. There is usually no work during search time, and people can spend their time searching for the right opportunity
Networking
MBB networks are some of the most robust alumni networks in the world. Even people that have gone to the MBB target schools often state that their MBB network ends up being more helpful in landing a job than their B-School network. People that have worked at MBB have gone through a grueling time and have a work ethic and approach to problem-solving that is hard to find elsewhere. This is why they are usually pleased to recommend other alumni for roles at their current places of work.
Alumni Websites
MBB enables alumni and those in the process of leaving the firm to get a job offer through a recruitment platform. These tend to be similar to any other job website, such as LinkedIn, but are only open to the firm's alumni. One reason the website is an extremely helpful tool is that it usually allows you to directly reach out to the hiring manager, by passing the traditional HR screening process and thereby significantly increasing the likelihood of landing an offer.
Last but not least, let's ask our MBB Coaches what their experience with exit opportunities is:
I spent 10 years in consulting (BCG), and I've been contacted countless times by headhunters during my stint, the opportunities became even more frequent after my MBA experience. Most of the recruiting opportunities came from big corporations and I think I declined 90% of them because none of them could match the career trajectory (i.e. learning curve and salary) I was having at BCG. I actually did a couple of interviews at Project Leader and Principal level and I received a couple of job offers that were matching the salary I was making in consulting but still, I decided to hold on a little longer in BCG because I genuinely liked it. I eventually left 1 year after my promotion to Principal to fund my own company and never look back with regrets. In retrospect, I always wanted to be an entrepreneur to have the freedom to make decisions without the burden to report and ask for consent from anybody. I now manage my retail business with more than 50 employees (and still growing) and I love every second of it. If you are curious about the switch from consulting to start-up entrepreneurship feel free to contact me via direct message. I could talk about it for hours. :-)
Happy to share my personal experience :)
Immediate Exit: While looking to leave BCG, I pretty much got any interview I wanted. I interviewed at DoorDash, Deliveroo, Quantium, and was scoping out other opportunities. Quantium was my #1 target which I selected. It was essentially data consulting/analytics (intersect of strategy consulting and data analytics)
Charting my own path: After leaving Quantium, I've been able to do pretty much what I want. I coach on a number of platforms, teach for various academies/schools, and am working on a startup. I also take on contracting work when I like the project (part-time, short term)
LinkedIn Messages: I get a number of messages (probably 1 a week?) with work opportunities. Various recruiters saying they need ex-strategy consultants. About half specify the need for MBB-only. Most of these roles are supporting CEOs and other senior-level executives in strategic planning. Some are for boutique consultancies. As you can see, there are lots of opportunities :)
Exit opportunities are plenty (McKinsey). For me, the calls and emails from headhunters started around the 1-year mark and continued until I left. The industries were either finance and investment (PE, sovereign wealth fund of a ME country,...) or topics related to my industry focus within the firm (airlines, travel,...) and even BCG reached out for their aviation practice. I never followed up with any though...
Once you leave a lot of doors are open. There are two aspects here:
Potential employers and hiring managers put so much trust and confidence in your abilities in advance. They just trust that you can do what is needed.
You actually learn so many transferrable skills in MBB that you are able to add real value to a non-consulting organization really quick. This is good for the company but can be tiring if you come from a fast-paced, meritocratic environment and now have to get some other organization or business unit up to speed.
In the end, my long-term exit opportunity was/ is to run my own business and start a few more along the way. Nothing more rewarding than this and still benefiting from the contacts, network, and trust that business partners place on you.
Top-rated McKinsey Case & PEI coach / Multiple real offers / McKinsey EM in New York / 6 years McKinsey recruiting experience
Professional Experience: eBay, McKinsey & Company
Languages: English
Location: United States
Udayan is a 5-star rated coach at PrepLounge with several years of experience at eBay and McKinsey. He worked at McKinsey for over 6 years and was primarily based out of NYC, which is the most competitive office to get into. In the last 10 years he helped over 200 students and professionals in the United States, China, Europe, India and the UK navigate the interview process and get offers at their desired firms. Through his years of experience at McKinsey in New York, London, and India, he focuses on management consulting and specifically on the McKinsey interview-led recruitment process. Moreover, he provides networking help and resume and cover letter reviews.