Leverage PrepLounge for your case interview practice
How do I schedule meetings with peers?
PrepLounge is a case interview community that connects like-minded people for regular practice. There are 2 quick ways to schedule meetings for mock interviews with peers: make a proposal on the meeting board or send a private invitation.
Meeting Board Proposal
On the Meeting Board (on your dashboard), you'll see lots of proposals for back-to-back meetings. Add your own proposal to the list and wait for a candidate to confirm the meeting.

Personal Invitation
On the Candidate Page, you'll have an overview of potential practice partners. Your 'best-match' is pre-selected (on the filter functions on the left). On the Profile of a candidate, you can send an invitation with the Propose Meeting button.
How does practice differ between the stages?
The different scheduling functions on the platform ensure that you can conduct mock interviews throughout all stages.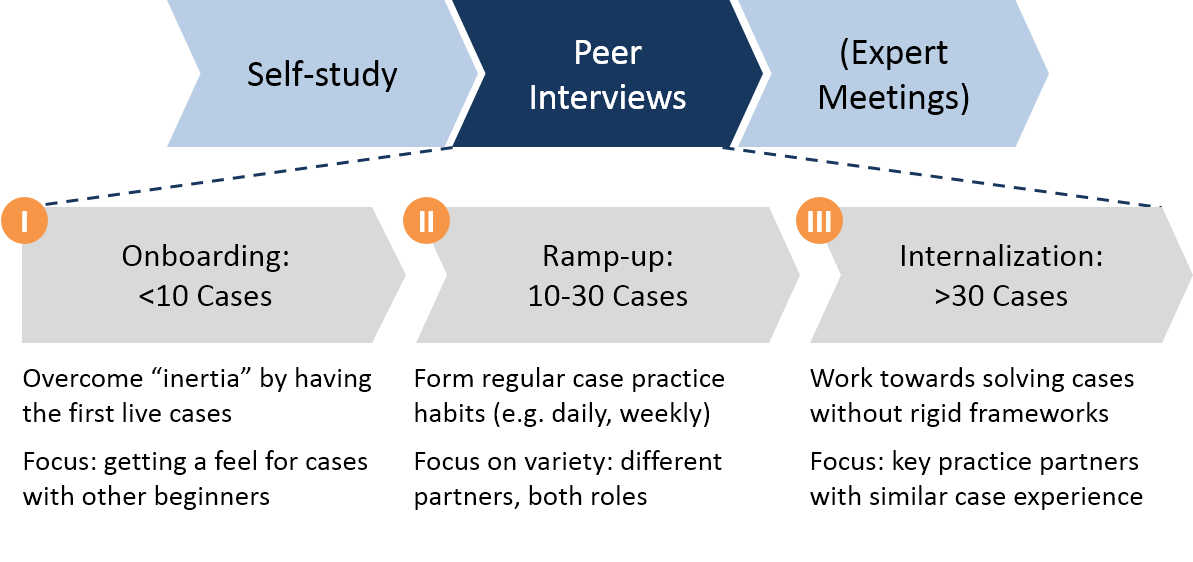 Use the Personal Invitation to find candidates for "onboarding". On the Candidate Page you can filter for candidates, who are not that experienced either. If you are not ready to solve a case yet, you can start out only giving cases as interviewer.

Schedule regular back-to-back meetings during "ramp-up" stage by extensively utilizing Meeting Board. Make sure you practice cases with several partners for variety. During your real interviews, you'll never know what type of interviewer to expect.

In the internalization stage it makes sense to focus on a handful of practice partners that are on the same level. You probably already have a few buddies to do advanced cases with. Make sure to track your progress in terms of feedback in the Personal Case Analytics section.
Optional: Expert Meetings to enhance your mock interviews
If you're looking to take it to the next level, Experts on PrepLounge i.e. experienced (former) consultants can help you enhance your case prep with more realism and insightful feedback. Here are two ways for you to interact with our Experts:

Apply for the Prep4Success Coaching Program:

Our P4S program provides you with everything you need to be best prepared for your upcoming consulting case interviews. You can choose between 3 different packages including 3, 5 or 10 expert sessions tailored to your individual needs. As a result we are able to increase your offer-rate fourfold. Learn more about our P4S packages here.

Book an Individual Session:

Our Experts have backgrounds that represent all the top consulting firms. They offer one hour sessions at different rates depending on their experience. See their profiles on the Experts page here.