Your Career at PrepLounge

4,6 (21 Reviews on 

)
We are a globally unique job interview community that helps students prepare for upcoming interviews and land their dream job in consulting. Candidates with similar career goals can connect with each other, practice cases, and improve their consulting skills. Our vision is to provide a service that enables candidates to show their very best during their final case interviews at consulting firms such as McKinsey, Bain, Boston Consulting Group, Roland Berger, etc. We want to be part of the applicant's personal success story.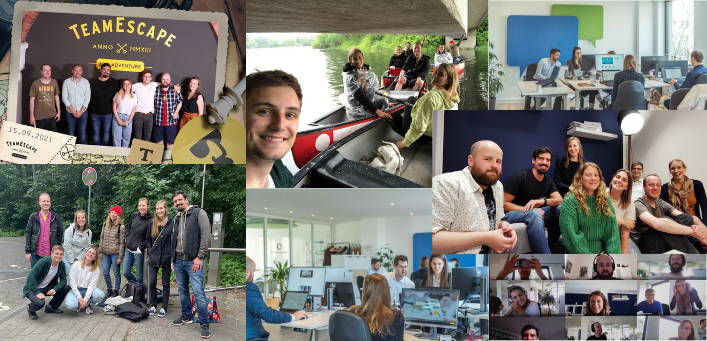 How We Work at PrepLounge
Founded in 2012, we are still a fairly young company and have kept the startup spirit from the beginning until today. We love putting ideas into action, getting started quickly, and making a real difference at work. We are passionate about what we do and we love to keep growing as a team! 
With 10 people, our team is quite small, but the team spirit we have is all the bigger. We support each other where we can and quite honestly, we just have a lot of fun together. Whether it's in the office over a ping pong match, a virtual happy hour, or a delicious PrepLunch, we not only love to work but also love to spend time together. So, join us and become part of our team!
Our Location
Our open-space office is located in the heart of Cologne between the city center and the Belgian Quarter. We can't imagine a better location!
Our Office
A bright, spacious, and well-equipped open-space office. With a large selection of cereals, snacks, and drinks, ergonomic tables, desk chairs, table tennis table, and a view of the cathedral from our small balcony, you have everything you need for a pleasant working atmosphere!
What Our Employees Say about PrepLounge
Flexibility, a steep learning curve, and a great team - that's what PrepLounge is all about for me. When I started as a working student at PrepLounge, I quickly knew that I had found the right workplace for me. Today, I am extremely grateful that with PrepLounge I can constantly grow professionally and personally and, above all, get to work in the place that makes me happy.
When I started looking for a job in 2019 after finishing my Master's degree, I didn't really know which direction to take. But after the interview at PrepLounge, I knew "this is where I want to work". The opportunity to take responsibility quickly, contribute your own ideas to make a difference in the company, and of course the great team makes work not feel like work.
A smart, powerful team with a lot of fun and humor at work, of which I really enjoy being part of. For me, PrepLounge is also proof that diversity makes a company incredibly strong and successful. And since we are an international team, my English skills are going through the roof.
PrepLounge thrives on its young, dynamic team, where team spirit and mutual support are top priorities. In addition, there is a diverse daily routine, flat hierarchies, flexible working hours, a lot of personal responsibility, and an office in the heart of Cologne. This makes work fun!
PrepLounge has a strong team full of smart colleagues. A very dedicated boss who is always on-site and sits with her colleagues. As one of two IT employees, I have a varied, self-responsible workday in a small company. My tasks mainly include the web stack and support for colleagues. At PrepLounge, however, you get involved everywhere and thus, have insight into many different areas of a company. I have learned a lot here, even about non-IT topics. In IT, I have a very competent supervisor who always takes time for me. There are no sprints or anything similar here and therefore, the work is stress-free, yet challenging. It's fun to work at PrepLounge!