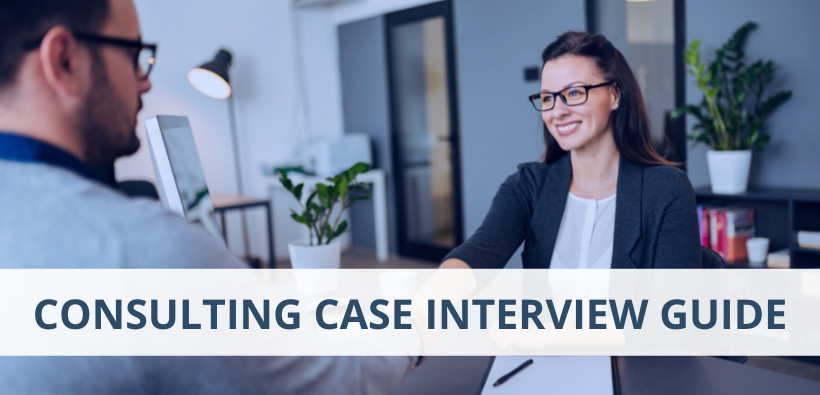 Case Interview 2023 – Guide for Your Consulting Case Interview
A case interview is a type of job interview in which the candidate must analyze and solve a problematic business scenario ("case study"). It is used to simulate the situation on-the-job and to find out if the respective candidate meets the necessary analytical and communications skills required for the profession. Case interviews are commonly and globally used during the selection processes at management consulting firms such as McKinsey, Boston Consulting Group (BCG), or Bain & Company. It is the most relevant part of the process for consulting jobs, and they are usually based on projects that the hiring firm has delivered for a client. It is an exercise that requires a logical approach to finding the problem and an appropriate solution.
A case interview is part of the job interview process in which you as the candidate have to analyze and solve a problematic business scenario while interacting with the interviewer. The case study is often based on a problem the interviewer has worked on in real life. This part of the interview is intended to be more of a dialogue. You will need to be proactive and ask questions when attempting to close in on the correct conclusion. Oftentimes, the consultant will attempt to guide you in the correct direction by asking questions himself.
An example question might be:​ The CEO of Deutsche Bank has become increasingly concerned about their declining profitability over the last 36 months and has asked you to determine the factors causing the decline as well as recommend a strategy to reverse this trend.
During the entire application process, you will partake in up to six case interviews in two rounds or more. This is dependent on the position you are applying for. Most case interviews have the same underlying structure. An individual case interview may take up to an hour and usually consists of four parts: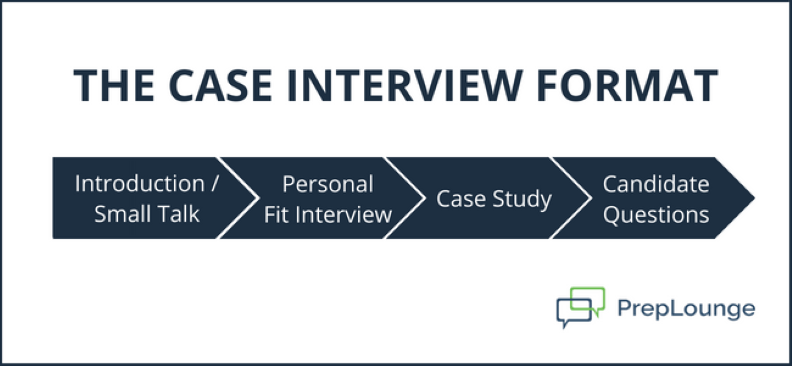 ~ 5 minutes: Introduction and small talk
~ 15 minutes: Personal Fit Interview
~ 30 minutes: Case Interview
~ 5 minutes: Your questions to the interviewer
Case interviews have always been a part of management consulting interviews. Nowadays, also marketing, strategy, operations, or retail positions tend to use similar formats because they are a great tool to probe the quantitative and qualitative skills of an applicant. It allows interviewers to get a deeper insight into how you present yourself as a candidate and apply the limited amount of information given to you.
The reason for the prevalence of the case interview format in management consulting is that the topics and themes handled in most cases reflect conditions close to the reality of the day-to-day activities of a consultancy. It requires the applicant to ask the right questions, apply structured frameworks, and think outside the box. As a consultant, you will spend a lot of time client-facing, and so soft skills are just as important as hard skills to the interviewer. The case interview allows hiring companies to ask the question "Would I be happy to put this candidate in front of a client?".​
Due to the scenario set up in a case interview, it is also a test of general business acumen. Many consultant projects will be in industries where the consultants aren't experts, especially junior consultants. This is normal, but to be effective as a consultant business acumen is an important foundation for consultants to maintain effective strategy recommendations. Companies pay consultants for their minds rather than their industry expertise.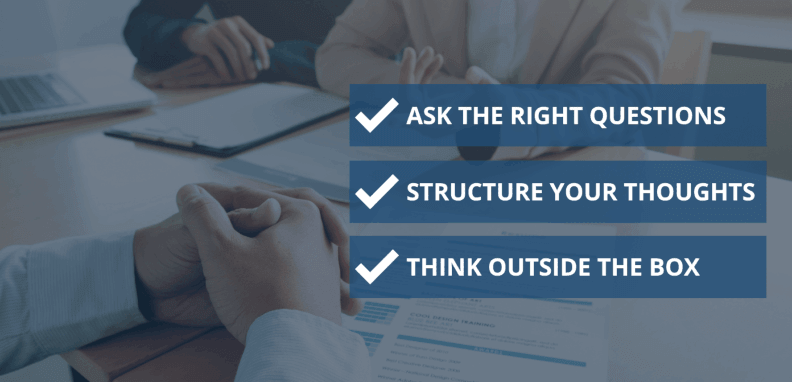 A case interview has no "correct" or "standard" answer. There are often many solutions to a single case and in the end, what counts is your train of thought and how you got to your solution. The interviewer will evaluate you across five main areas:
1) Problem-Solving Skills 
The interviewer will analyze your ability to identify problems, isolate causes, and prioritize issues. During a case interview, you will be presented with a wide range of relevant and irrelevant data pieces. You must know how to use this data to make your recommendations and you have to prove that you are able to construct a logical argumentation without rushing to conclusions based on insufficient evidence.
2) Creativity and Business Sense Skills 
As a consulting candidate, you should know the basic business concepts as well as show a certain amount of business sense and creativity. If the interviewer asks you to find innovative ideas to increase the profitability of a hotel chain, you will have to come up with a range of ideas that make business sense. You are not expected to have deep knowledge of the hospitality industry, but to be able to ask relevant and insightful questions on the aspects important for you to solve the client's issue at hand.
3) Structure 
Maintaining a structure means that you solve the question with a clear step-by-step approach that you communicate actively with your interviewer. A good structure is the most important part of a case interview, as it is the underlying base of your whole approach and argumentation. It is also the main reason why candidates fail their case interviews. A common mistake that candidates make is that they try to apply standardized frameworks to any case they are given. Instead, you should solve each case by creating a framework specifically tailored to its needs – as you would do as a consultant on the job. Practice your structure with our Structuring Drills.
4) Math Skills 
As a consultant, part of your job is number-crunching and interpreting data. Therefore, it is important that you have a good feeling for numbers and have great mental math skills. You should be able to perform simple calculations in your sleep. You can practice your math skills with our Mental Math Tool.
5) Communication Skills 
In times of digitalization, soft skills become more and more important for management consultants. On the job, you will be in contact with high-level CEOs, clients, partners, and colleagues. Strong communication is crucial for you to get your work done efficiently. Thus, your interviewer will pay close attention to the way you communicate and present yourself during your conversation. Always be professional, answer concisely, and communicate the key message first (see Pyramid Principle).
First and Second-Round Interviews 
| | | |
| --- | --- | --- |
| | First round | Second round |
| Format | Identical | Identical |
| Seniority of the interviewer | Associates or Engagement Managers (up to 4 years of consulting experience) | Partners (more than 10 years of consulting experience) |
| Difficulty | Lower | Higher |
| Importance | Lower | Higher |
| | | |
| --- | --- | --- |
| | First round | Second round |
| Format | Identical | Identical |
| Seniority of the interviewer | Associates or Engagement Managers (up to 4 years of consulting experience) | Partners (more than 10 years of consulting experience) |
| Difficulty | Lower | Higher |
| Importance | Lower | Higher |
While the format of the first and second-round interviews stays the same, the seniority level of the interviewer differs. The person interviewing you in the first round is usually more junior, having up to four years of consulting experience (Associates or Engagement Managers). The second round is led by Partners who have more than ten years of experience and tend to drill you to understand how you cope with challenges. Therefore, second rounds are perceived as more difficult by candidates. Since partners have a stronger voice when discussing an applicant, your performance during the second round of case interviews carries also more weight. For more information on the different positions, please read McKinsey Hierarchy: The Different Position Levels.
Candidate- and Interviewer-Led Case Interviews
| | | |
| --- | --- | --- |
| | Candidate-led | Interviewer-led |
| Type of question(s) | Very general initial question or no question at all (just broad description of a situation) | Very specific questions throughout the interview |
| Data | Data and information are mostly provided at your request | A lot of data will be given throughout the case, e.g. tables or graphs |
| Company | Most consulting firms | Commonly used at McKinsey |
| | | |
| --- | --- | --- |
| | Candidate-led | Interviewer-led |
| Type of question(s) | Very general initial question or no question at all (just broad description of a situation) | Very specific questions throughout the interview |
| Data | Data and information are mostly provided at your request | A lot of data will be given throughout the case, e.g. tables or graphs |
| Company | Most consulting firms | Commonly used at McKinsey |
In candidate-led cases, the interviewer expects the candidate to lead him/her through the case. As a candidate, you can do so by asking relevant questions, and by developing and testing your hypotheses. Candidate-led cases are the most common types of cases. You will encounter them at the majority of the big consulting firms such as BCG, Bain, and occasionally at McKinsey.
Interviewer-led cases are most frequently used at McKinsey. As the title suggests, the interviewer's guidance through the case interview is firmer.
You can find more information on the two different interview styles in our BootCamp article: Interviewer-Led vs. Candidate-Led.
In the following, you can find some examples of initial case interview questions:
McKinsey Case Interview Examples​
BCG Case Interview Examples​
Profitability of a low-cost airline (BCG website)
Pricing strategy for a new drug (BCG website)​
Bain Case Interview Examples​
Oliver Wyman Case Interview Examples
Practice More Cases Now!
You can find more than 160 case studies, including cases from real companies and our consulting coaches, in our Case Library!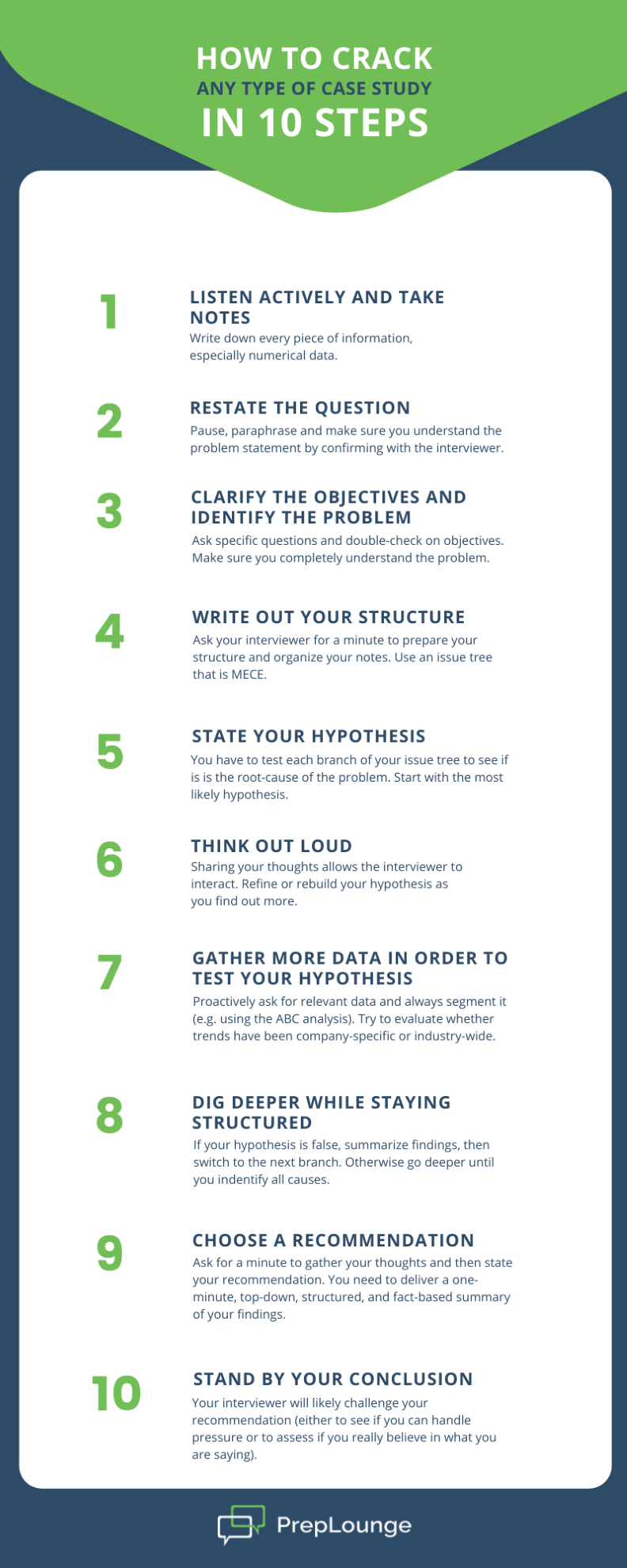 Step 1: Listen actively and take notes. Write down every piece of information, especially numerical data.
Step 2: Restate the question. Pause, paraphrase, and make sure you understand the problem statement by confirming with the interviewer.
Step 3: Clarify the objectives and identify the problem. Ask specific questions and double-check on objectives. Make sure you completely understand the problem.
Step 4: Write out your structure. Ask your interviewer for a minute to prepare your structure and organize your notes. Identify your case type and use an issue tree to customize your structure. The branches of your issue tree should be MECE.
Step 5: State your hypothesis. Now that you have set up the issue tree, your task is to test each branch to see if it is the root cause of the problem. Where to begin? A hypothesis based on an educated guess helps here.  (e.g. "Since you have mentioned that revenues are more or less flat, my hypothesis is that the problem is mostly driven by the cost side of the business. If it is okay with you, I will start by […]")
Step 6: Think out loud. Sharing your thoughts allows the interviewer to interact. Refine or rebuild your hypothesis as you find out more.
Step 7: Gather more data in order to test your hypothesis. Proactively ask for relevant data and always segment it (e.g. using the ABC analysis). Try to evaluate whether trends have been company-specific or industry-wide.
Step 8: Dig deeper while staying structured (MECE!) throughout the case. Always refer to the structure you have set up at the beginning of the case, but be flexible as the case evolves. If you conclude that your hypothesis is false, eliminate that branch and go to the next one. Summarize findings when switching major branches. If your test confirms your hypothesis, go deeper into that branch, and drill down to the lower levels until you identify all proven root-causes.
Step 9: Choose a recommendation and use the Pyramid Principle to structure your conclusion. Ask for a minute to gather your thoughts and then state your recommendation. You need to deliver a one minute, top-down, concise, structured, clear, and fact-based summary of your findings.
Step 10: Stand by your conclusion. Your interviewer will likely challenge your recommendation (either to see if you can handle pressure or to assess if you really believe in what you are saying).
1. Focus on the task at hand 
Don't think too much about the approach your interviewer is taking. It should not matter much if the conversation is interviewer- or candidate-led. If you go into your interview with a profound understanding of how to handle even a difficult case, the format of the interview should not be an issue. Keep a cool head and structure your thoughts.
2. Ask the right questions 
At the beginning of the case, your interviewer will present you with the situation of the client. Don't rush into the analysis without developing a deep understanding of the problem first. Ask your interviewer questions to clarify the case. This is expected behavior that also takes place later with the client. Make sure you understand what the business model and your objective in the respective case are (regarding both money and the timeline). If there are any other possible limitations you are unsure about, ask your interviewer in a concise way. Asking unnecessary questions will raise doubts about your ability to work efficiently under pressure.
3. Buy time with repetitions 
A common trick consultants use is the repeating of facts or overall goals. By doing this, you are showing a fundamental comprehension of the case and are emitting an aura of control, gradually heading towards a solution. This technique can give you more time to think. Articulating the facts of the case can also be a source of clarity and allow you to form solutions more quickly.
4. Only form a hypothesis with sufficient information 
Do not state a hypothesis at the beginning, a stage in which you may still have incomplete information. Get a good sense of the case's environment and ask sensible follow-up questions. Only then frame a structure and formulate a hypothesis.
5. Utilize data for your analysis 
Taking wild guesses is a death sentence for your case interview. Make sure your claims are backed up by the facts, and remain calm when presented with new information. Consultancies will closely observe how you make use of new data and incorporate it into your hypothesis.
6. Take clear notes 
Taking structured notes is a highly underrated skill when dealing with a case. Making sure your notes are coherent and clear will make your thoughts easy to navigate and ensure you do not lose your footing during the interview.
Place your sheet horizontally to maximize your space, and jot down the case's key question on the left side of the page. This way you will never lose sight of the main objective. The remaining portion will be dedicated to the issue tree, with your hypothesis included above the issue tree.
Make sure that you highlight key pieces of information that add substance to your hypothesis.
When it comes to calculations, use a separate page, but practice having it organized in case you need to go back through your assumptions or calculations.
Try to limit the number of pages you use to a maximum of three sheets. Otherwise, you will stress yourself out while trying to find what you are looking for.
7. Structure is key 
The most important aspect of a case interview is having a good structure. You can structure your case by following these four steps:
Craft an issue tree as the overall foundation for your structure. This is a customizable framework used to analyze the root causes of problems in a case. It helps you to break a complex problem down into its components.
Make sure that your issue tree is MECE to avoid inefficient dependencies between branches that will slow down your analysis. MECE is a way of segmenting information into sub-elements that are mutually exclusive and collectively exhaustive. 
Prioritize and concentrate on high impact issues of your issue tree that will create value for your client. Always make sure you explain the reasons behind your choices to the interviewer.
Use the Pyramid Principle to structure your conclusion, a three-step structure to present your synthesis in an effective and convincing manner. First, state the recommendation (What?). Second, provide three reasons supported by data (Why?). Third, provide information on how to implement the recommendation (How?). 
To practice your structure, you can use our Structuring Drills.
8. Don't force-fit frameworks
Standard frameworks can be a source of inspiration, but should never be force-fitted to a case. They are very stiff and do not allow room for customization. If you use pre-defined frameworks, you run the risk of missing important elements of the specific problem you are trying to solve. A consultant would not just force-fit frameworks to their specific client's problem, so you should not do this in your case interview, either. Each case is unique and requires an individually customized framework that is MECE as well as adapted to the problem you are trying to solve, the company, and the industry.
9. Don't panic if you get stuck 
If you ever get stuck, don't freak out – it happens. What counts is how you deal with the situation. Here is what you can do:
Take a deep breath or a sip of water if you have a glass of water nearby.
Take a moment to grasp the big picture, to recap what you have learned so far and what you still need to find out to address the main question at hand.
Outline how these sub-questions can be answered, and what kind of data or information you will need to do that.
Double-check whether data or information provided by the interviewer at an earlier stage is now getting new relevance.
Think out loud and take the interviewer along with your thinking process. If you are puzzled by some obvious contradiction, actively discuss this with your interviewer. Oftentimes, an interviewer will wait for you to explicitly verbalize your confusion before gently guiding you.
10. Sometimes there is no clear answer 
Oftentimes, a case interview has no "correct" or "standard" answer. The case may encompass you exploring the issues and walking down several paths. There are often many solutions to a single case that may differ from the interviewer's expectations. In the end, what counts is your train of thought and how you got to your solution. You are not expected to know everything about business, but demonstrate a logical judgment and a good approach to solve problems.
Nevertheless, you should always give a clear recommendation at the end of the interview, when the interviewer will ask for your conclusion. The trick is to use supporting arguments based on what you have learned during the analysis, to point out limitations, and to also highlight additional areas to explore to confirm that your current understanding is the right one.
11. Engage the interviewer 
The interview should be a dialogue, so make sure to engage the interviewer and demonstrate not only your business judgment, but also your communication and people skills. This gives the first insight into how you might interact with future clients and colleagues. How can you do that?
Explain. Share your thought process with the interviewer, and always let them know what your next steps are.
Listen. During your case interview, the interviewer will usually give you hints and steer you in a direction. Notice that! If they ask a specific question, e.g. "Name three points about…", answering in two or five points will mean that you didn't pay attention.
Ask questions. Create a discussion, initiate small talk, and use your chance to make a positive connection with the interviewer, especially at the end of every interview when you get to ask final questions. Find a point in common and try to stand out. Here is a list of the best questions to ask at the end of an interview.  
12. Be confident 
You don't necessarily need to be extroverted to be a top management consultant, but you need to be confident. Consulting is a people job as much as it is an analytical job. It is important for the client to feel that you know what you are doing. Thus, this is something the interviewer will take into consideration. Here are five things you can do during the interview to come across as more confident:
Try to enjoy the interview by focusing on the challenge, the satisfaction it brings you when you solve the case, and the joy of sharing your life experiences with someone else. If you have fun, chances are high that the interviewer has fun, as well.
Find your own style and don't try to pretend to be someone that you are not. It is fine if you are not the most outgoing person. Just be genuine!
Sit up straight, but don't be too stiff. Push your back against the back of the seat and don't just sit on the edge of the chair.
Make eye contact, but don't stare, either.
Speak in a clear, calm, and unrushed manner. Don't mumble or whisper, but equally don't shout. Think before you speak!
13. When in doubt, reschedule 
If you're not feeling confident about your chances, don't hesitate to reschedule. If you take this course of action, take a few things into consideration. Make sure to suggest an alternative day and avoid rescheduling multiple times at all costs. The consultancy will be grateful for you to suggest an immediate alternative. Try to be transparent as to why you are rescheduling without going too deeply into details. However, rescheduling should only be used as a last resort.
To become the best, you must learn from the best. That is exactly what PrepLounge can offer you. The vast PrepLounge community makes it easy to find case partners with the same ambitions and goals as you. Whether you are looking for a professional case coach or other aspiring consultants, you will have no problem finding case partners in the build-up to your interview. Our PrepLounge coaches – from Bain to McKinsey – are uniquely qualified to provide you with insights into the mastery of a case interview.
Apart from case partners from every imaginable background, PrepLounge provides a colossal collection of online resources to give you the best preparation leading up to your case interview. We will provide you with questions and answers to the most important consulting case types and share in-depth knowledge for the best possible case interview preparation. You will be able to find case partners to practice online and always be on top of the latest insights and news regarding consulting jobs and top consulting firms.
As a PrepLounge member, you will receive access to all these perks. PrepLounge will accompany you all the way from your application through to your contract negotiation. You strongly diminish your chance of success without sufficient preparation. Invest in your future and give yourself the best chance at acing your case interview! Exchange your experience with peers from all around the world in our Consulting Q&A. Join our case interview community today and embark on your journey into consulting!