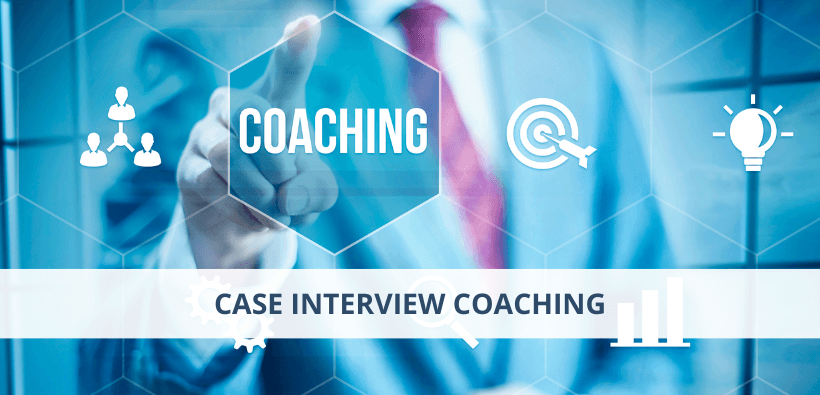 Case Interview Coaching: Make the Most out of Your Coaching Sessions
Case interview coaching is the best way to set yourself up for a successful start in your consulting career. It allows you to maximize your chances of securing your dream job offer at McKinsey, BCG, Bain or other top consultancies. Considering the great competition among candidates, you will not regret investing in the highest quality of preparation. You may regret it if you don't!
So, what do you need to know about case interview coaching? How do you choose the right coach and coaching package for you? How can you make the most out of your coaching sessions? In this comprehensive article, we answer all these questions for you. Let's get started!

Before we get to the six steps on how you can make the most out of your case interview coaching, let's get a basic understanding and have a look at some of the most frequently asked questions concerning coaching sessions:
In general, case interview coaches help you with your preparation for your case interview. Usually, they do this by going through a mock interview with you, consisting of both personal fit and case interview part, after which they provide you with valuable feedback to help you improve your performance. The one-on-one session takes 60 minutes and is conducted online via Skype or another video call provider.
Before your session, you will discuss with your coach what your needs are and where you are at during your case prep process. How the case interview coaching session looks in detail will depend on you and your progress, as it is tailored to your individual needs.
On PrepLounge, you have a transparent list of all experts. They have many years of experience at top consulting firms and have already helped thousands of candidates land their dream job offer. All expert profiles include:
Professional and educational background
Top Skills
Information on their individual coaching approach
Number of conducted coaching sessions
Reviews & recommendation rate
Price per session
This allows you to individually choose the perfect experts for your coaching sessions. For example, you can get insights from an expert who has worked at the exact same company you are applying to. No other platform offers transparency like we do.
Overall, the choice of coaching type depends on:
The specifics of your application (target firm, location, weaknesses, etc.)
The size of your available budget
The number of coaching sessions you need
Your wish for flexibility and to train with different kinds of coaches
Here is a short description of your options on PrepLounge:
a) CoachingPlus: All-in-one case interview preparation package
The CoachingPlus package is your go-to all-in-one prep package, especially if you are on a lower budget. It offers you a combination of several coaching sessions plus a Premium Membership that gives you access to the most essential prep material on PrepLounge. You can choose among a list of about 15 coaches, so have a look and check whether they fulfill the specific needs of your application (e.g. target company, location etc.). They are all approved experienced former management consultants at top firms. 
b) Expert packages: Coaching bundle with your favorite coach​
Some of our best coaches offer their very own coaching packages. This is a great investment, as they already have experience as PrepLounge coaches and already helped hundreds of candidates land their dream job offer. Please note that you will be tied to one single coach, so make sure you complement your coaching sessions with high quality peer2peer practice.
c) Individual coaching sessions
In general, it makes sense to take advantage of coaching packages, as they always come with an overall discount compared to individually booked sessions. However, if you are in a very specific situation and the coach you are looking for is not included in a package, it makes sense to arrange individual sessions with the coaches of your choice. This offers you also a lot of flexibility, as you are not tied to specific coaches.
Based on the experience we have gained over the years helping candidates land their consulting job offer, we are convinced that you need both good partners AND coaches to significantly increase your chances to succeed. Case partners help you reach the quantity you need in your training and coaches can help you with the fine tuning based on their deep industry and recruiting experience. Francesco explains it quite nicely:
As for many other activities, a coach for consulting interviews can help you to faster achieve the results you want to get, which means you can get to your top-level performance in a lower amount of time AND increase the likelihood of getting into your desired company. There are several reasons for that, including as main ones the following:
More experience. A good partner may have done tens of cases. A great coach has hundreds or thousands of cases and coaching sessions under his/her belt, a network of current consultants to help with networking, and has gone through most of the consulting prep material out there. This means that you will work with someone with exponentially more experience. This means that in the end you can get to your desired results 10X faster or more than working without a coach. As an example, when I help with coaching, I not only provide the best cases based on an experience of 1400+ coaching sessions, but also a network of hundreds of current consultants worldwide to help you with referrals, constant support after the class and a selection of the best prep material for free, to boost your preparation in the minimum possible amount of time.
Teaching skills. A good partner can provide challenging cases. But are you really looking for a partner just to get a well-delivered case? The goal when doing cases should not be to do cases per se but to improve. And for that, you need someone who is able not only to deliver a case but also to teach you how to get better. A great coach can help you to spot your mistakes and teach you the exact steps to improve for each of them. When I help with coaching, I usually provide a 2-page minimum feedback report, detailing all the mistakes you are doing and the specific ways you can correct them, plus providing the material to start to work on the different areas.
Stronger commitment. It is clear that coaching requires an investment while good partners are usually free. Although it may sound counterintuitive, putting money in your learning is one of the best ways to self-commit to success. Once you have invested in something, studies show you have a lot more commitment to deliver your maximum results, at the bare minimum to justify your investment. I have experimented this first-hand with my own investment: at the beginning of this year I committed $1000 in a coaching program for self-improvement. Although the program overall was good, it also required a lot of work from my side. I can guarantee you I would have never gone through the whole amount of work required if the course was free. But since I paid for it, and thus committed, I put effort to deliver the maximum I could from the program. And in this way, I got the results I wanted. Of course, you want to invest wisely when choosing a coach – I would recommend you carefully select your choice based on the success rate and reviews.
The most successful people in the world - from Warren Buffet to Michael Jordan - had coaches helping them to achieve their goals. The reason is simple: investing in the stock market can give you an 8% return in one year. Investing in yourself can give you a 10X return in one year. And getting a great coach is one of the easiest ways to invest in yourself, whatever part of your life you want to improve.
Of course, there are many examples of candidates out there who received an offer without case interview coaching, sometimes even without any case preparation whatsoever. However, think about how many candidates have failed their interviews due to insufficient case prep and have to wait one to two years before they can reapply.
Are you willing to take this risk? How upset would you be if you didn't spend a few hundred dollars when this was the difference between getting your dream job offer or not? We know from our candidates that they don't regret having invested in sessions by experienced coaches because after having landed the job, the amount of money they have spent on the coaching sessions will be compensated big time.
Coaching has an extremely high return on investment. If you get an offer, you will be able to return your investment within the first week at work based on your salary package! Coaching can make the difference to assess your level, improve the personal fit part of the interview and polish your skills rights before the interview. One of our candidates states:
"I did four sessions with a case coach after my first round at BCG, and before the final round, and received an offer. I would say it was definitely worth it since I think it was the small, advanced tweaks that helped push me over the edge to get an offer."
Please also note that case interview coaching sessions are fully tax-deductible in several countries (e.g. United States, Germany). We suggest that you contact a tax advisor before purchasing the package if you are not sure whether it is tax-deductible in your country.
As in many cases: it depends. Some candidates like to prepare independently with only some checkpoints with coaches along the way, while others like intense coaching throughout their entire case prep.
Based on our experience, we recommend you start your overall case prep about four to six weeks before your actual interview and schedule your coaching sessions between three to one week before your actual interview.

Have a look at two reviews by candidates below (and feel free to browse other reviews on our list of coaches):

"I am incredibly thankful for the excessive coaching and mentorship that Sidi has provided to me! I have just been offered consulting positions at McKinsey and BCG within the last 48 hours… I still can hardly believe it. :) Just a couple of weeks ago I was almost desperate, not knowing how to pull off consistently good interview performances and thinking through big and highly complex case studies. I had extensively worked with the typical resources like LOMS, Case in Point, used different case partners, but I was still struggling a lot. But Sidi has COMPLETELY OPENED MY EYES on how to approach cases and how to think about literally any possible business problem! I had previously practiced with a couple of other coaches, but only after talking to Sidi I truly understood how fundamentally wrong I was in putting the learning of frameworks at the center of my approach! Nobody had pointed this out to me in such a clear way. After our first initial session, Sidi has mapped out a rigorous 4 weeks preparation plan for me, which included 5 expert sessions with him. The goal was for me to really absorb and internalize the core principles that would allow me to tackle any strategic business question (this was centered around value creation, qualitative and quantitative driver tree creation, how to rigorously address the specific client question(s), how to exhibit sharp and crystal clear communication, etc.).

On top of that, Sidi even put me in contact with current consultants at McKinsey before my interviews! So I could have informal chats with them to discuss very specific questions that I had regarding one of the functional practices at McK.

So in my view, booking a series of sessions with Sidi is by far the best way to ensure that you get to the level needed for an offer at the top consulting firms! I would definitely not have been able to pull this off without his incredible guidance!"

"The session with Francesco was impressive; thanks to his advice I managed to receive an offer from Bain!!
I would strongly recommend it to everyone tackling an interviewing round with a 1st or 2nd tier management consulting firm!
Among the key highlights of the session, I would underline:
The "technical" preparation. Francesco provides detailed feedback on each of the key areas of the case (initial questions, structure, ability to drive the case, calculations and conclusions).
He is using the REAL evaluation method that MBB firms are using and that you will have to face in the interview
The "tactical" side of the session with him is something that provides very high added value. He covers all the behavioral parts such as tone, voice, eyesight, type of questions asked, appearance, conversational ability, and behavior under pressure. Many people think that the "behavioral" part is just a preplanned-mechanic answer to the classical set of 10 questions. After landing an MBB offer I can personally tell you that it is not like this at all... and I can't stress enough how this behavioral part is constantly overlooked by candidates.
In the sessions with him, I received a complete feedback about main points of improvement to succeed
The "choice". Landing an offer is the main aim of the candidates, but what to choose in case of multiple offers? Which aspects are to be kept in mind?
Which are the eventual "exits" and post-consulting perspectives?
I am not a neo-graduate from university and I think that the session with him was really interesting for discussing about negotiation of offers, exit strategies or alternatives to consulting.
To sum up, I would strongly recommend a session with Francesco for boosting your preparation before an interview and increasing your chances to get an offer!!!"

Step 1: Get the basics
Jumping right into coaching sessions when you have not even started your case prep, yet, can be a waste of your money and time. Therefore, it is important that you get the basics first. This means you should work through our BootCamp, solve some cases on your own and practice them with other case partners.
After a few rounds, it can already make sense to schedule your first coaching session, so you do not head in the wrong direction. However, it depends on you. You can also decide to get a coaching once you have reached a very advanced level. After all, the value of a case coach is to help you get from a good level to reach an exceptional level.
Step 2: Evaluate your situation
Before you start looking for a case interview coach, it is important that you know and can explain to him or her briefly your needs. You should have a clear understanding of your background and goals, so the coach can decide if he or she is the right fit for you.  This means you should define:
What is your background? Do you have a business background and work experience? 
How much time do you have until your interview and which companies are you applying to? What is your target firm?
How far along are you with your preparation? How many cases have you solved with how many different candidates?
Do you already have some specific problems in mind (e.g. structure, brainstorming, personal fit) that you would like to focus on during your session?
It makes sense to write a short paragraph that you can send to the coach when you reach out to him. 
Step 3: Pick the right coach(es)
In our experience, it makes sense to get feedback from different coaches since they can offer you different points of views (if you haven't already, check: What type of coaching is the right choice for me?). 
How to find the right coach in three steps:
Filter out the coaches according to the most important criteria, such as recommendation rate, number of coachings, price per session/coaching package
Select 10 coaches max to investigate further – get a good impression from the coach by looking at the profile description, reviews, Consulting Q&A answers and PrepLounge awards
Reach out to 2-3 coaches to clarify questions you may have regarding their coachings
Great coaches will usually:
Tailor the coaching sessions according to your needs
Establish a good long-lasting relationship to you
Give you the full transparency about the coaching process via PrepLounge
If you want to purchase a coaching package, you can use the same approach for CoachingPlus coaches and our top experts who offer their own coaching packages.  
Step 4: Schedule your first coaching session and develop a game plan with your coach
One-size-fits-all does neither work for frameworks during your case interview nor concerning your coaching session. Defining a tailored approach for you and your needs, lays an important base and helps make your coaching session most effective. Let your coach know what is important to you at the beginning of your first session (e.g. personal fit or case).
Then go through an initial mock interview, so your coach can assess your level, help you evaluate what your weaknesses are and decide how much work needs to be done. If you are a very strong candidate, only one session can be enough to refine your preparation, but it could also be the case that you need five coaching sessions or more in order to significantly improve.
Step 5: Take detailed notes during and especially after the coaching session
All our coaches will send you detailed feedback after your coaching session which is probably the most important part of it. However, this doesn't mean that you shouldn't take notes yourself! Listen carefully and write down the important points and feedback your coach lets you know during your session.
You won't have that much time to focus on taking notes (listening is still the most important part, of course 😉 ), so take some time directly after you finish your call with your coach to write down in detail what you have learned during the session. This will be a useful tool to evaluate your progress when you put your feedback into practice.
Step 6: Put your feedback into practice
Doing mock interviews with other candidates, helps you to put the feedback your coach has given you into practice. So, this is definitely something you should be doing after your first (and other) coaching sessions. Plus, it helps you to get into the perspective of the interviewer and to pay close attention to what is important during an interview.
After each mock interview, again, take notes based on the feedback you have been given by your case partner. Also, write down other things you noticed that will help you to increase your performance. You should collect these learnings along with your case prep and always keep reading them before and after each practice session.
Most people that I helped getting into MBB reached a solid 'offer-ready' level by the time they had solved about 30 full ~45 minutes cases with an experienced case partner.