Note: My current fee is temporarily reduced. I will be increasing the price within the coming period. 
Hi there and welcome! 
I am Cristian and I am the highest-rated McKinsey coach on this platform by both rating and recommendation rate (filter on the Coaches page for McKinsey and sort by 'recommendation rate' or 'awards last month'). 
Though I specialise in MBB and particularly McKinsey, I look forward to supporting you in getting multiple offers from all your target firms. I have the confidence that whoever you are and wherever you come from, between you and your dream job is just a bunch of work. And I am here to help you get through it in the most efficient, effective and elegant way possible.
Free Resources (Click on "Show more"⬇)
Here is a summary of my impact over the last year: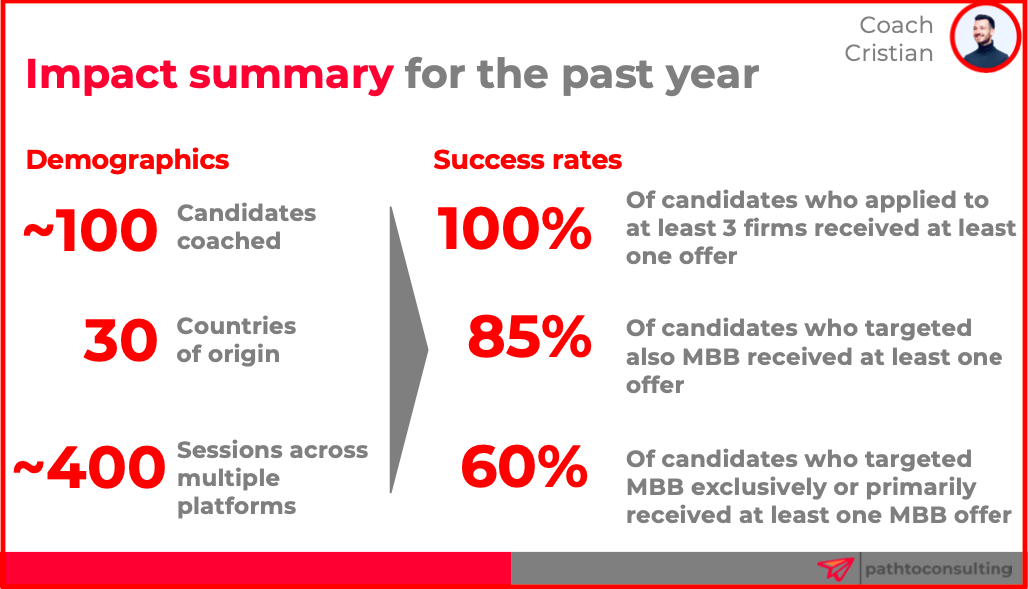 And a selection of the offers my candidates received in the past year (read their success stories HERE)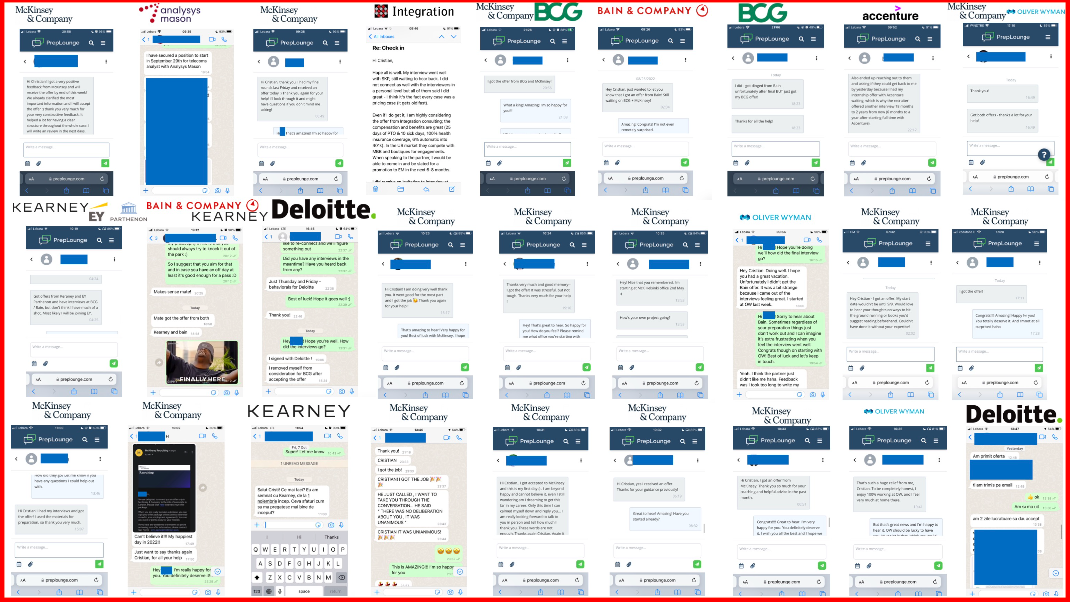 Let me share a bit more about:

A. Who I am

B. What you'll get by working with me as opposed to other coaches

C. My approach to coaching

D. What does a case session look like
A. Who I am
You can read more about my profile on the McKinsey website HERE. Below is an overview of my story.
I joined McKinsey virtually by accident since I never planned to become a consultant. As I was about to graduate from Oxford, I was offered a great job that I decided last minute not to take because of the personal sacrifices it required. So fresh out of university, I found myself jobless and with no clue which way to go. My girlfriend at the time was applying for management consulting and because it seemed like the cherry at the top of the corporate world, I decided to give it a shot. I practiced hard (including on PrepLounge), got a few offers and chose McKinsey. I was so happy! 
But it soon turned out that I knew absolutely nothing about consulting and I hated the job. My performance reflected that. By the end of the first year I was close to 'Issues', which in McKinsey terms is the last step before being 'encouraged' to look for another job. I sought out mentorship and I spent a lot of time thinking about my own path. I gradually understood that I was not just a consultant, but an agent of change within the Firm and the client's organisation. With my mindset, my performance changed. 
I ended up spending almost five years in McKinsey and during the last three years I was consistently rated in the top quartile of performers in the region. I was fast-tracked promoted twice, worked across eight countries and nine industries. I had clients genuinely, personally, thank me for the impact I delivered. I spent time coaching more junior colleagues and acted as faculty at McKinsey's new joiners training (basically coaching new consultants on how to be effective in their job).
Mid-2021, I quit McKinsey. It was a great place, but I decided it was time to move on. Like in a marriage where we just grew apart but stayed friends, we still share nice memories of each other. Following my passions, I started a professional coaching business, I'm writing a book and I cause mayhem with my toddler. It's a great a life.
If you want to get to know each other or if you have additional questions, feel free to reach out for a free introductory call ! I'm always happy to share advice and talk about my experience. Most importantly, stay positive. Anybody can do this. Set a clear goal, make a plan, stay consistent and just do it! I'll be cheering you on from the back.
B. What you'll get by working with me (instead of other coaches)
1. REAL and VERIFIABLE SUCCESS RATES. If you scanned a few coaching profiles already, you might have noticed that everybody claims success rates. Instead, I do what nobody else in the industry does: I play with my cards open. At the link below is the database of candidates I've worked with since I left McKinsey, who succeeded, who failed and what firms and countries they ended up working in. No claims. Just facts. Have a look and judge it for yourself HERE (screenshot below)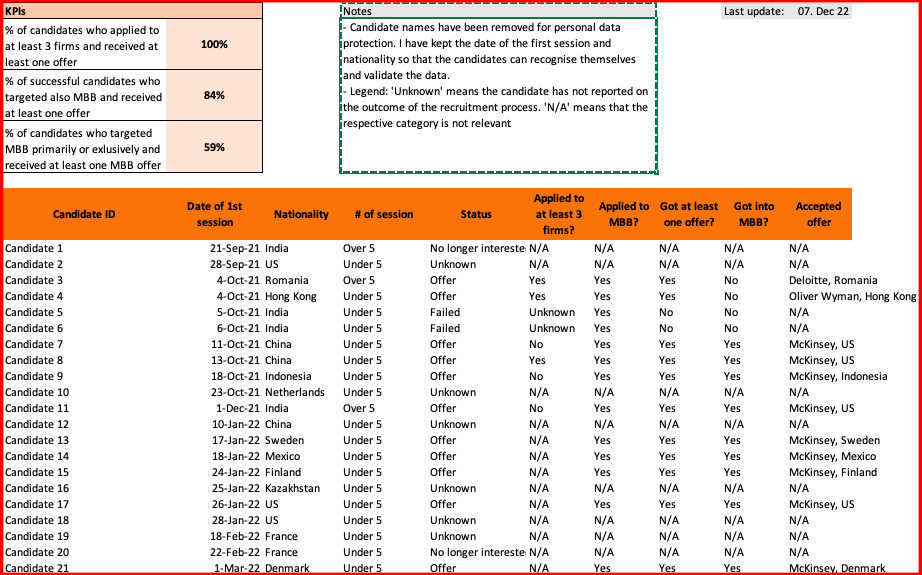 2. AT LEAST ONE OFFER REGARDLESS OF YOUR BACKGROUND. I've worked with candidates aged 20 to 48, from top MBA schools and non-target undergraduate colleges, people at the top of their cohort and people who thought they have nothing worthy to show on their CV,  others who were recovering from a long illness, or who spent more than a decade in academia, entrepreneurs, chemists, engineers, NGO workers, investment bankers, writers, professional basketball players, insurance agents, people unemployed for more than a year, etc., and ALL, regardless of who they were and wherever they came from, all those who interviewed with at least 3 firms received at least one offer. Some had to choose between 5. This proves that anybody can do it if they set their mind to it. You can see an overview of my impact and success stories from my candidates HERE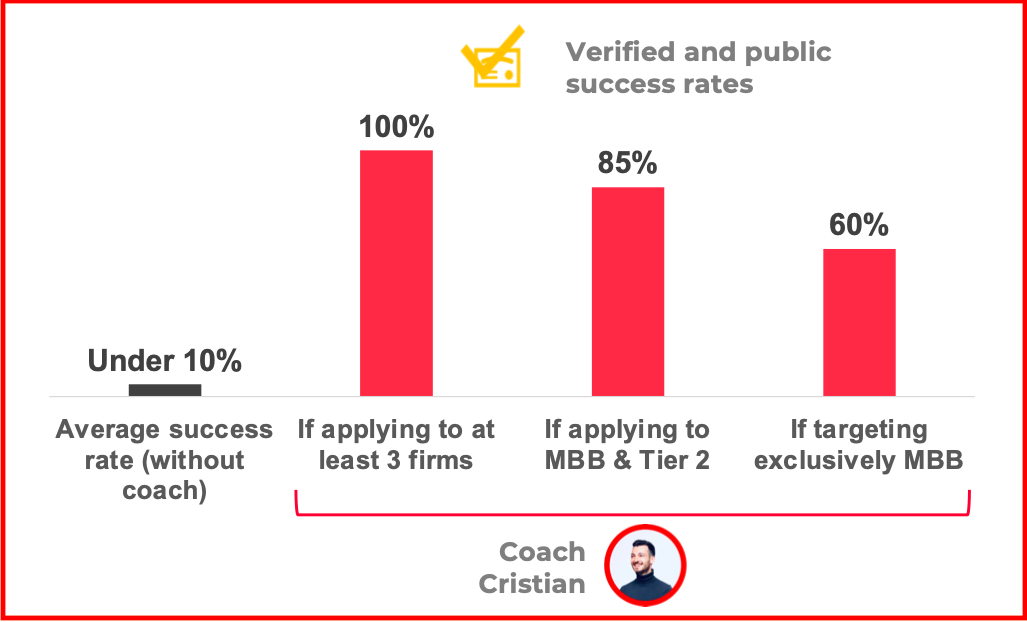 3. PRAGMATIC and HONEST FEEDBACK, VERBAL AND WRITTEN. I will tell you whether your performance is a pass or fail, why and what you need to do to close the gap. I am very honest, so there will be no sugar-coating. I am  the only coach to provide feedback on scorecard modelled based on the recruitment criteria of MBB, providing grading per each individual question, including strengths, areas of development and a tailored improvement plan with clear, actionable next steps. I also value my time more than the coaching fee, so I will not recommend you do more sessions if I feel I cannot add further value.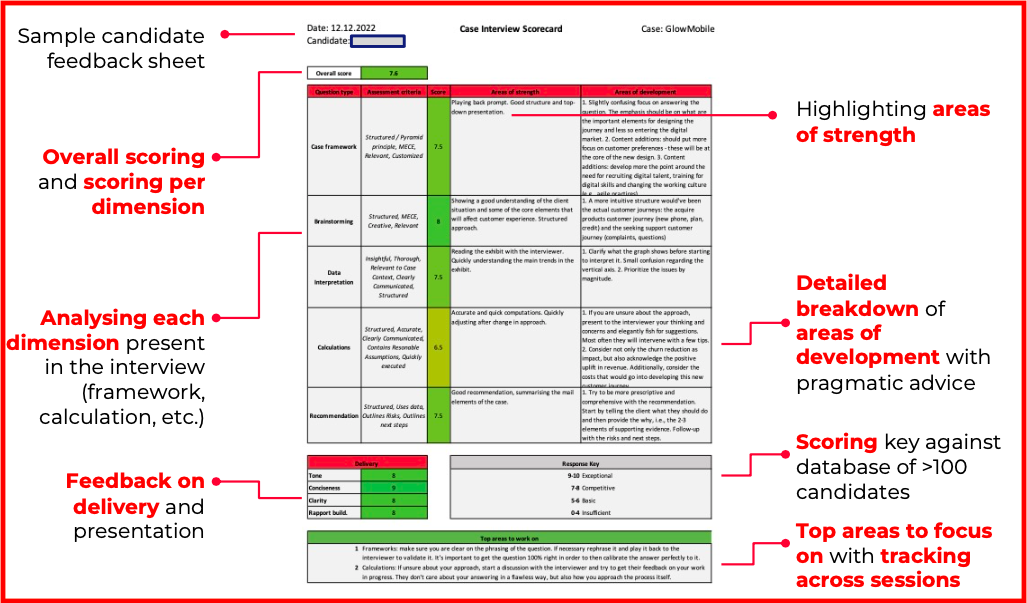 4. WIDE EXPERTISE. I work with candidates across the entire spectrum and I invest significant amount of time researching their target roles, using my network to gain more intelligence on what is expected in the recruitment process. To this moment, I've supported candidates to secure offers across MBB, Tier 2 and 3 firms, across 30 geographies and over 40 offices, from Senior Manager to Intern, from Generalists to Specialists, from Digital to Implementation and from New Joiners to Experienced Hires. 
5. SUPPORT ACROSS THE ENTIRE APPLICATION PIPELINE. From developing your CV and cover letter to fine-tuning for your final interviews and negotiating your offer, I'm along with you for the entire ride. I provide lifetime access to my high-quality practice materials (e.g., cases based on real MBB interviews, math drills, case book library) as well as proprietary assets (audio recording of successful personal fit interviews, database of real personal fit interview questions collected from real MBB interviews, etc.) as well as access to my base of candidates for reliable, high-quality peer training.
6. PERSONAL STORYLINING. Your personal story and value proposition is critical both when you apply for a consulting job and once you are in one, yet very few candidates and even coaches know how to carve one. Storylining was one of my spikes as a consultant and it's something that I'm so deeply passionate that I'm now writing a book. I am one of the few coaches who can help you identify the stories from your experience that will make you shine in person as well as on paper, as well as adjust your mindset about the recruitment process.
7. LIFETIME COACHING. Many of my successful candidates remain long-term mentees and I provide them with support on the job. Having personally managed the transition from a failing consultant to a top performing one, I can share with them practical advice for how to perform at the top of their cohort. Additionally, since I was running the new joiners trainings at McKinsey, I provide them with a crash course on how to get a head start in their consulting job.
C. My approach to coaching / The ideal coaching journey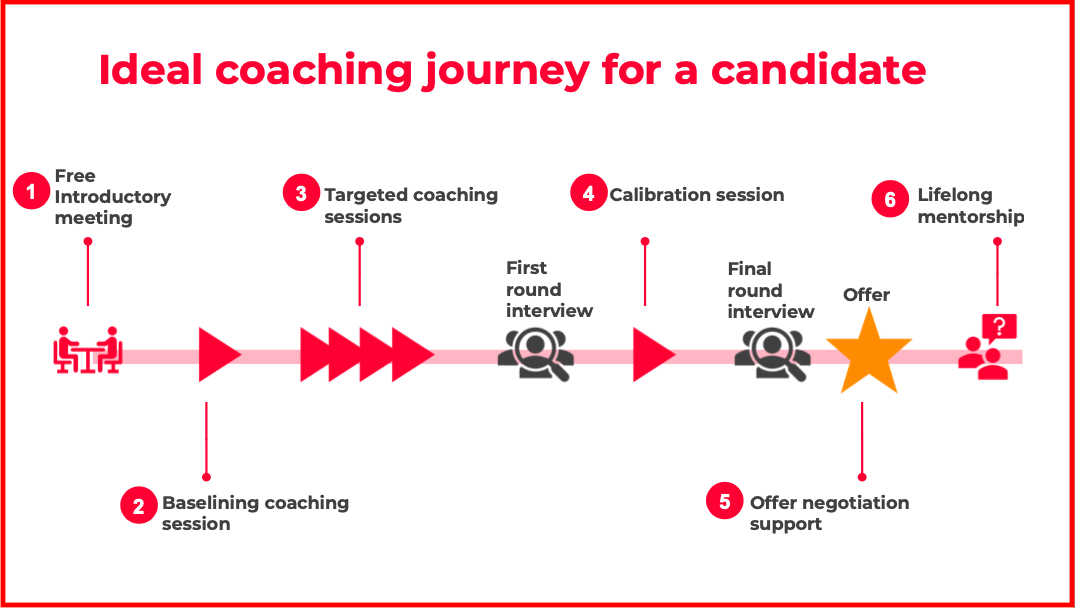 1. FREE Introductory meeting (either before or as part of the baselining session) - This initial meeting is an opportunity for us to learn more about each other and align on several points. What are your aspirations? Which firms are you targeting? What specific roles? What geography? What is the timeline that you have in mind? What is your background? What is your self-assessed readiness level? How many cases have you done? What is your interviewing experience? What are your self-assessed strengths and weaknesses? You can ask all questions that you want clarified about the process or myself, then we align on how we move forward.
2. Baselining coaching session - In this session we will be doing a case from your target firm, fully in role as interviewer-interviewee. The objective is to get a granular understanding of your current level, strengths and weaknesses and grade your performance against other candidates. We will then do feedback going point by point through each dimension as assessed in the recruitment process. At the end of this session, we will co-create an applications strategy and timeline, agree on objectives and I will provide you access to my library of materials (recommend you specific exercises to practice until our next touchpoint). 
Note: The library of materials I provide is sufficient to cover all the aspects of the interview, from sample frameworks, to math drills, to case books, recordings of personal fit interviews, archive of personal fit questions from real interviews and many more. 
3. Targeted coaching sessions - The following session(s) will take place whenever you have progressed on the feedback provided during the last discussion (a cadence of sessions can also be set if the candidate prefers so). I will be tracking your progress from session to session, including the progress of your scoring on each case dimension. At the end of each session, we will again agree on the next growth objectives, the exercises you should practice and calibrate our application strategy accordingly. These sessions can be focused either on the case or PEI or on targeted exercises (e.g., different types of math problems)
4. Calibration session - Between interview rounds, we can meet to understand the feedback you received from the interviewers as well as your first round experience. Final round interviewers pay special attention whether candidates are reactive to the feedback provided in the first round, so this is an opportunity to polish your skills before the final round. I will also be providing you with tips on how to handle more senior interviewers and discuss how to best approach unusual, on-the-spot cases.
5. Offer negotiation support - Once you've secured your first offer (yay!) we'll be in touch to discuss how to negotiate it and maximise your bonus (and base salary, depending on role), as well as how to choose between offers. I require no compensation from this point.
6. Lifelong mentorship - I run a free session with my candidates when they are about to start in their new role, sharing everything that I've learned in almost 5 years of McKinsey in terms of what makes an effective consultant. I will also share with you what turned me from almost getting kicked out to being top quartile and fast-tracked promoted twice. Then as you face challenge after challenge in your role, I will be there to help you. Working together means having me as a mentor by your side for the long-haul. 
The reason I do all of this is because I have a strong belief: anybody can be a top management consultant. Everything is coachable. Nobody is born doing it. What makes the difference is how committed you are to the goal (i.e. what is the intensity you're willing to practice at x the time you're willing to take). I will support you in going through this journey in the most efficient way possible and develop the sort of skills that will not only help you pass the interview, but become an effective consultant. Now you can relax, you're in good hands.
D. What does a case session look like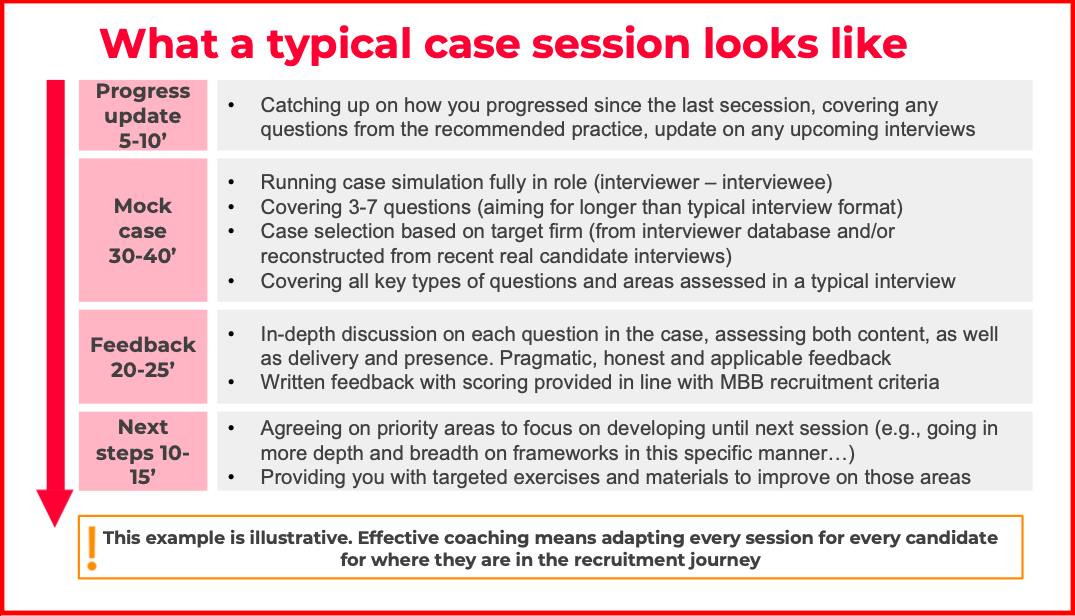 ----------------------------------------------------------------------------------------------------------------
List of assets my candidates receive when working together:
Written feedback scorecard after every session based on MBB criteria, with grading per each individual question, including strengths, areas of development and a tailored improvement plan with clear, actionable next steps
Cases based on real McKinsey, BCG and Bain interviews and original cases built from real McKinsey engagements
Collection of real personal fit (PEI) interview questions (covering +95% of any potential questions) from candidates who went to interviews within the last year
Recording of a successful PEI interview (Associate, US) so you know what a great story sounds like, what is the structure, how much time the candidate spends on each part and what are the sort of questions the interviewer asks
Math drills pack containing dozens of problems sets and exercises to improve calculation speed and accuracy, as well as effective chart interpretation
Library of case books containing several hundred practice cases
Collection of the most helpful free online resources to accelerate your prep, including articles, Youtube channels, practice exercises and websites
Recording of our session for your individual review (if requested)
Long-term mentorship extending beyond interview coaching. I am in touch with virtually all of my candidates who now work as consultants and supporting them in performing at the top of their cohort