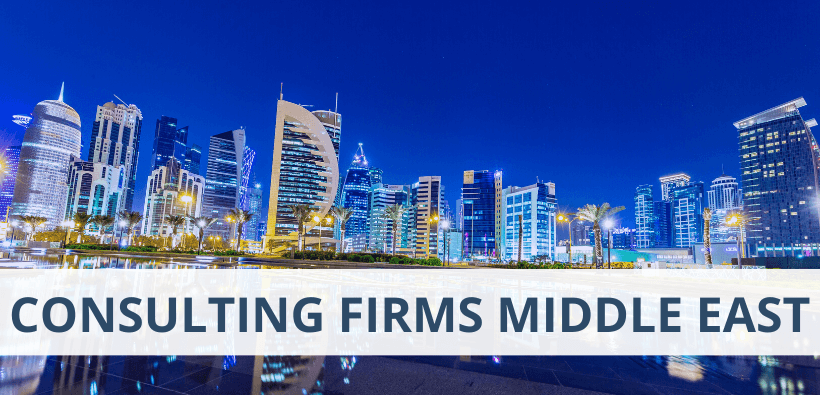 Consulting Firms Middle East
The economic importance of the Middle Eastern countries is growing steadily. This also has a positive effect on the consulting sector. Are you interested in the Middle East and wondering what kind of salaries you can expect there? Our expert Francesco explains why the countries are so attractive for consulting firms and how much the various top consultancies pay per region. The compensation packages are compared country-specifically between the three most important centers to get a better overview. Furthermore, tips are given on how you can prepare yourself well for the increasing competition!

The Middle East is a region near the Mediterranean Sea that includes the Arabian Peninsula and neighboring countries, as well as regions such as Iran and North Africa. The area – particularly countries such as the Kingdom of Saudi Arabia, the United Arab Emirates, and Qatar – has undergone an amazing economic transformation over the past several decades. As a result of this transformation, the Middle East has become a major management consulting hub over the past several years. The region is now able to compete with major consulting markets like London, New York, and Singapore in attracting talent from all corners of the world.
There are several reasons for the rise of the Middle East as a prime location for aspiring consultants to pursue their careers:
As mentioned, several countries in the Middle East have seen a major economic boom over the past several decades. This was mostly due to significant economic reforms being implemented following the oil boom in the 1970s (which the region greatly benefited from due to being the world's largest crude oil production hub). The reforms focused on reducing the reliance of individual countries on crude oil production by diversifying to other economic activities and attracting foreign investments. As expected, these policies have created substantial demand for consulting services, with many consultancies such as the MBB firms (i.e., McKinsey & Company, the Boston Consulting Group, and Bain & Company) stepping in to help Middle Eastern countries steer their economies towards the future.
The region's economic transformation is expected to intensify in the coming years as countries introduce new economic and social reform plans such as Saudi 2030 and Egypt 2030. The governments of these countries will be spending huge sums of money on development projects; therefore, consultants can expect to work on many large-scale projects related to transportation, and infrastructure, as well as more traditional projects in Oil & Gas. This contrasts with other regions that offer mostly traditional organization and cost-cutting projects. That being said, it is not all glamorous: it is possible as well for companies in the Middle East to pay consultants to do the day-to-day tasks that their employees are not doing – so, best to keep this in mind as well!
Due to the influx of expatriate consultants to the Middle East over the years, the Middle Eastern offices of top consulting firms have become some of their most diverse. By joining one of these offices, an aspiring consultant can expect to work with and learn from colleagues from all around the world. Furthermore, due to the strategic location of the Middle East between Europe and Asia, consultants in local offices may have the opportunity to work on projects in both regions. This has resulted in a self-reinforcing loop, where consultants move to the Middle East for international exposure and diversity, further reinforcing these elements and making the region more attractive to others.
Another (and potentially the greatest) draw of the Middle East is the great compensation that one can expect to earn there. A consultant can take home up to twice what he or she would otherwise take home in a European office. A key driver of this is the very attractive tax regulations in many of the countries in the region. In a bid to attract the necessary talent for their economic transformation, some countries have slashed their tax rates to zero or near zero. For example, working in the Dubai office of top consulting firms, one can expect to pay ZERO tax! This contrasts with someone working in one of the US offices, where entry-level consultants are already in the 24% tax bracket, with the 32% bracket just a promotion away (and we have not even considered payroll taxes and state income taxes). Given how much consultants are paid, the favorable tax rates make a huge difference!
The tax regulations are just one half of the equation on why the Middle East is so financially rewarding; the other half is, of course, the premium on the compensation itself.

Like our article on consulting salaries in Singapore, we have compiled estimated compensation figures for three of the major economies in the Middle East via Glassdoor:
The United Arab Emirates is the region's primary consulting hub. Its main cities, Abu Dhabi, and Dubai are the largest offices and regional headquarters for many of the top consulting firms. The annual compensations (base salary + average bonus denominated in USD - 1AED = 0,27 USD) they offer are as follows: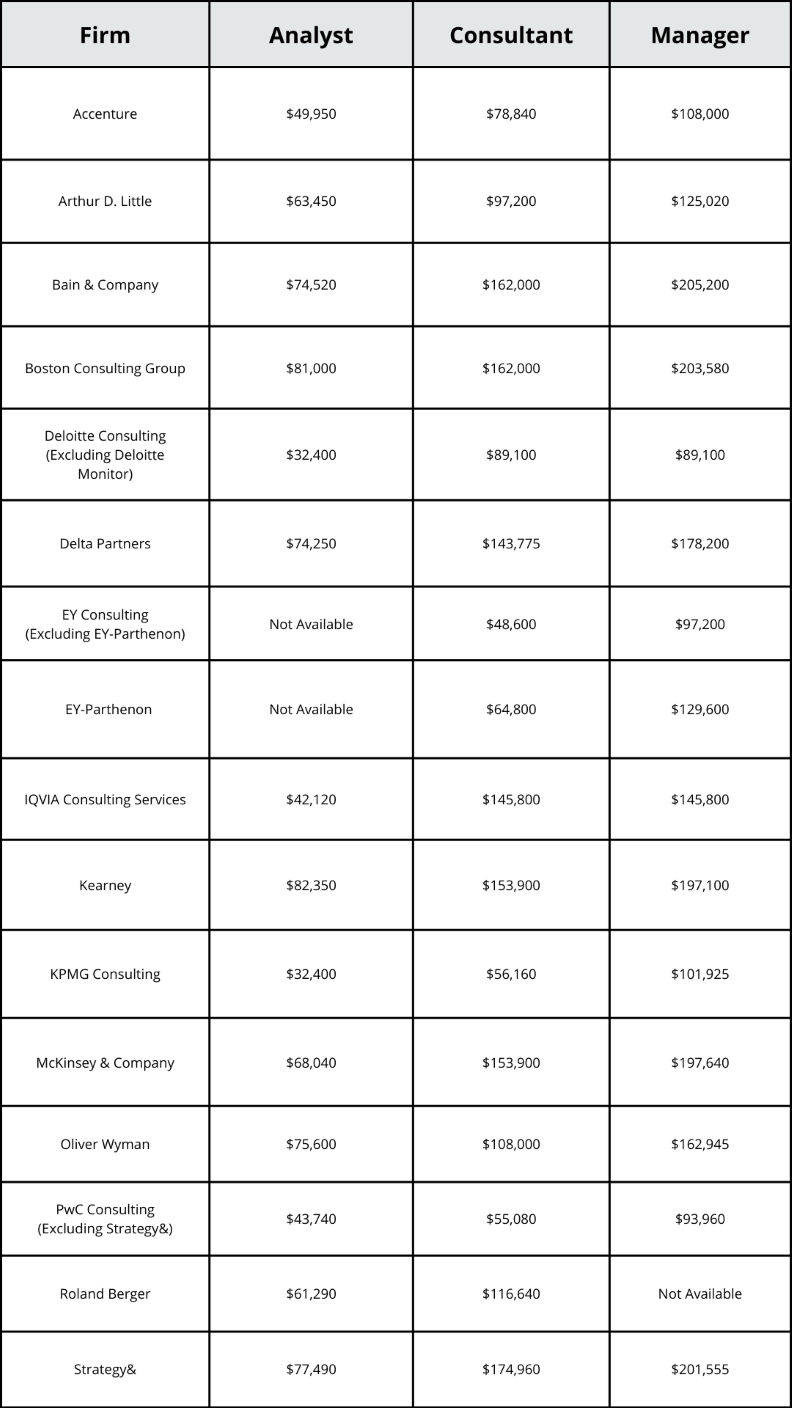 It is important to note that the figures shown in the table above are rough estimates only; the figures reported on Glassdoor are often not 100% accurate, especially for firms with complex remuneration packages consisting of different allowances and bonuses. Bonuses are also often very variable as it depends on the business and individual performance. Additionally, there are several other major firms (such as Dalberg, L.E.K. Consulting, and ZS Associates) that are excluded from the table above due to having no regional/local presence or limited/absent data points on Glassdoor. Lack or limited data was also why remunerations for certain career levels (e.g., senior consultant, senior manager) were excluded from the table above.
The Kingdom of Saudi Arabia is another key Middle East economy. Many (but not all) consultancies have offices in its capital Riyadh; however, these offices are generally smaller than the UAE ones, and thus salary information is not as available: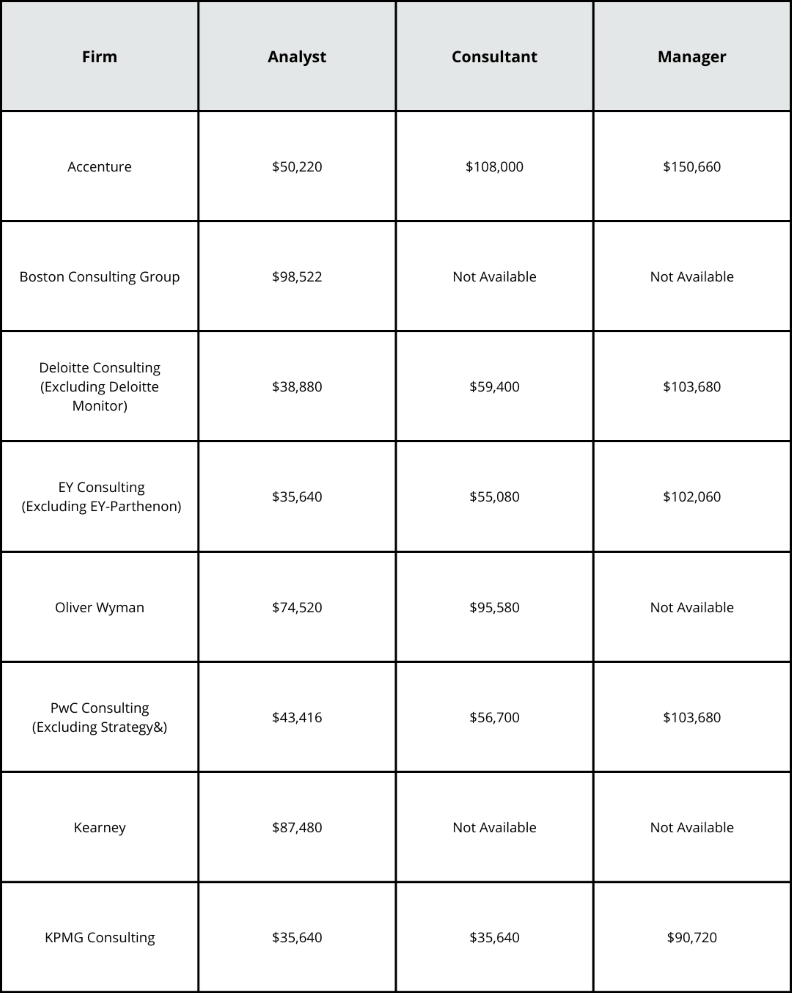 Qatar is another major economic player in the Middle East, with its capital, Doha, being home to several major consultancies. Unfortunately, these offices are often smaller than the ones in the United Arab Emirates; thus, salary information is limited: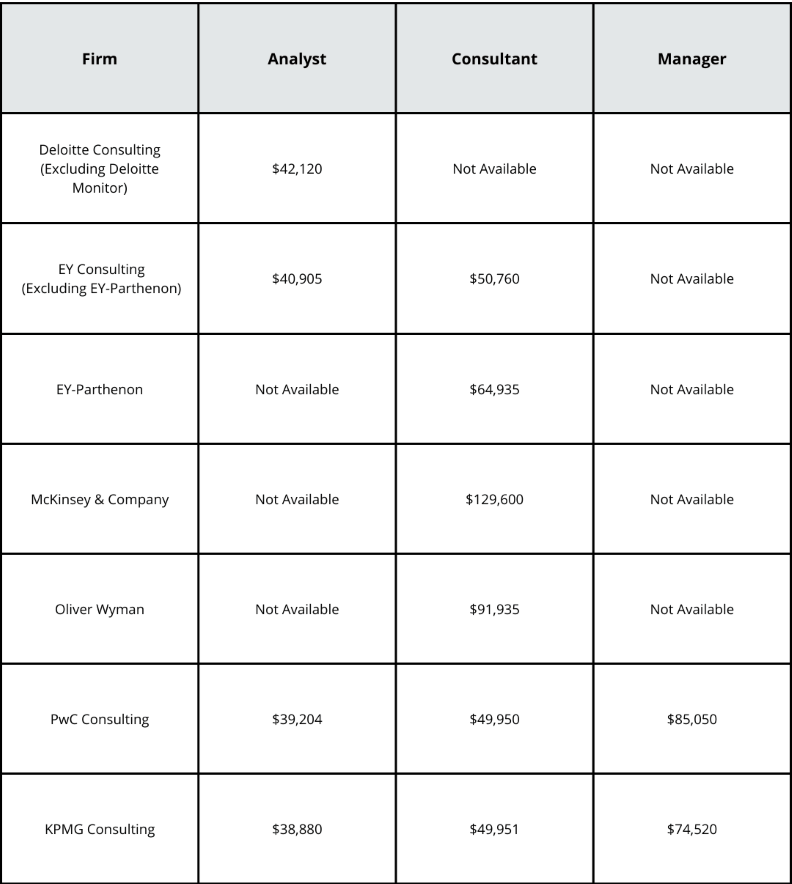 Sure, working in one of the Middle Eastern offices of top consulting firms means that you will be pocketing a significant sum of money each month; however, that should not be your only consideration. Here are some other factors that are worth considering before you send that application or sign that offer letter:
Imagine the scenario: you are a European applying to consulting firms in both Germany (your home country) and the United Arab Emirates. After several months, you secured an MBB offer in the Munich office, along with an offer from a Tier 2 firm in Abu Dhabi which pays 30% more overall. Which offer would you accept? The money is better (at least in the short-term) in Abu Dhabi, but what about the long-term? The MBB firm would likely offer more prestige, and prestige is one of the main factors influencing exit opportunities (and by extension, future income). Accordingly, it is always wise to keep this in mind when choosing between offers, especially when you are applying to both your local offices and the ones in the Middle East.
As mentioned previously, the types of projects in the Middle East are relatively unique; consultants will mostly be working on development issues, where they will be building their expertise. Sure, core consulting skills like data literacy, effective communication, and structured thinking are generally transferable, but industry and topic-related expertise do affect exit opportunities to a certain degree. Thus, they should not be ignored when deciding.
The Middle East is one of the worst regions for work-life balance in consulting. The local offices are famous for their culture of long hours (90-hour weeks are not uncommon!) which often bleeds into the weekends. Work-life balance is already hard to maintain elsewhere, but it is much more difficult to keep on top of your physical and mental health in the Middle East.
Sure, you will be making a ton of money, but you will be spending a ton as well. Cities like Abu Dhabi, Dubai, and Doha have high costs of living, especially if one is living an ex-pat lifestyle. There will also be fewer opportunities to save, as your long work hours will naturally lead you to eat out and outsource many chores.

Regardless of the pros and cons of working in the Middle East, it is a fact that the region is very attractive to aspiring consultants. As such, one can expect a lot of competition. If you want to maximize your chances of getting into the local offices, do check out our articles on networking and case interviews. Good luck!
#1 Expert for Coaching Sessions (4.000+) | 1.400+ Reviews with 100% Recommendation Rate | Ex BCG | 9+ Years of Coaching
Professional Experience: BCG
Languages: English, Italian, Spanish
Location: Singapore
Francesco is an interview coach, former BCG consultant, and tech entrepreneur. He is the #1 coach on PrepLounge.com for meetings, where he completed more than 4,000 expert sessions. As a coach for consulting interviews, Francesco helped hundreds of candidates to land offers from McKinsey, BCG, and Bain. Since 2016, he organizes consulting boot camps at some of the leading universities in Europe. As a consultant, Francesco joined BCG in the Milan office, where he worked on projects in the energy, industrial goods, and consumer goods sectors. After BCG, he worked in venture capital in Germany as an angel fund associate. As an entrepreneur, Francesco founded two companies in Europe and Asia in the entertainment and EdTech sectors. He is currently leading a Singapore-based company and supporting startups as a strategic advisor.