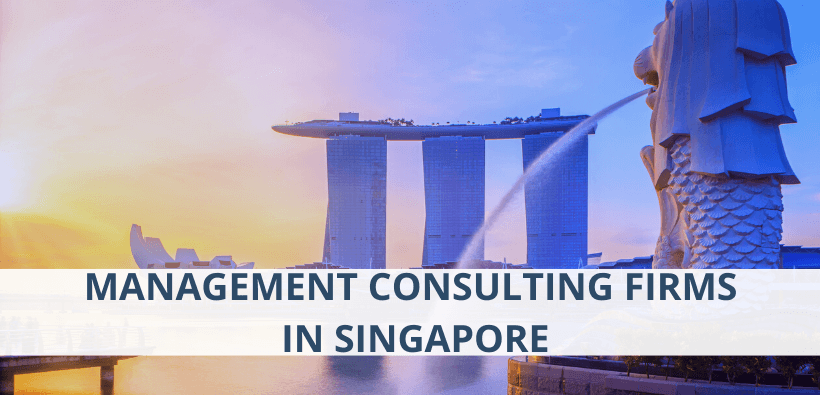 Management Consulting Firms in Singapore
Would you like to work in Singapore in the future, and know why Singapore is so relevant for the consulting industry?
In this article, expert Francesco explains what you can expect as a potential employee in Singapore and why Singapore is so important in the consulting industry. You will learn about all the consultancies based in the Asian city. Furthermore, it will be discussed what kind of competition you can expect as an employee in Singapore and why it will still be worthwhile.
The island city-state of Singapore holds a unique place in the eyes of the world. Widely considered the place where East meets West, Singapore retains much of its British colonial charm while also being a clean, modern, and efficient city. Despite being a young nation, it has evolved into a global business and financial hub due to its business-friendly environment, strong legal system, strategic position in the Straits of Malacca, and attractive taxation framework (for both individuals and corporate entities).

It is for these reasons that almost all the major global management consulting firms have Singaporean offices. For example, McKinsey, BCG, and Bain have been in Singapore since 1998, 1995, and 1993 respectively. More often than not, these offices are the largest in the region and serve as the firm's regional headquarters. Here are some of the leading management consulting firms (which offer strategy consulting) with a presence in the Lion City: 
First up on the list is the global professional services company, Accenture. The company has operated in Singapore for almost half a century, having been there since 1975 when they were still part of the now-defunct Arthur Anderson. Based in Raffles City Tower on North Bridge Road, Accenture offers strategy, consulting, digital, technological, and operational solutions to clients in Singapore and beyond. The company also operates the Singapore Innovation Hub, located in the South Beach Tower on Beach Road.
The world's first management consulting firm, Arthur D. Little (then known as just Little) is also present on the island city-state. Located in One Raffles Place, Arthur D. Little has provided strategy consulting services to companies in Singapore since 2014. While the Singapore team is relatively small (around 20 consultants), it shares a staffing pool with its other South East Asian offices in Bangkok and Jakarta.
The first of the MBB firms to set up shop in Singapore, Bain & Company has been advising some of South East Asia's largest companies, organizations, and governments since 1993. Currently based in South Beach Tower, it is the largest of Bain's five regional offices (the others being Bangkok, Jakarta, Kuala Lumpur, and recently Manila) and hosts around 200 consultants. 
BCG's Singapore office was founded more than a quarter-century ago in 1995 and has seen tremendous growth. The firm is currently based in Raffles Place, right in the heart of Singapore's central business district, and is home to approximately 170 consultants. Singapore is also the location of BCG's first-ever Asian Innovation Center for Operations (ICO) which aims to promote Industry 4.0.
Singapore is one of Dalberg's four Asian offices and the only one in South East Asia. However, the Singapore office, based in the Waterloo Center on Waterloo Street, is quite small, consisting of fewer than 10 consultants. These consultants tend to work on projects related to economic and social development in emerging markets for NGOs, non-profits, and governments.
Delta Partners first set up its Singapore office in 2010, and now has around 20 consultants serving clients throughout South East Asia from its office on Church Street. The Singapore office is the only one in the region (the only other Asian office is located in Dubai). Now part of FTI Consulting, Delta Partners specializes in serving clients from the Technology, Media, and Telecom (TMT) industry in both strategy development as well as subsequent implementation.
Deloitte, the largest of the 'Big Four' professional services firms by both total and consulting revenue, is based in OUE Downtown 2 on Shenton Way. It has been a part of the business scene in Singapore since 1967. It now serves clients across South East Asia in topics such as Strategy and Analytics, Customer and Marketing, Core Business Operations, Human Capital, as well as Enterprise Technology, and Performance.
Another of the 'Big Four' professional services firms, Ernst & Young (EY) has several offices across the island; nonetheless, it is mainly based in the North Tower of One Raffles Quay. The firm serves regional clients across different industries in topics encompassing strategy (via its strategy arm, EY-Parthenon) and business transformations.
Global healthcare data science company IQVIA is based in Anson Road. Its Singapore office serves as the company's Asia Pacific headquarters, from which it serves biopharma and healthcare customers all across the region. While it has more than 400 staff in Singapore, only a subset are consultants, with the rest being data scientists, researchers, and other operational roles.
L.E.K. Consulting, formed by three former Bain & Company partners, also has a presence in Singapore. Located at 9 Raffles Place on Republic Plaza, the Singapore office serves as L.E.K.'s Southeast Asian hub, from which they have served clients across various industries for over two decades. The Singapore office is moderately-sized, with more than 40 consultants. 
The latest of the MBB firms to set up shop on the island city-state, McKinsey & Company is currently based in the South Tower of One Raffles Quay, across the famous Marina Bay Sands. Its 250-plus consultants serve an assortment of leading organizations, but the Government of Singapore remains one of the firm's core clients, as McKinsey has helped drove many of the national priorities of the country over the years.
Based in CapitaGreen on Market Street, Oliver Wyman's Singapore office overlooks the island's central business district. Home to around 200 consultants, the Singapore office serves as the firm's South East Asian hub and is supported by offices in Kuala Lumpur and Jakarta. Oliver Wyman serves clients across industries but is renowned for its work with financial services clients.
The third of the 'Big Four' professional services firms (and the second largest) on this list, PricewaterhouseCoopers (PwC) is based in Marina One East Tower on Straits View. The office serves as the firm's regional headquarters, where it provides strategy, digital transformation, as well as risk and response services. The firm has also set up its Growth Markets Center, a Capability Hub, and its Venture Hub on the island due to Singapore's strategic location and business environment.
Singapore was Roland Berger's first foray into South East Asia; since setting up a Singapore office in 2012, the firm has expanded into Bangkok, Ho Chi Minh City, Jakarta, Kuala Lumpur, and Yangon. Located in the Samsung Hub on Church Street, the Singapore office hosts around 35 consultants and serves as the regional hub.
Based in Suntec Tower Five on Temasek Boulevard, Simon-Kucher & Partners has been in Singapore for over a decade (since 2011). With a team of around 35 consultants led by three partners, the firm specializes in helping companies grow their revenues through optimization of growth strategies, marketing, sales, and, in particular, pricing.
Kearney (formerly A.T. Kearney) is one of the oldest consulting firms in Singapore, having set up its first office in the region in 1990. The firm has since expanded to Bangkok, Jakarta, and Kuala Lumpur. Located in the Millenia Tower, the office is home to over 100 consultants. Kearney offers a range of consulting services to various industries, but it is particularly known for its operation expertise.
KPMG is the last of the 'Big Four' professional services firms on this list. Situated in the Hong Leong office on Raffles Quay, KPMG Consulting provides clients with strategy, management consulting, risk consulting, and deal advisory services.
ZS Associates' Singapore office was set up in 2014 and currently hosts a small team of around 15 consultants. Based in Frasers Tower on Cecil Street, these consultants primarily consult for clients in the healthcare, private equity, and technology sectors.
Note that this list contains only some of the largest consulting firms (with strategy practices) and is not exhaustive. There are many more consulting firms operating in Singapore that are local/regional and/or boutiques that specialize in a specific area of consulting. A good example is FTI Consulting, which focuses on financial and litigation consulting.

Are you thinking of applying to one of these firms? Well, you will be facing very intense competition. Domestically, Singapore is home to some of the world's best educational institutions, including the National University of Singapore (NUS), Nanyang Technological University (NTU), and Singapore Management University (SMU). With consulting being one of the most desired professions in Singapore, you can bet that many of the graduates from these universities will apply for a position. One of the world's leading business schools, INSEAD, also has a Singapore campus, bringing hundreds of elite business professionals annually and further adding to the competition.
Given the position of Singapore as an ex-pat hub, you will be facing fierce international competition as well. According to the Population in Brief 2020 report, almost 29% of its 5.7 million population are ex-pats. Each year, tens of thousands of ex-pats move to the city-state, looking for high salaries and a lavish lifestyle.
These factors combined make Singaporean offices one of the hardest offices to get into for the top consulting firms. In fact, for the MBB firms, the Singaporean offices are considered to rival their New York and London counterparts in terms of entry difficulty.

Nonetheless, working in the Singaporean offices does provide certain perks: the remuneration is one of the highest in the world, and, being an Asia hub, you will get to work on complex cases and projects that are unique to an economically developing region. If this interests you, then prepare well, because the road ahead won't be easy!
#1 Expert for Coaching Sessions (4.000+) | 1.400+ 5 Star Reviews with 100% Recommendation Rate | Ex BCG | 9+ Years of Coaching
Professional Experience: BCG
Languages: English, Italian, Spanish
Location: Singapore
Francesco is an interview coach, former BCG consultant, and tech entrepreneur. He is the #1 coach on PrepLounge.com for meetings done, where he completed more than 3,000 expert sessions. As a coach for consulting interviews, Francesco helped hundreds of candidates to land offers from McKinsey, BCG, and Bain. Since 2016, he organizes consulting boot camps in some of the leading universities in Europe. As a consultant, Francesco joined BCG in the Milan office, where he worked on projects in the energy, industrial goods, and consumer goods sectors. After BCG, he worked in venture capital in Germany as an angel fund associate. As an entrepreneur, Francesco founded two companies in Europe and Asia in the entertainment and EdTech sectors. He is currently leading a Singapore-based company and supporting startups as a strategic advisor.