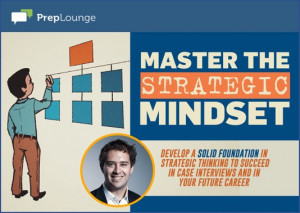 Master the Strategic Mindset by Bernard
Develop an effective and consistent method to ace strategy cases
Practice with real examples
Created by former McKinsey consultant Bernard
Is this product the right choice for you?
The ability to "Think Strategically" is key in case interviews. However, many candidates lack a consistent, effective and reproducible method that works regardless of the industry. In this material, I will break Strategic thinking down to is component parts — the five pillars of Strategic thinking to help you build the conceptual foundation required for a strong performance during the case. You will learn how to think from the basics, ask the right questions, structure your approach effectively, and formulate specific and relevant hypotheses. You will practice with real case studies. Thinking strategically reduces the need for content memorisation and frameworks, making the case experience more fluid, impactful and enjoyable.
Main Themes in "Master the Strategic Mindset"
What is Strategy?
We will define what "Strategy" means, and the main Strategy types companies follow. When you solve case studies, being able to "spot" the type of Strategy will help you ask good questions, anticipate opportunities and risks, and formulate hypotheses that are relevant to a given Strategy type
Introduction to the Strategic Mindset
Strategic thinking builds a bi-directional dialogue between the present the and future. We will learn this conceptual structure, where the five pillars fit in, and how it can help you solve case studies more effectively
The Five Pillars of the Strategic Mindset
The End-goal Perpective
Conceptual Thinking
First Principles Thinking
Hypothesis-driven Thinking
Divergent and Convergent Thinking
Case Examples
You will gain real case practice with three case examples
Includes
Why You Should Read This Material
Page 03
What is Strategy?
Page 04
Introduction to the Strategic Mindset
Page 11
The End-Goal Perspective
Page 13
Conceptual Thinking
Page 14
First Principles Thinking
Page 19
Hypothesis-Driven Thinking
Page 20
Divergent and Convergent Thinking
Page 21
Concluding Remarks
Page 38
About the Author
McKinsey & Company | Expert Coach |Five star rated |First-principles approach to case studies
McKinsey & Company

English, Portuguese, Spanish

United Kingdom
Bernard is a former McKinsey & Company consultant with a Ph.D. in Cancer Research from University College London (UK) and is currently working in the Biotechnology industry.
Bernard is an experienced case interview coach, having helped several clients secure full-time positions with MBB firms. His mission is to empower clients to think for themselves and enjoy solving cases with curiosity and an open mind. He developed an unique approach blending scientific and Business thinking that has proven very effective with coaching clients and in his career.
Bernard is passionate about empowering students and researchers without Business-related qualifications to transition successfully into Business. He has given several talks and seminars at leading universities globally, written articles, made YouTube videos and mentored more than 100 students.
Bernard also loves playing basketball, travelling, entrepreneurship, meditating, DJing and playing the guitar.
Master the Strategic Mindset by Bernard
USD 29