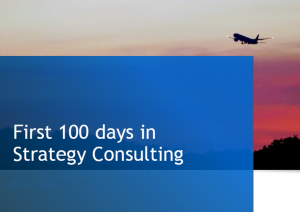 First 100 Days in Strategy Consulting by David
Develop your consulting skills
Perform well on projects
Build your network
Is this product the right choice for you?
You will join a strategy consulting firm soon or have recently joined one? The first few months will lay the foundation for your future career success! This "First 100 days in Strategy Consulting" survival guide contains the most important tips on how to perform well during the first months. It will help you find out how to perform outstandingly on first projects, build an internal network and develop your consulting skills. Take this opportunity to boost your career start!
Includes
Introduction and key challenges during the first months in strategy consulting
Feedback from strategy consultants
Key dimensions to be developed during the first months in strategy consulting
Tips to perform well on projects
Overview of a typical project's evaluation grid
Differences between standard and outstanding performances
Checklist to unlock a better performance
Tips to build an internal network
How to understand the internal ecosystem
How to know and make me known
How to leverage the internal ecosystem
Tips to develop outstanding consulting skills
Tools
Communication skills
Consulting mindset
Also Recommended for You
About the Author
BCG EXPERT | Top 5 coaches | Cheapest of the Top 10 | 100% positive reviews
BCG, Capgemini Consulting, Accenture

English, French

France
David is a former BCG Project Leader in Paris and member of the interviewing team.
He is particularly aware of the challenges to be faced with when starting a career in consulting. He coached many new joiners during his career and helped them getting on-boarded.
David has 8 years of experience in consulting and has been himself a new joiner 3 times during his career (Accenture, Capgemini Consulting and BCG).
First 100 Days in Strategy Consulting by David