Dear PrepLounge community,
We are happy to share with you a brand-new guide on PrepLounge on a most crucial and essential topic for your case interview preparation AND your future career as a management consultant: Master the Strategic Mindset by Bernard.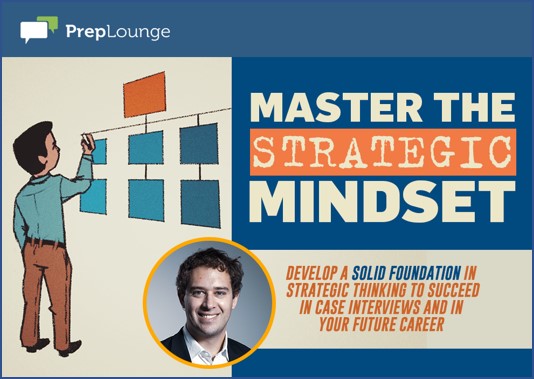 The ability to "Think Strategically" is key in case interviews. However, many candidates lack a consistent, effective and reproducible method that works regardless of the industry. In this guide, you will
learn how to think from the basics, ask the right questions, and structure your approach effectively.
get the hang of formulating specific and relevant hypotheses.
practice with real case studies and examples.
Thinking strategically reduces the need for content memorisation and frameworks, making the case experience more fluid, impactful and enjoyable. Learn how to master the strategic mindset today!
If you have any questions, feel free to reach out directly to Bernard. He will be happy to provide you with further information (and if you are lucky, perhaps some coupon codes :) ).
Have a great case prep on PrepLounge!
Astrid
PrepLounge Community Management