If you're unhappy with our first session and ask for a refund within a reasonable timeframe, I'll grant it - no questions asked! 
I've seen too many candidates hurt themselves by delaying coaching. That is why I want to take the risk out - the sooner you start the more I can help!
If you'd like to better understand how I coach, get access to some free materials, and/or book an intro call, feel free to shoot me a message.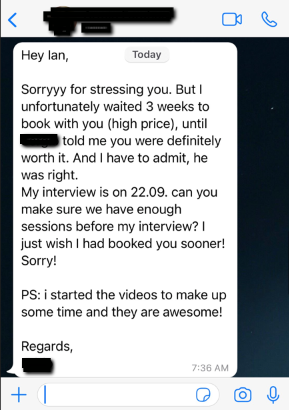 *Ultimately everything I do is tailored to you as the individual. Every coaching session is tailored and customized to your needs. Feel free to reach out for different coaching session amounts (1, 3, 6, 10, etc.). 
My coaching is designed to prime you for success in casing in the least amount of time possible. It is not about learning everything or being cased in x specific industry/case type. It is about me giving you everything you need to go-it-alone and succeed! I am not just a case coach - I am a teacher. I am here to train and teach you - I identify your weaknesses and use different tools in different ways to help you unlock your potential. No two candidates are alike and that's why I adjust my coaching to help you succeed no matter where you're coming from.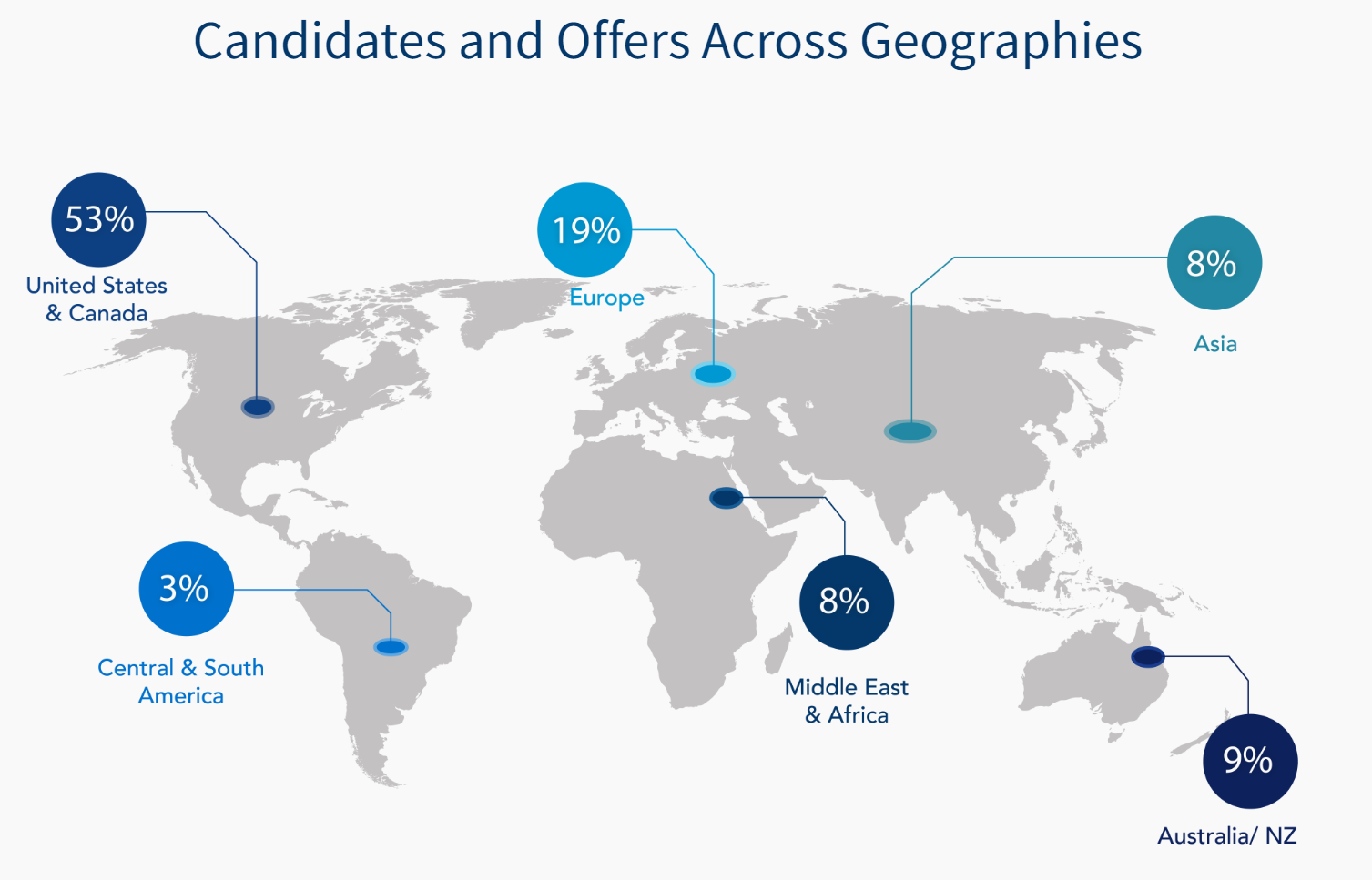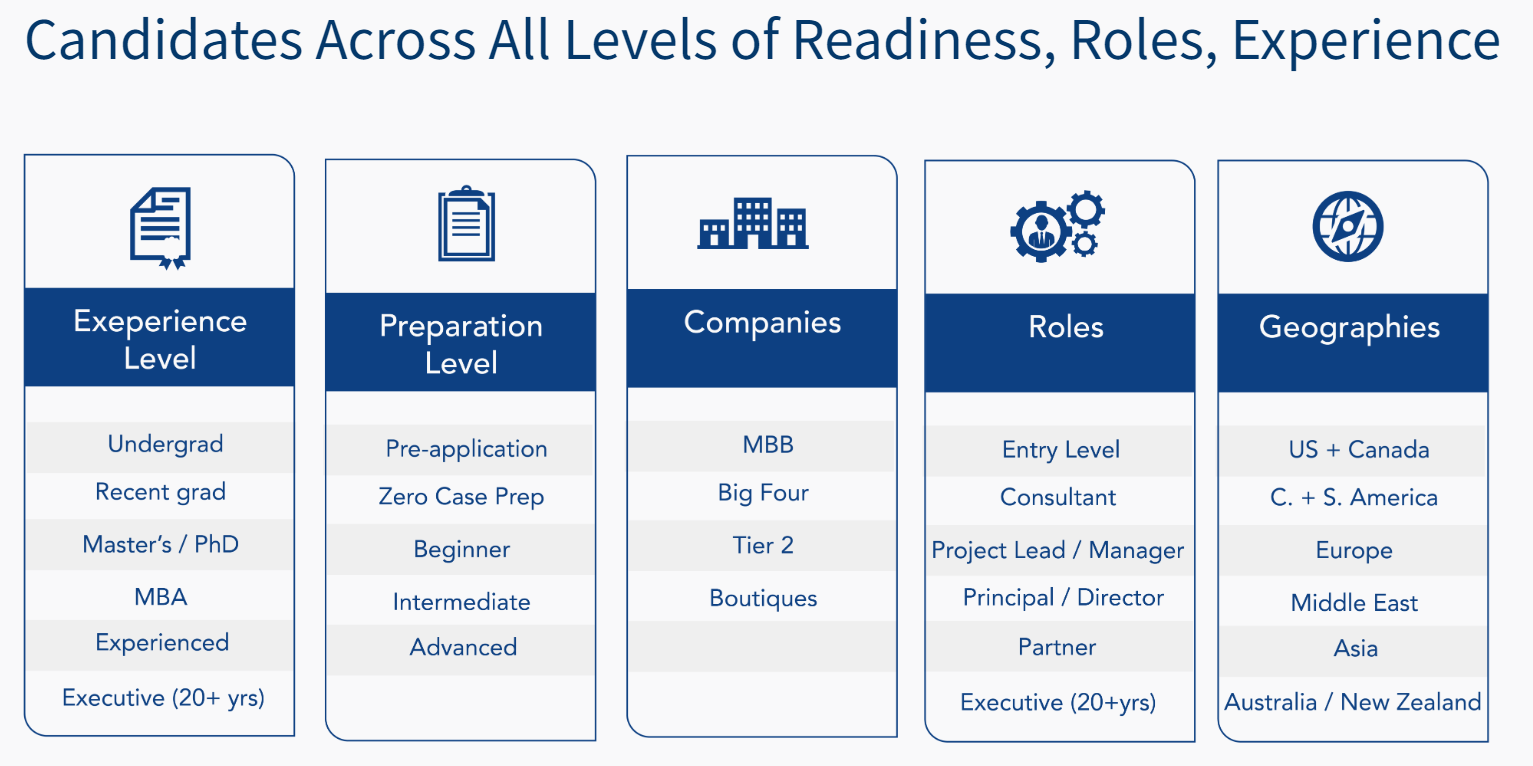 I fundamentally believe that we don't go to school to learn x topic. Rather, we learn how to learn. Same with my coaching.  As an example, I won't just teach you x framework; rather I will teach you how to approach any unknown case type successfully.
Additionally, your learning does not end after our coaching session. My coaching sessions are supported by training videos and exercises. I send materials before AND after each coaching session to ensure you are getting optimal learning. I have converted an immense amount of material that would normally have to be taught live (i.e. more coaching sessions), and I give it to you for free. My goal is to have the most possible impact and value per minute.
Coaching can include (but is not limited to):

Full mock interview (case and/or fit)
Deep-dive case assessment
Crash course ramp-up in casing (from ground zero)
"Start-stop case" (we walk through a case together)
Frameworking mindset shift
Weakness fixing - math, charts/exhibits, case leadership, frameworking, etc.
Fit/behavioral story creation (I create your stories for you)
Killer resume review + creation (offline + live)
Cover letter review + creation
Optimal networking
Full interview preparation plan (daily, weekly cadence and coaching plan)
Written case support (outlining the PowerPoint deck for you, reviewing it, mocking the presentation with you)
Anything else - just ask!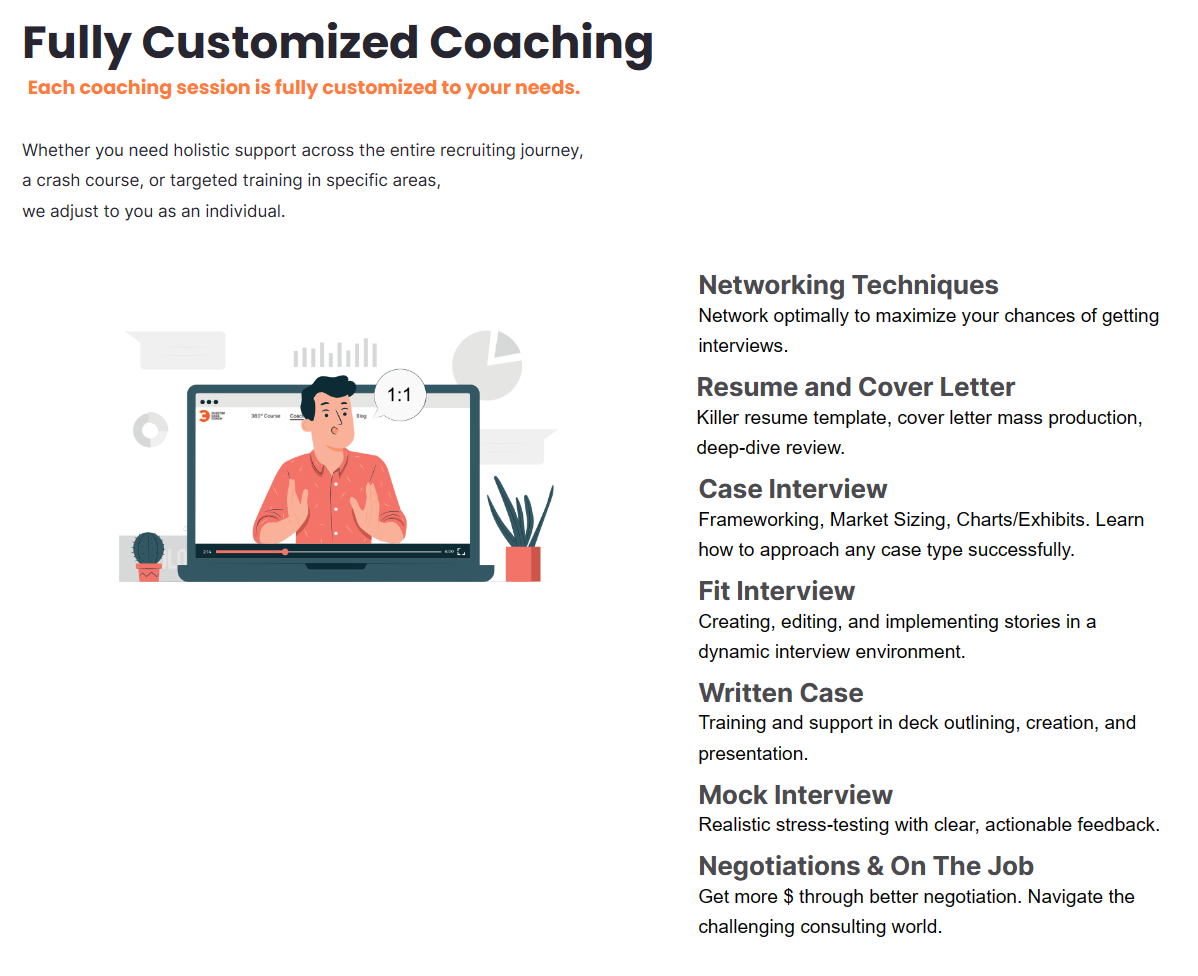 =============================================================
Why Me
Personal Track record - I did not receive a "we regret to inform you" email from any of the 8 companies I interviewed with. Furthermore, I reached this in just three months, starting from a base of absolutely 0 (casing knowledge, business knowledge, industry/market knowledge etc.)
Candidate Track Record – 95% of my candidates receive a job offer. Of my candidates that are interviewing with MBB, 65-70% of them get an MBB offer. The numbers speak for themselves. 
Recency - I lived and breathed recruiting just a few years ago. I've seen what works and what doesn't. I've organised student-run preparation groups, analysed recruiting data through regression analysis, run countless workshops/presentations, etc.
Efficiency - I focus on the "how" not the "what. It's not about the hours you put in, but how you use those hours - I'll make sure you target the right areas in the right way. I have worked extremely hard to reduce the amount of sessions you need with me. Genuinely, 3 sessions with me 1 year ago is worth the same as 1 single session now. Why is this? Because I "outsource" my content and work optimally to help you as much as possible. 
Style – Put simply, I believe in fun. I strive to make our sessions as enjoyable as possible. I enjoy having a laugh and getting you as engaged as possible – I want you to be glad you're attending each and every session!
Tailored Teaching, Not Generic Casing – I don't "case" coach. I teach. I mentor. Sure, we will do a case and you'll get feedback/advice, but this is 10% of what I do. I have a toolkit that I've built over the years – but I use different tools in different ways on different people. I identify your strengths/weaknesses, unearth how you learn best, and train/teach you.
Flexibility in Breadth and Depth – I can start at A or Z or anywhere in between. From setting up an optimal networking + application strategy to learning how to case all the way to last-minute final interview prep and offer negotiation, I'm here for you wherever you are in the journey. Additionally, no matter how fresh/new or experienced you are, I have "seen it all" and can ramp you up quickly in the basics or work through final advanced concepts with you.

=======================================================
Why Wouldn't I Go for a Cheaper Coach?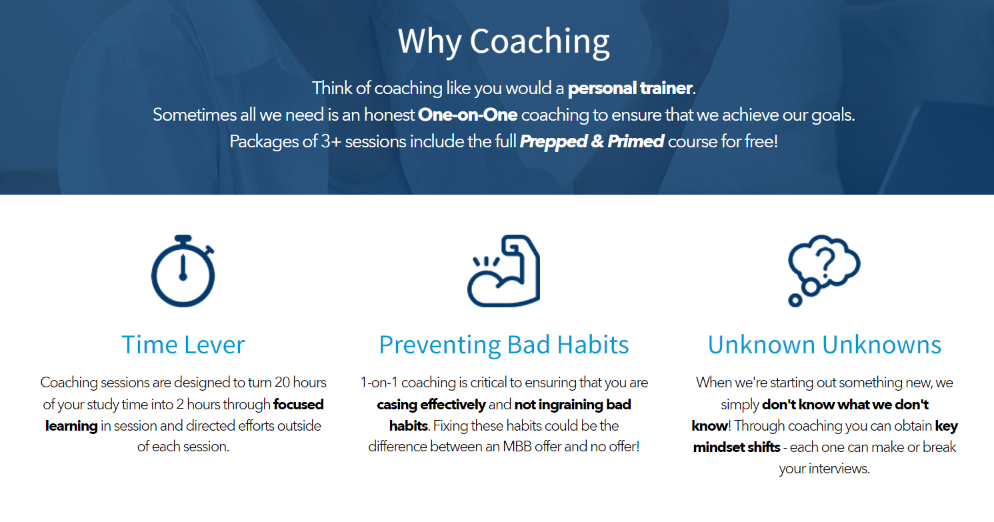 Ultimately it's up to you whether this is a product you should be shopping cheap on. There is a reason my candidates succeed at such a high rate, and, ultimately, often at a lower end cost:
Optimized Learning – my goal is to make sure everything you do both in session and out of session is optimized for you. Instead of guessing what you should study/review and how, why not find out exactly what works best? Turn 1 hour of prior study into 3, just be learning smart.

Example: Did you know rocketblocks is horrible for frameworking/structuring? They are fantastic for math/chart/exhibit practice, but are a terrible resource for frameworking.

Correct Learning – It's a rare candidate that comes to me without frameworking issues. The way frameworking is taught online is…narrow. A lot of bad habits are learned from interpreting readings literally, taking advice from other candidates (blind leading the blind), etc. Why not spend 1-2 hours learning the correct mindset before dedicated tens of hours to learning it incorrectly?
Minimized Sessions – I've found this point the hardest to explain and have people believe me…until we actually conduct a session. Genuinely, 1 hour of coaching with me today is more value than 3 hours were a year ago. This is because:

I provide content/reading/exercises prior to our session
I've learned how to get points across and move through topics rapidly during each session
I provide homework and reading/viewing material after each session
It's not uncommon for me to cover 3-4 major topics in a single session. For example, in one session I have setup my candidate with a tailored case preparation plan, talked them through how to network effectively, set them up with their cover letter mass production techniques AND given them a crash course in structuring/frameworking. This then comes with supporting material that I send after the session.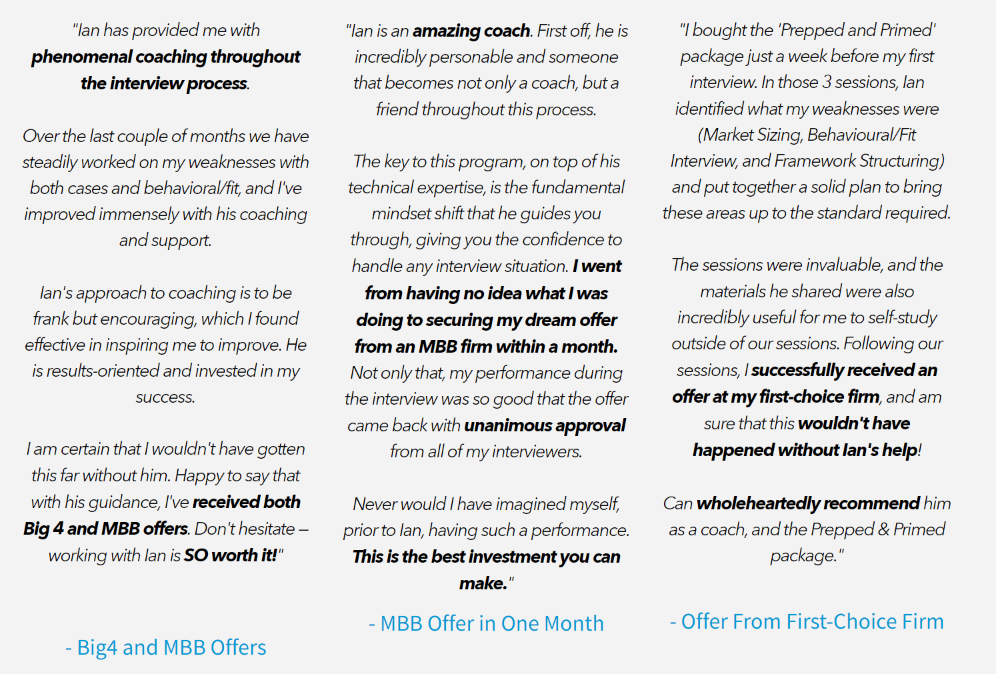 =======================================================
What Does a Sample Session Look Like?
Let's say you're an intermediate caser but know you want to work on frameworking and your fit stories. Here's what would happen.
Prior to the session I will send you:

A 1 hour structuring + frameworking presentation for you to watch AND participate in (live exercises)
Reading on the "Objective-Driven Approach"
"One Sentence Summary for Every Case Type" material
Fit Preparation Instructions Material

During the session we will work through

Unconventional prompts + frameworks. (I read you the prompt, you create the framework, I edit/improve the framework, repeat)
Fit stories (you present a fit story, I edit it, repeat)

After the session I will send you

Video answers to the frameworks we worked on
Multiple prompt + framework videos for you to practice (watch the prompt portion, pause the video, work on the framework, unpause the video to listen to my 1-3 frameworks)
Sample fit story videos (Me presenting my own fit stories)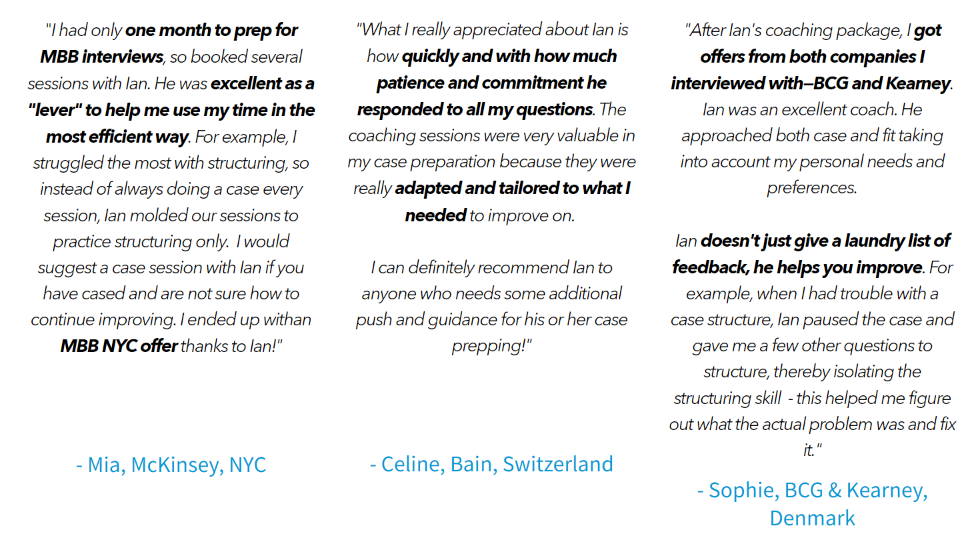 =======================================================
All the Complementary Material I Share (In Addition to Live Sessions)
Example Content (Not Comprehensive):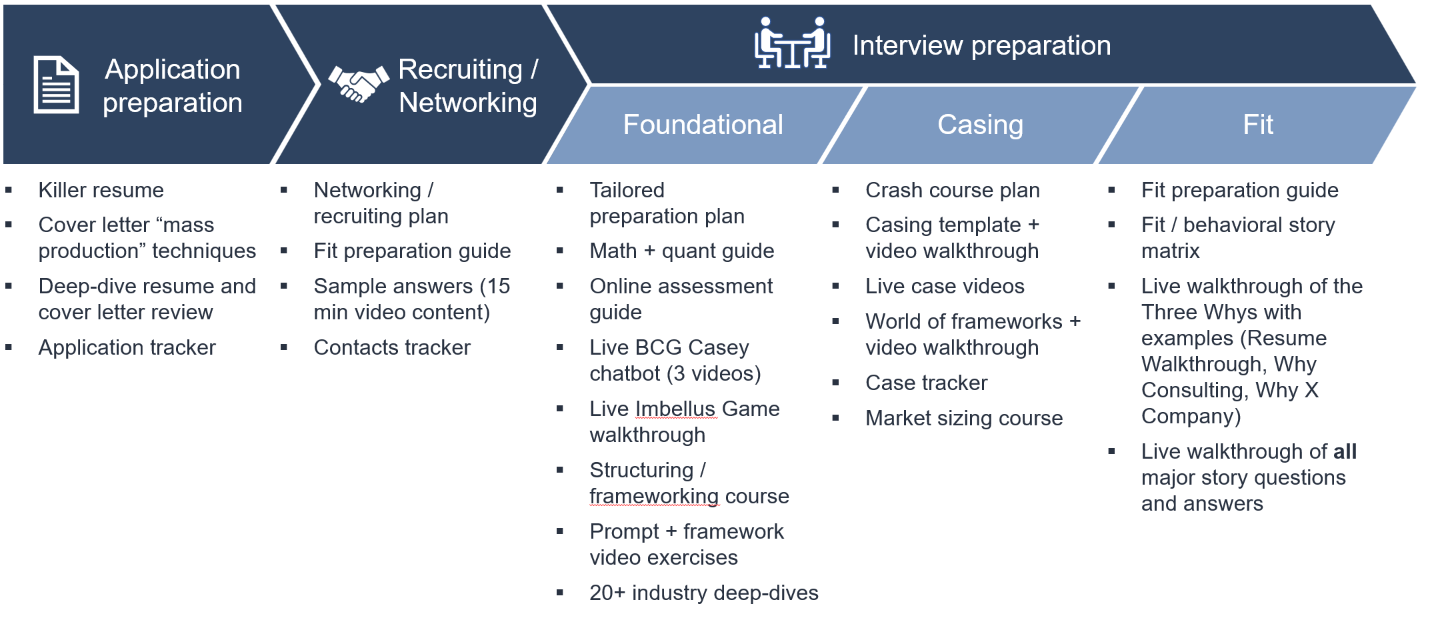 Summary: 30+ hours video content, live recorded workshops, dozens of Articles/Readings, multiple templates + trackers…essentially everything you need.
Applications
Workshop I – Pathway to Successful Recruiting (1 hour instruction video)
Killer Resume Template
Cover Letter Mass Production Techniques (Instructions + Templates)
Networking Tactics, Tips, and Templates (Email Instructions)
Networking Email Template
Thank you email template
Contacts Tracker
General Case Prep
Tailored Preparation Plan
Crash course plan (7 steps to ramping up rapidly)
Casing template sheet + video (how to setup your sheets optimally)
Live mock case + walkthrough (video recording)
Industry deep-dive template (for research)
20+ industry deep-dives (40+ pages)
Math practice + tips + tricks
Key Math Concepts and Case Practice
Case Tracker Matrix
Online Assessments
Online assessment preparation plan
BCG Casey Chatbot 2 live recordings
McKinsey Imbellus Preparation Plan
Imbellus Live Video Walkthrough w/ Instructions on How to Win (Ecosystem and Tower Defense)
Frameworking + Structuring + Case Leadership
Workshop II – Structuring and Frameworking (1 hour video)
30 prompt + framework videos (video exercises)
World of Frameworks pdf + video walkthrough
Considerations for profitability frameworks (video)
How to Approach Profitability (writeup)
How to Approach Public Sector Cases (writeup)
How to price (writeup)
Fragmented vs. Consolidated markets (writeup)
Key Mindset Shifts Required for Casing Excellence
One Sentence Summary For Every Case Type
Eight Unconventional Case Frameworks
Objective-Driven Approach (writeup)
Market Sizing
Workshop III – Market Sizing (1 hour video)
Market Sizing Key Numbers (cheat sheet)
Marketing Sizing Prompt + Answers (video exercises)
Behavioral
Workshop IV – Behavioral (1 hour video)
Fit Preparation Plan
Guide to Creating Optimal Behavioral Answers
Optimal Behavioral Response Videos (Why Consulting, Resume Walkthrough, Personal Story)
Behavioral Questions and Story Organization Excel Tracker (including sample answers)
Offer + Post-Offer
Negotiations support
Choosing between offers
Preparing for the job
Succeeding while in the job
100+ Video 360° Course: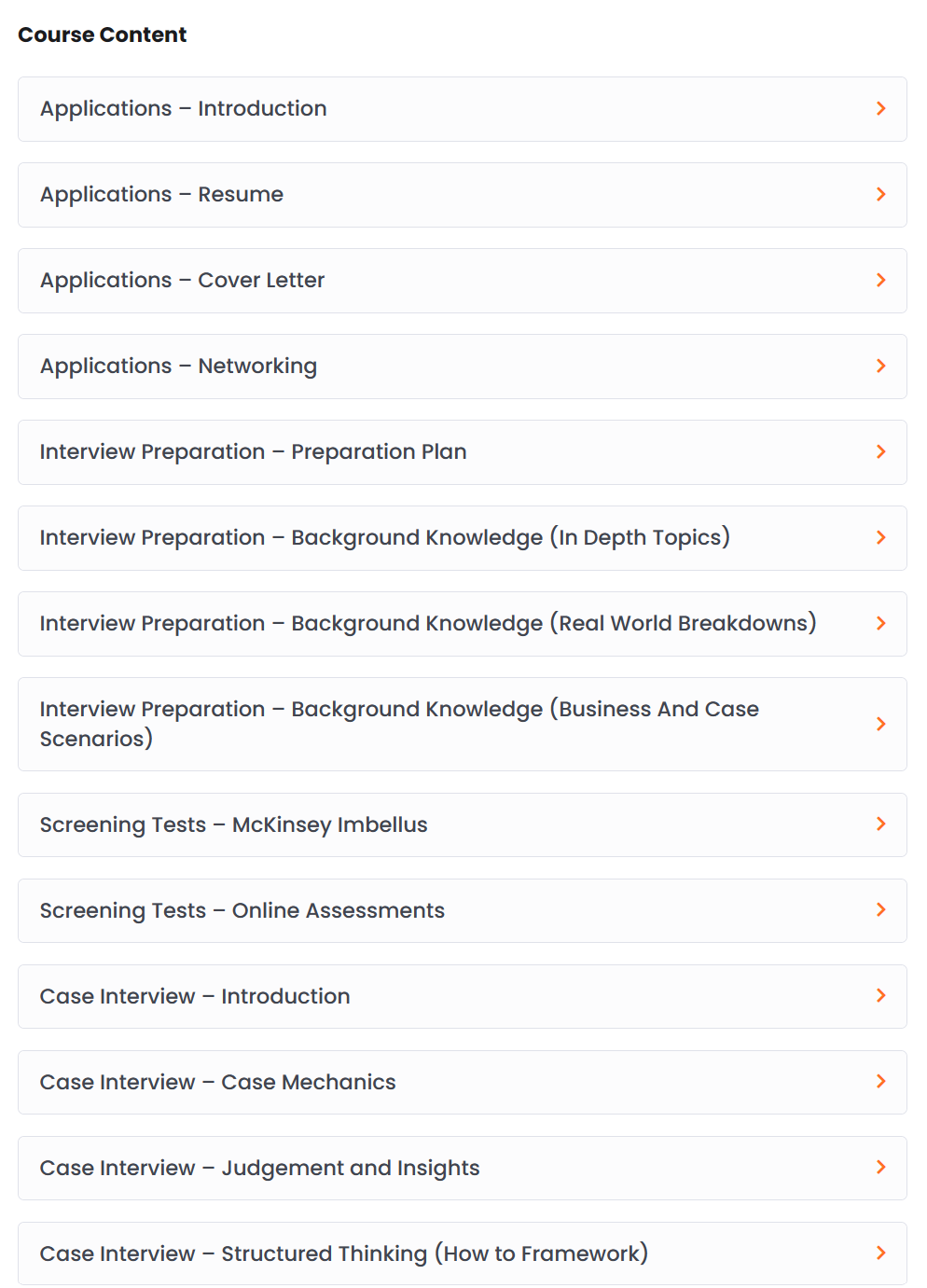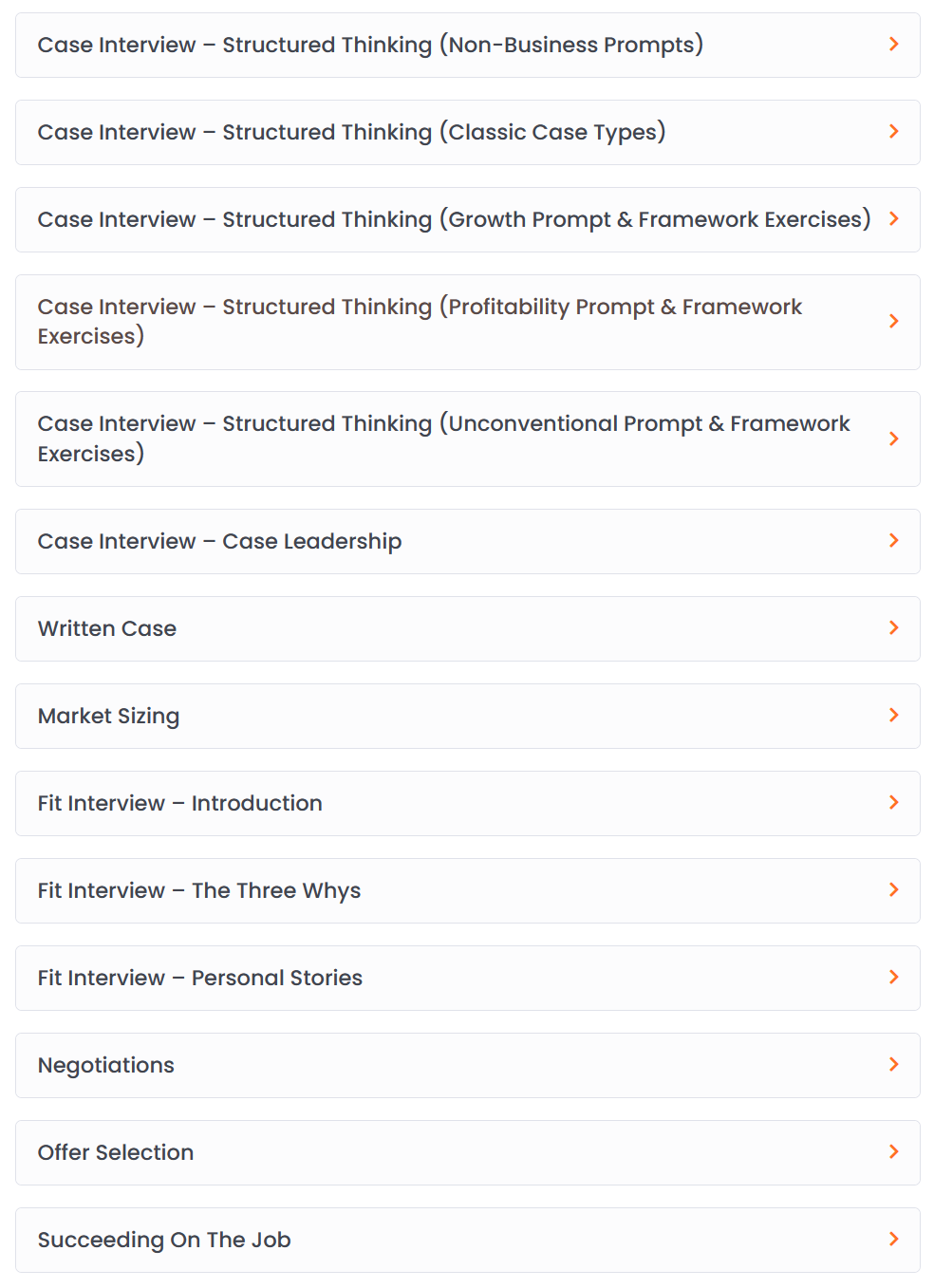 Files In Addition to the Course:

=======================================================
Workshops I Run Across Major Institutions (All Recorded And Access Given to You)
Workshop I – Pathway to Successful Recruiting
In this session, Ian will lay out the entire preparation pathway, and what you need to do to set yourself up for success and Land The Offer.
His session will include an overview of everything you need to keep track of in your recruiting journey, and key tips and tricks for every stage of the process. This will include:
Application preparation (resume, cover letter, application tracking
Networking / Recruiting (networking tactics, coffee chats / calls, contacts tracking)
Casing tips (foundational skills building, acing the case, case tracking)
Fit / Behavioral (foundational answers, story preparation, story tracking)
Workshop II – Structuring and Frameworking
In this session, he will lay out the how to tackle standard and unconventional cases by leveraging his tried-and-tested approach that has supported hundreds of candidates in successfully navigating the case!
His session will include a combination of the following:
Structuring mindset shift - how we should think about and approach structuring / frameworking.
World of frameworks - how every major case type connects.
Structure down and build up approach - two key approaches to optimally creating frameworks.
Unconventional frameworks - the key unconventional frameworks you can leverage to react to non-standard cases. Includes the "illegal" buckets that you should never use.
Unconventional case prompts and answers - live practice on sample prompts w/ answers (frameworks) provided.
Workshop III – Market Sizing
During this session Ian will teach you how to optimally solve market sizing questions by taking you through the optimal approach, flagging key tips & tricks, and working with you to solve a number of representative market sizing questions
Workshop IV – Behavioral
During this session Ian will talk you through all things fit/behavioral e.g. how to shine during coffee chats/networking calls, what to do in networking circles, how to network effectively, and how to optimally prepare for the fit/behavioral portion of your upcoming interviews.
=======================================================
Some Additional Information
If you're interested in some of the writing (and data analysis) I've done regarding recruiting and interviewing for consulting, feel free to reach out and I can point you to my articles regarding:
How I Passed All My Consulting and Tech Interviews
Two Mindset Shifts Required for Casing Excellence
Data Driven Recruiting (Part 1 Networking and Part 2 Invite-Only Events)
How to Quiet the Recruiting Chaos
Candidate Commentary on my coaching + content
"This video is amazing. I've spent a lot of money on IGotAnOffer, CaseCoach, among other resources as well as university case books, and your video is by far the most logical resource I've used."
-Candidate Commentary on my 30 min World of Frameworks Video
"Just a suggestion – you should consider starting your own platform since I think you have such a unique point of differentiation vs. the other products in the market"