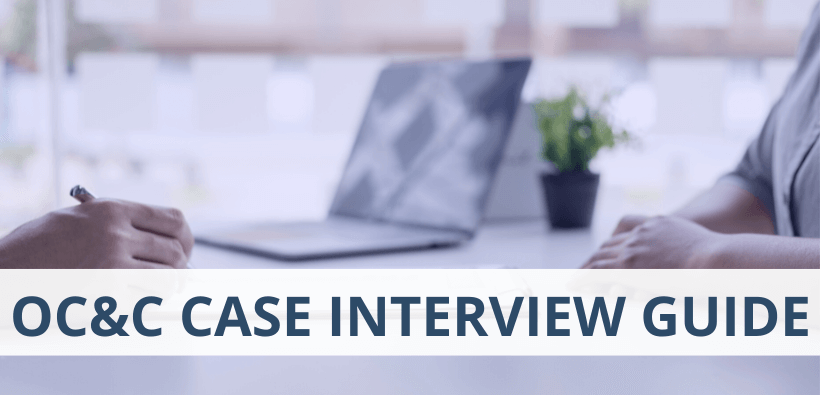 OC&C Case Interview Guide
Are you interested in OC&C as your next potential employer or do you have your case interview there soon? In this article, you will learn more about what the consultancy expects from its employees, how the application process is structured and what kind of interviews you can expect. In addition, you will receive valuable insider tips on how you can master your case interview as successfully as possible.
OC&C is one of the more minor strategy consulting firms that exist across the globe but they hold a high reputation for the quality of their work. Two Booz Allen Hamilton partners founded OC&C in 1987 because they wanted to focus on strategic work as it is what they found most interesting. Soon after OC&C was founded, a quick succession of mergers occurred with two other firms that had been founded by ex-McKinsey partners for the same reason. This resulted in OC&C offices in London, Germany, and the Netherlands within a couple of years. Now, the firm employs 500 people across 11 countries and 14 offices. They are smaller than their strategy consulting peers - not only in geographical footprint but also in industries they focus on. OC&C focuses on 7 industries and does a lot of work with private equity clients as well.
Every year, OC&C punches well above its weight when it comes to talent attraction and they often receive as many applicants as the likes of McKinsey, Bain, and BCG with fewer roles available.

OC&C does not lay out its preferred characteristics for graduates and new hires but we know from talking to current employees and candidates that have gone through the interview process that they focus on four key attributes:

Every client engagement is focused on a problem they are facing and have not encountered before. OC&C is looking for a team of problem solvers that can provide a logical and structured answer to these problems.
OC&C has heavily invested in its data and analytics capabilities. Working with many retail clients that have enormous customer data sets, the consultancy is focusing on driving as much value out of data as possible. OC&C is looking for consultants that can structure and present data to generate meaningful insights.
The focus on data and analytics means that all of OC&C's consultants have strong quantitative skills and the company expects their new consultants to conduct the majority of the quantitative analysis required in their client engagements.
Analysis and insights are highly valuable but to generate meaningful insights that can have an impact on their clients requires a solid understanding of the client's business and the wider business environment in which they operate. OC&C tests candidates' understanding of the business environment throughout the interview process.

There are four stages to the OC&C application process:
The interview process at OC&C begins with a resume and cover letter submission online. Their typical recruitment cycle is in the Autumn each year, but they sometimes hire off-cycle, especially at smaller network firms.
The OC&C online assessments are a verbal reasoning assessment followed by a numerical reasoning test in an SHL format. This is the same test you will face in most online applications, especially outside of consulting.
Candidates that pass the online assessment are invited to first-round interviews, typically conducted by junior consultants. The interviews include 15 minutes of a fit interview followed by a case interview question.
The second round of interviews is conducted by senior consultants (partners and directors) and follows the same format as the second round of interviews. Following the second round of interviews, candidates will be either given feedback or a job offer.

OC&C uses two interview formats: a conversational interview and a case interview. The most weighting is given to the case interview and you need to be prepared. Candidates that haven't prepared for the case interview don't progress to the final round.
The conversational interview is conducted separately from the case interview and is looking to assess four areas of your prior experience and education:
Interest and understanding of business

Professional, personal and academic accomplishments

Interests outside of academia and work

Career objectives
The combination of these four topics will build a picture for the interviewer of your motivation to work at OC&C, your suitability for the work, and how you will fit into OC&C's culture.
The case interviews that OC&C uses are all based on real-life client examples. The interviewers are encouraged to use their own client engagements for their case interview questions because they know them well and will be able to provide data and context quickly. This format is the most common interview format used by OC&C because it is the closest resemblance to the work required on the job and allows the interviewer to answer the question 'Can this person do the work of an OC&C consultant?'
They assess candidates over a number of different attributes during a case interview:
Analytical and creative thinking

Application of data

Communication skills
Scoring well across all these attributes will progress to the next stage or ultimately, a job offer.
For further information on how to demonstrate these skills see our full case interview guide here.

The consulting case interview is the cornerstone of every strategy consulting firm's interview process due to the ability to replicate the problems and challenges of the work they do.
To score well in an OC&C case interview, you must meet the criteria laid out above and follow a structured approach to case interviews. The structure of an OC&C case interview is as follows:
1. Situation and problem
2. Hypothesis validation
5. Mathematical calculation (sometimes)
6. Creativity test (sometimes)
7. Recommendation
At the start of the case, the interviewer will outline the context and the problem to be explored. An example might be:
"A high street retailer wants to cut costs by 30% in response to the Covid-19 pandemic, how would you approach this?"
You would then be expected to put forward an initial hypothesis on what the answer might be and explain your intention to prove or disprove it.
From there, you will be expected to develop a framework to conduct your analysis and test it with the interviewer.
If your framework is MECE and you explore it correctly, then you will find the root cause of the issue for the client (in this case where costs can be reduced) and begin calculations if relevant.
The creativity test is when the interviewer asks you for an alternative to your findings or recommendation e.g. "Okay, the client says they do not want to shut stores, how else can they reduce cost?" They may ask this more than once and test the candidates' ability to think of alternatives, even if their answer is appropriate.
Finally, you will be asked to provide a recommendation whereby you need to synthesize your findings and give a clear and concise proposal.
For more information on how to approach and solve case interviews, read our complete guide here.

Case interviews are pressurized situations where your anxiety levels are heightened and you don't have the safety net of notes or the internet to fall back on.
For in-person interviews, it is common that one of the questions will have a mathematical element or be a market sizing question included. These require long maths calculations without a calculator. If you haven't practiced long addition, multiplication, division, or subtraction recently, then it is a good idea to do so. Being quick at maths shows your competent quantitative skills and reduces unnecessary pressure during the interview, increasing your overall performance.
We have published guidance and practice questions dedicated to case interview maths here.
As with maths, practicing case interviews is the best way to improve your performance. Through practice, you will begin to develop a robust approach that satisfies the structure and framework components of the case and you will recognize how to navigate the case successfully.
If you are applying to OC&C, you are probably applying to other strategy consulting firms, too. This practice will be relevant to all of the firms you apply to as they all use case interviews in their application process.
You will find a large number of cases for preparation here and can schedule mock interviews with peers on our meeting board here.
The key requirement of a candidate in a case interview is the application of structure, specifically with a MECE approach. As mentioned above, you can even apply structure to the fit questions and it is recommended you do so.
An example answer to the question 'walk me through your CV' would be to segment your experience into
1) Experience relevant to consulting
2) Experience not relevant to consulting
and then briefly cover the experience you have in each bucket.
This shows you understand what consulting is and what is relevant and also a key skill of a consultant – structured thinking.
If you can demonstrate robust structured thinking in your interview, you will score highly.