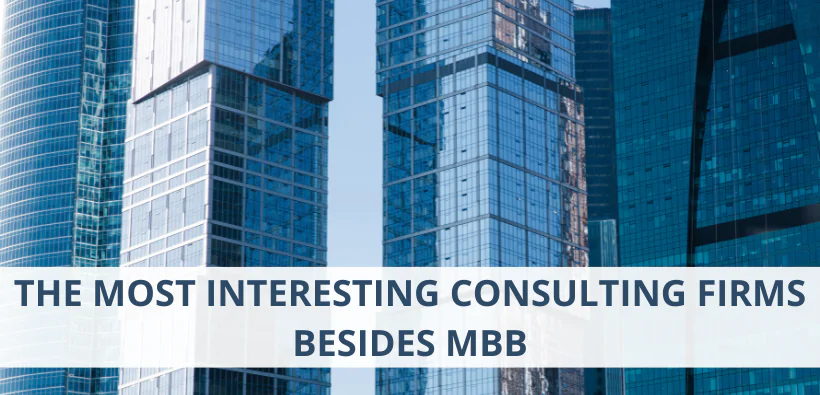 The Most Interesting Consulting Firms Besides MBB
Management consulting firms play a central role in assisting companies and organizations with strategic decision-making, process optimization and corporate development. The so-called "MBB" firms (McKinsey, Bain and BCG) are undoubtedly the best-known names in the industry. However, there are also numerous other high-caliber consulting firms that are just as exciting due to their specialization, corporate culture and innovative strength. In this article, we take a look at the bigger picture and present some of the most interesting consulting firms besides MBB.
Deloitte is one of the leading global consulting firms and offers a wide range of services, including audit, tax, risk management and technology consulting. What makes Deloitte stand out is their holistic approach to complex problems and their ability to assemble interdisciplinary teams to address challenges from multiple perspectives. Deloitte has also pioneered digital transformation and AI-based solutions.
Oliver Wyman is known for its expertise in corporate strategy, risk management, and organizational optimization. Oliver Wyman consultants often have strong analytical backgrounds and use data-driven approaches to develop innovative solutions to complex business problems. The firm has also made a name for itself in aviation, transportation and financial services.
Roland Berger is a leading strategy consultancy with European roots and a global network. The company excels at working closely with clients to develop customized strategies and create lasting change. Roland Berger has a strong focus on the midmarket and is known for its strength in industry consulting and digital transformation.
Accenture is a global player in the consulting industry specializing in technology, digital innovation and business consulting. The company combines strategic thinking with extensive technological expertise to help companies seize the opportunities of the digital era. Accenture is also a leading player in sustainability consulting, promoting the shift toward a sustainable economy.
Kearney, formerly A.T. Kearney, is a global management consulting firm known for its world-class research and analysis. The firm has a strong focus on business strategy and works closely with clients to develop innovative solutions. Kearney has also made a name for itself advising governments and the public sector.
Strategy& is PwC's strategy consulting practice, offering a combination of strategic advice and comprehensive implementation expertise. The firm works with clients to develop strategies and put them into action to achieve sustainable results. Strategy& is active in a variety of industries, helping companies address challenges in a rapidly changing business environment.
EY-Parthenon is the strategic business unit of Ernst & Young (EY) and specializes in corporate strategy and M&A advisory. The firm works with clients in a variety of industries, including technology, healthcare and consumer products, to develop innovative strategies and drive business growth. EY-Parthenon combines deep industry knowledge with analytical expertise to provide tailored solutions to complex challenges.
Capgemini Invent is the strategic consulting arm of Capgemini, one of the world's leading IT services companies. The company focuses on digital transformation, technology consulting and innovation management. Capgemini Invent helps companies seize the opportunities of the digital era, develop new business models and optimize their processes.
This also includes state-of-the-art technologies such as artificial intelligence, big data and cloud solutions.
L.E.K. Consulting is a global management consulting firm focused on strategy and performance improvement. L.E.K. consultants have a data-driven approach to making informed decisions and solving complex problems. The firm is known for its expertise in healthcare, life sciences, energy and private equity.
ZS Associates is a consulting firm that specializes in advising companies on sales and marketing. The company assists its clients in the areas of market research, customer analysis, sales strategy and revenue optimization. ZS Associates has also developed advanced analytical solutions that help companies make data-driven decisions and improve their sales performance.
Mercer is a global provider of human resources consulting services, helping companies develop their HR strategy and develop their people. The company offers solutions in compensation consulting, employee benefits, talent management and organizational development. Mercer also has a focus on diversity & inclusion and sustainability in the workplace.
While MBB firms are undoubtedly leaders in the management consulting industry, there are a host of other fascinating consulting firms that are also worth noting for their specialization, approach, and innovation. Each of these firms has its strengths and operates in different industries and regions. Choosing the right consulting firm always depends on a company's specific needs and goals. A combination of established players and emerging consulting firms can result in a holistic and diverse approach that helps companies overcome their challenges and fully realize their potential.