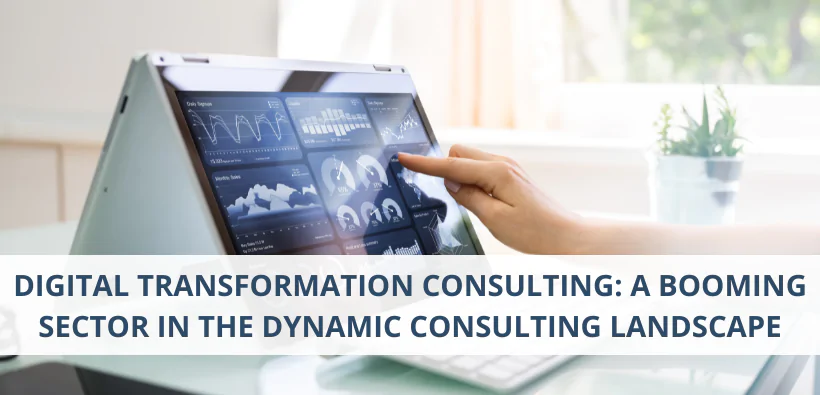 Digital Transformation Consulting: A Booming Sector
In the fast-paced, digital era of the 21st century, the digital progress is continuously evolving, and businesses are compelled to keep up. The omnipresence of digital technology is not only reshaping our daily lives, but also revolutionizing the way businesses need to operate.In the midst of this turbulent change, one concept in particular has emerged in the business world: Digital transformation consulting (DTC).
Digital transformation consulting serves as a strategic service that aids businesses on their journey of digital adaptation. Its core purpose is to assist business leaders, including CEOs, COOs, and Chief Marketing Officers, in leveraging digital technologies to innovatively transform their business models and operations.
In an era where the digital revolution disrupts traditional business models, digital transformation consultants play a critical role in providing the necessary guidance. They support companies in developing robust digital strategies to remain competitive amidst disruption and facilitate the adoption of digital technologies to streamline operations.
Today, prominent firms in the DTC sector include, for example, Accenture, IBM, and McKinsey. These industry giants reported annual revenues of $44.33 billion, $73.62 billion, and $10 billion, respectively, in 2022. At the same time, they've made it known they are actively recruiting new talent, demonstrating the growth and demand in the field. Digital transformation consulting has swiftly emerged as an essential service for consulting firms as the world continues to embrace the digital revolution.
The following are the globe's leading Digital Consulting firms that will generate a predicted revenue of US$65.36 billion in 2023. With an annual growth rate (CAGR 2023-2027) of 5.96%, the market volume is supposed to reach US$82.38 billion by 2027.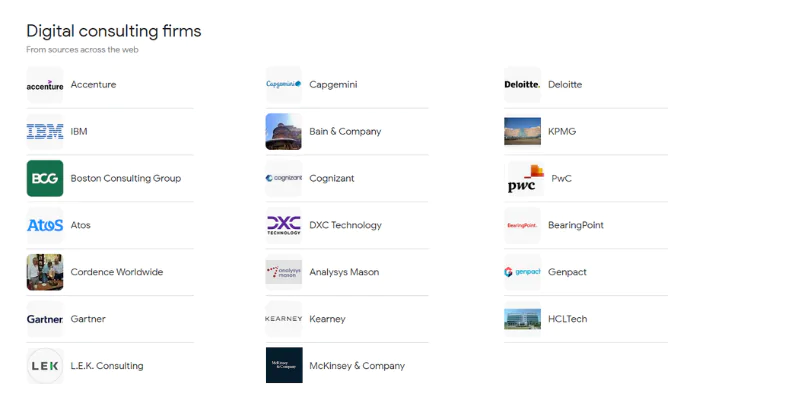 The demand for DTC professionals is projected to surge for several reasons:
Digital revolution: As businesses worldwide face the impacts of the ongoing digital revolution, they require expert advice to stay competitive. Digital transformation consultants provide this expertise, enabling businesses to innovate, improve operations, and create value in new ways.

COVID-19 aftermath: The COVID-19 pandemic accelerated the need for digital transformation, as businesses had to quickly pivot to digital means to survive and thrive. This urgency has highlighted the need for skilled DTC professionals.

Changing consumer behavior: As consumers become increasingly digital-savvy, businesses need to transform their operations, services, and products to meet these evolving expectations. DTC professionals guide businesses through this transition.

Technological advancements: With advancements in technologies such as AI, machine learning, IoT, and blockchain, businesses need DTC professionals who understand these technologies and can incorporate them strategically into business operations.
Especially for recent graduates considering a career in consulting, DTC offers an exciting and rewarding pathway with two distinctive career paths. It's a field where technical acumen, business savvy, and the ability to adapt and innovate are all equally valued. Given the continued growth and demand in the field, there's no doubt that Digital transformation consulting will continue to shape the future of business.
Due to the customer-centric nature of this field, a broader range of subjects is desired when seeking junior-level employees. Graduates from areas such as Business Administration, Psychology, Sociology, and Communication Studies, along with more technical fields such as Computer Science and Information Systems, are often well-suited for this industry. These fields provide an understanding of customer behavior, organizational dynamics, change management, and communication strategies - all crucial for driving successful Agile Transformations.
Consider a regional bank, "Bank Classic," with a traditional business model that revolves around brick-and-mortar branches. While they've had a notable local presence for decades, the advent of digital banking technologies, changing customer behaviors, and increased competition from tech-savvy financial institutions and startups have started to threaten their market position.
Realizing the need to modernize and transform, "Bank Classic" brings in a team of digital transformation consultants. The consultants begin by conducting a thorough assessment of the bank's current state, including its digital maturity, customer behaviors, operational efficiencies, and competitive landscape. They identify gaps and opportunities for digital innovation.
Next, the DTC team develops a comprehensive digital transformation strategy, which may include plans to build a robust online banking platform, utilize data analytics for personalized services, automate back-office processes for improved efficiency, and launch a digital marketing campaign to attract tech-savvy customers. They also propose a change management plan to train employees in new technologies and cultivate a digital-first culture.
The role of the DTC team is not only limited to crafting a strategy, but also extends to overseeing its execution and managing the change. Throughout this journey, they act as guides, coaches, and change agents, enabling "Bank Classico" to successfully navigate the digital revolution and improve its competitive position.
In the era of the digital revolution, where Digital transformation consulting (DTC) has become a strategic necessity for businesses, a complementary approach has also emerged: Agile Transformation. While DTC focuses on incorporating digital technologies into businesses, Agile Transformation emphasizes the adoption of a customer-centric project management methodology that promodes adaptability, collaboration, and efficiency. It aims to foster a culture of cross-functional teamwork, close collaboration with customers, and responsiveness to change, thereby improving a company's capability to deliver products or services quickly, efficiently, and in alignment with customer needs.
This transformative approach is critical for businesses, especially in the ever-evolving digital landscape. For instance, consider a company transitioning to an e-commerce model. While a digital transformation consultant might focus on advising on the necessary technology stack and digital marketing strategies, an Agile Transformation consultant would focus on designing teams, processes, and a company culture that could quickly and efficiently respond to dynamic customer needs and market conditions.
Ultimately, both digital transformation consulting and Agile Transformation play pivotal roles in a company's journey to thrive in a rapidly evolving business landscape. Embracing both digital and agile transformations allows businesses to not only navigate the tumultuous wave of the digital revolution, but also seize new opportunities.