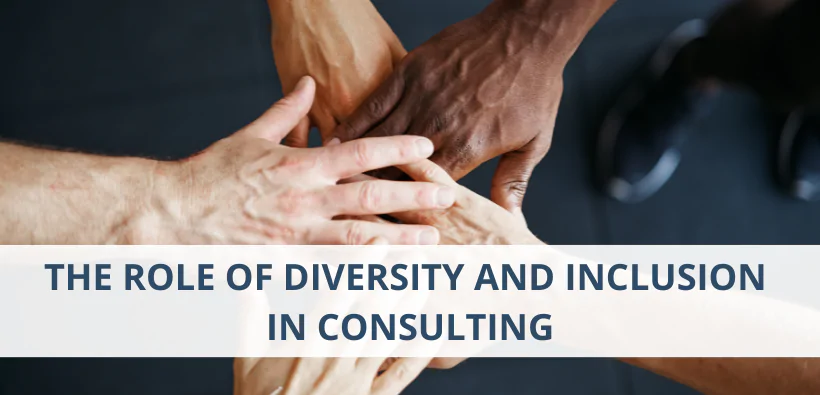 The Role of Diversity and Inclusion in Consulting
"Diversity and inclusion" is not merely a buzzword found on workplace websites; it has become a norm that firms must respect and actively embrace.
However, there is a lot of hearsay about how much these initiatives help, how they work, and their impact on candidates. This article seeks to clarify these and share direct insights on the recruitment process from an MBB Partner.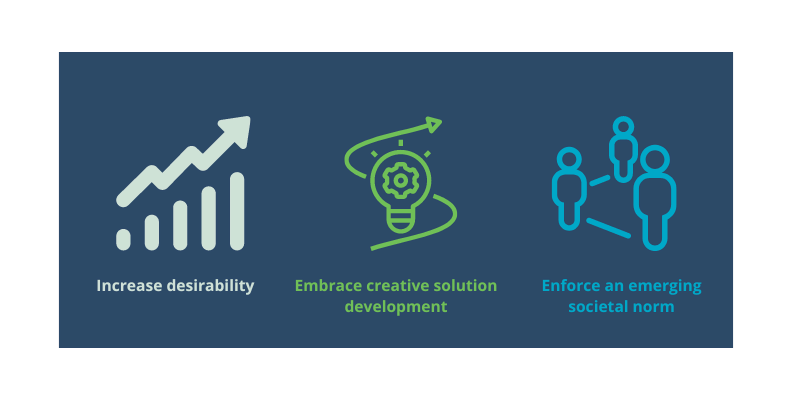 Increase desirability as a place to work:
Organizations that prioritize diversity and inclusion are the ones that attract top talent from diverse backgrounds. Talent is the lifeblood of the consulting industry. According to a study by Glassdoor, 67% of jobseekers consider diversity an important factor when evaluating potential employers. By creating an inclusive culture, firms enhance their reputation as desirable employers, ensuring they have access to a vast pool of exceptional candidates.

Embrace creative solution development:
Research has consistently shown that diverse teams outperform homogenous ones. A study by McKinsey & Company found that companies with more significant gender and ethnic diversity in their executive teams were 20-30% more likely to outperform their industry peers ('Delivering through Diversity' Report, McKinsey & Company). Including diverse perspectives stimulates creativity, innovation, and better decision-making, leading to improved business outcomes.

Enforce an emerging societal norm:
Diversity is not only an element that companies can pride themselves with, but an emerging societal expectation. Consulting firms are pressured to reflect on their values and those of their clients and adjust accordingly.
There is a broad spectrum of initiatives mushrooming in the industry. I'll cover three: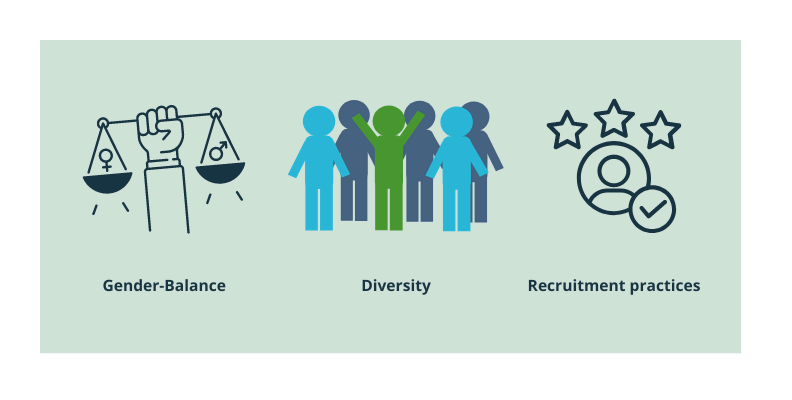 Setting gender balanced workforce goals:
Multiple consulting firms have set ambitious targets to achieve gender parity. For example, Boston Consulting Group (BCG) has committed to a 50:50 male-to-female ratio. Such initiatives require a comprehensive approach encompassing hiring practices, mentorship programs, leadership development, and inclusive workplace policies. By striving for gender balance, consulting firms actively address historical disparities and create a more equitable environment.

Embracing a broader focus on diversity:
While gender diversity remains the primary focus within the industry, consulting firms are also expanding their efforts to ensure inclusivity in other dimensions. They are actively working to attract and retain talent from underrepresented ethnic and racial backgrounds and individuals with disabilities. This holistic approach guarantees that diversity efforts encompass various perspectives, fostering a more inclusive and representative workforce.

Implementing inclusive recruitment practices:
To mitigate bias during the hiring process, some firms have implemented blind recruitment practices. By removing identifying information such as name, gender, and ethnicity from resumes, employers focus solely on evaluating candidates based on their qualifications and experiences. This approach helps eliminate unconscious bias and creates a level playing field for all applicants.
Consideration as a candidate for diversity targets:
If you are part of a group within the focus of diversity initiatives, you should make the most out of the opportunities being created. In practice, that means you should investigate whether your target firms offer diversity-based programs and understand what they consist of. Feel free to disclose your belonging to one of the diversity groups to the recruiter and ask whether they have targeted programs for this area.
Typically, you can expect additional mentorship and support throughout the recruitment program (e.g., seminars on the application process, a consultant 'buddy', etc.). The hiring process, however, will retain the same standard regardless of the candidate's background.

Not a candidate for diversity targets:
While some candidates may not fall under specific diversity targets, the overall pool of candidates is likely to expand as firms actively seek diverse talent. However, this should only affect candidates with diverse backgrounds. Consulting firms prioritize finding the right talent, basing hiring decisions on the candidate's qualifications, skills, and alignment with the job requirements rather than the diversity group they might belong to.
Myth 1 - Diversity initiatives compromise meritocracy:
One common misconception is that diversity initiatives undermine merit-based hiring. Diversity and inclusion efforts aim to level the playing field, ensuring that all qualified individuals have equal opportunities to succeed regardless of their background. Embracing diversity does not mean lowering standards; instead, it expands the pool of exceptional candidates and creates a more diverse talent pipeline.

Myth 2 - Diversity is solely about gender and ethnicity:
Diversity encompasses a wide range of dimensions, including but not limited to gender, ethnicity, race, age, sexual orientation, disability, and socioeconomic background. True inclusion involves recognizing and valuing the unique perspectives and experiences brought by individuals from various backgrounds.

Myth 3 - Diversity and inclusion are HR initiatives only:
Achieving diversity and inclusion requires a holistic approach involving leadership, management, and every individual within the organization. It goes beyond HR policies and requires a cultural shift and ongoing commitment from all levels.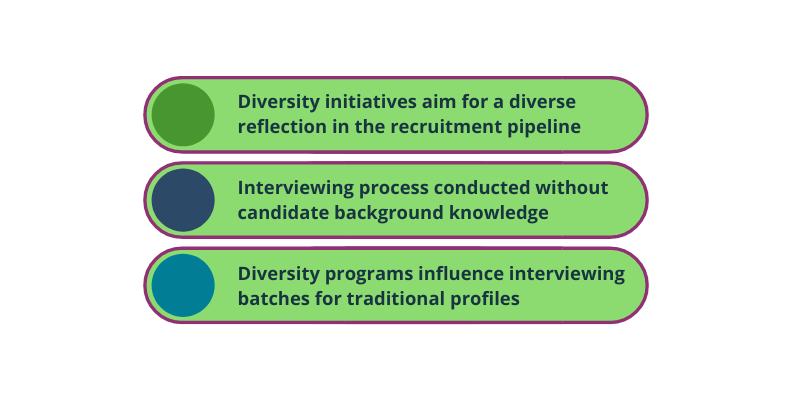 Diversity initiatives aim to have at the start of the recruitment pipeline, a reflection of the diverse profiles in our society:
When quotas are set, they are somewhat aspirational percentages for the start of the recruitment pipeline. For instance, a firm such as BCG might want to have a 50/50 ratio of male/female candidates who apply for an Associate role. That does not mean they will hire a man for every woman Associate or vice versa, but that they seek to have an equal number of women and men applying for that role. They aim to provide equality of opportunity, not equality of outcome.

The interviewing process is conducted without knowing the background or diversity affiliation of the candidate:
Interviewers receive only the CV of the candidate (and potentially the Cover Letter, if applicable) without any further information from HR whether that particular candidate is part of a diversity group. That ensures against instances of positive discrimination. While something like gender can be more easily identifiable by an interviewer, ethnicity, sexual orientation, and many other diversity dimensions are not, allowing the recruitment process to remain fair for all candidates.

The only way in which traditional profiles are affected by diversity programs is in terms of interviewing batches:
The only situation in which a candidate from a non-diversity group can be affected by diversity targets is when the recruitment process is postponed, ensuring a representative sample within the interviewing batch. Suppose for a specific role, only men applied. In that case, recruitment will make additional efforts to have women submit their applications before assessing which candidates to progress to the next stage.
Diversity and inclusion have become crucial elements of the consulting industry, with firms recognizing their positive impact on creativity, decision-making, and financial performance. They are there both because they are good for business, but also because they are a way of ensuring fairness in society.
However, the most crucial point to remember is that they do not actually give you a higher likelihood of getting hired. Instead, they ensure that regardless of your background, you have a chance to be considered for the role.
#1 rated and most recommended McKinsey Coach | 97% success rate
Professional Experience: McKinsey & Company, Writer & Entrepreneur
Languages: English
Location: Germany
After graduating from Oxford, Cristian gained several years of experience at McKinsey. Until today, he was working in eight different countries and nine different industries and founded his own consultancy, Writer & Entrepreneur.
Cristian is the highest rated McKinsey coach on this platform by both rating and recommendation rate. Though he specializes in MBB and particularly McKinsey, he is the perfect coach to help you apply to these companies.
With his 5-star rating, the expert has the highest recommendation rate of the coach.