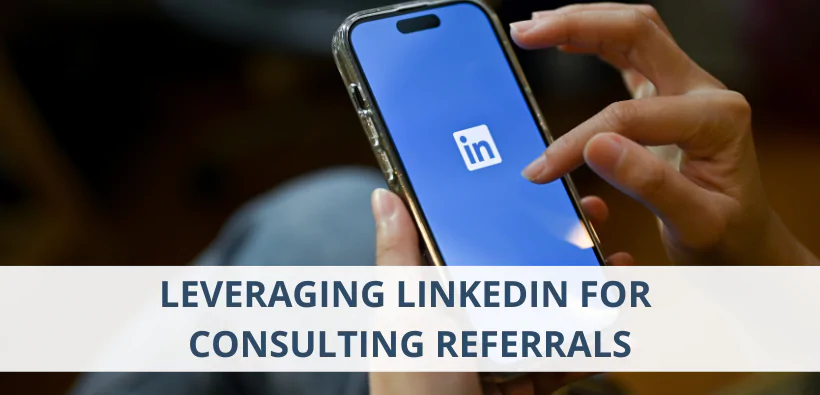 How You Can Use LinkedIn for Your Consulting Applications
In the competitive world of consulting, referrals are the keys that unlock doors to interviews with top firms. A referral helps you stand out from the competition because it signals to the hiring team that you have the endorsement and support of someone from within the organisation. Plus, a referee can act as a source of insight and guidance throughout the hiring process. Few candidates have such contacts within reach, however.
At the same time, LinkedIn has become a powerful networking tool for consulting jobs. This article will guide you through the step-by-step process of leveraging LinkedIn to get referrals for consulting applications, helping you tap into this vast network of professionals and increase your chances of securing interviews with your target firms.
Before we start with the main topic, let me share a short story to you.
When I was applying for consulting roles, I reached out via LinkedIn to 10-15 people. None of them answered. None of them wanted to connect on a call. I grew discouraged and gave up. But I also promised myself that if and when I'll be in consulting myself, I'll speak to everyone that will ask me to connect. And I did. For almost 5 years in McKinsey, I engaged virtually every week with a couple of prospective candidates who had reached out to me on LinkedIn. I had no obligation to do so aside from the promise I had made to myself.
In short, cold reach-outs via LinkedIn have a low conversion rate. They can be discouraging. But they definitely work.
What you need to do is find the equivalent of me in your target firm – somebody who is keen to speak with others who need help. This article is meant to provide you with the strategy for that, the same system that I use with all my candidates and which never fails in converting reach-outs into at least several coffee chats with prospective employers.
Before diving into LinkedIn networking, it's essential to research and identify the consulting firms you are interested in. Explore their websites, read industry publications, and assess their culture, projects, and areas of expertise. Make a list of these firms and prioritise them based on your interests.
Then identify your target roles and look out for any upcoming deadlines. Focusing your efforts on specific companies will allow you to effectively tailor your LinkedIn networking strategy. A step-by-step guide to developing an application strategy and identifying your target firms can be found here.
Once you have a clear understanding of your target firms. Leverage LinkedIn's search functionality to find employees within your target firms. Use filters like location, job title, and company to narrow your search and identify individuals open to networking. But first, before sending out those connection requests, you must prepare your LinkedIn profile.
Your LinkedIn profile is your online professional identity and acts as a first impression for potential connections. Optimise your profile by:
Crafting a compelling headline that showcases your interest in the consulting industry and target firms.
Highlighting your relevant skills, experiences, and achievements.
Include a professional profile photo and a concise summary that captures your value proposition as a candidate.
Ensure that your professional experience on LinkedIn reflects what is written in your CV
Use keywords that resonate with consulting recruiters, and update your profile with recent accomplishments or certifications.
Then start by connecting with individuals you already know, such as colleagues, classmates, or professors. Having a base of connections will provide social validation to your profile, which will maximise the acceptance rate for the connection invitations you send out.
If you plan on playing the long-term game and want to be more active in the community, switch to a creator account, add at the top of the profile what topics you will generally be 'speaking' about, and then document your journey to becoming a consultant. You will be surprised at how much traction this can bring.
Once your profile is polished and ready, it's time to connect with current employees from your target firms. Send connection requests to employees at a seniority level similar to the one you are targeting. LinkedIn allows up to 100 connection requests per week, so feel free to maximize that. Based on how strong your LinkedIn profile is, you can expect an average connection acceptance rate of 20-50%.
Do not include a message in your connection request. Research shows that this decreases the likelihood of acceptance. Turns out, people do not like to read. Just send the request and then follow up with a personalized message.
In the first message you send to your new connection, briefly introduce yourself, express your interest in their work or company, and explain your goal of seeking guidance or insight. Engage in thoughtful conversations, share relevant industry content, and establish genuine connections.
Here is a draft intro message you could send. Take it as a starting point, but calibrate it and personalise it. Most importantly, do not make it too long. The shorter, the better.
Start from this message but try to personalise it further by mentioning shared connections, alumni networks, shared interests, or any other areas of overlap (that you have identified after researching their LinkedIn profile).
Prepare a list of thoughtful and well-researched questions to make the most out of the conversation. Informational interviews not only provide valuable knowledge but also serve as an opportunity to demonstrate your enthusiasm and curiosity.
Ask for tips on the application process, interview preparation, or the firm's culture. Most professionals are willing to share their experiences and insights. By showing genuine curiosity and a desire to learn, you gain valuable knowledge and build stronger connections.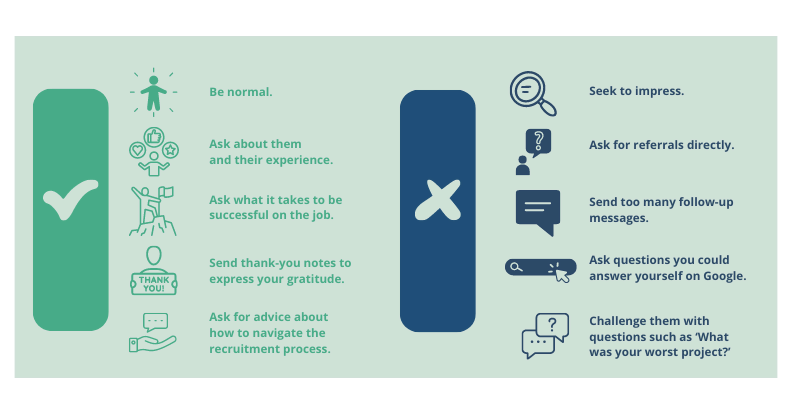 Your perspective of what the call represents is crucial to its effectiveness. Think of this as an opportunity to connect with somebody who is a few years down the road from where you are and from whom you can learn a lot. Integrating their lessons could save you time and pain and get you closer to your goals. So regardless of whether or not you manage to get a referral, acknowledge for yourself the opportunity you have to meet these people in the first place.
For a comprehensive guide on how to conduct these discussions, read here.
As mentioned above, do not ask for the referral directly. Ideally, the contact would proactively offer a referral by the end of the call. The referral should come as a consequence of your excellent conversation with them.
If they do not, then use this phrase before finishing the conversation:
"I understand that now consulting firms are especially selective with whom they invite for interviews. How critical is having a referral when I apply to office [x]?'
This is as direct as you should be. Going beyond this is a push. If they want to give you a referral, they will likely offer it at this point because they know referrals help. Then you should be willing to provide any necessary information or documents to facilitate the referral process, such as your updated resume or a summary of your achievements. If they do not, thank them politely, keep in touch with them and go looking for new connections.
Networking is not a one-time interaction; it requires ongoing effort and nurturing. Somebody who is neither able nor willing to help you now might prove crucial later on. Stay active on platforms such as LinkedIn by engaging with others and sharing relevant articles, industry insights, or resources that might interest them. Offer assistance when appropriate and demonstrate your value by being a helpful and reliable connection. Building a mutually beneficial relationship based on trust and genuine connections takes time, but it also increases the likelihood of receiving a referral when the time comes.
LinkedIn offers a range of features and tools that can enhance your networking efforts. Here are a few resources that can help increase your reach:
LinkedIn Groups:
They provide an excellent platform for connecting with professionals with shared interests and career aspirations. Actively participate in discussions, ask questions, and contribute valuable insights. Engaging in these groups can help you expand your network and increase your chances of connecting with employees from your target firms.
LinkedIn events, webinars, or forums:
They're related to consulting can increase your visibility and showcase your expertise. These events allow you to meet professionals face-to-face, showcase your passion for consulting, and build connections in a more personal setting. Be prepared with your elevator pitch and engage in meaningful conversations.
Publish articles or share insightful contents:
To establish yourself as a thought leader.
Alumni network:
Join the alumni network from your school. Explore the LinkedIn Alumni Tool to find potential connections who have worked at your target firms and reach out to them with personalised messages.
LinkedIn Premium features:
To maximise your LinkedIn networking potential, consider leveraging LinkedIn Premium features. Premium members have enhanced visibility, can send direct messages to professionals outside their network, and access additional insights and analytics.
Leveraging LinkedIn to get referrals for consulting applications can significantly increase your chances of securing interviews with your target firms.
By following the steps outlined in this article, including identifying target firms and employees, building a strong LinkedIn profile, initiating meaningful conversations, and leveraging LinkedIn's features and tools, you can tap into the power of networking and increase your chances of success in the competitive consulting industry.
Remember to approach your networking efforts with authenticity, curiosity, and a willingness to build genuine relationships. Take action, be proactive, and leverage the power of LinkedIn to propel your consulting career forward.
Here is a recap of the critical steps and strategies for leveraging LinkedIn to get referrals for consulting applications:
Research and identify your target firms and employees.
Optimize your LinkedIn profile to make a strong impression.
Craft personalised connection requests and engage in meaningful conversations.
Nurture relationships by offering value and maintaining regular contact.
Request referrals strategically and with a clear motivation.
Leverage LinkedIn features like groups, events, and articles to expand your network.
Utilise LinkedIn Premium and the Alumni Tool for enhanced networking opportunities.
Maintain professionalism and respect boundaries throughout the process.
Express gratitude and maintain a positive online presence
Take action and leverage LinkedIn's power to increase your chances of success in consulting
Feel free to connect with me on LinkedIn here to grow your consulting network.
#1 rated and most recommended McKinsey Coach | 97% success rate
Professional Experience: McKinsey & Company, Writer & Entrepreneur
Languages: English
Location: Germany
After graduating from Oxford, Cristian gained several years of experience at McKinsey. Until today, he was working in eight different countries and nine different industries and founded his own consultancy, Writer & Entrepreneur.
Cristian is the highest rated McKinsey coach on this platform by both rating and recommendation rate. Though he specializes in MBB and particularly McKinsey, he is the perfect coach to help you apply to these companies.
With his 5-star rating, the expert has the highest recommendation rate of the coach.