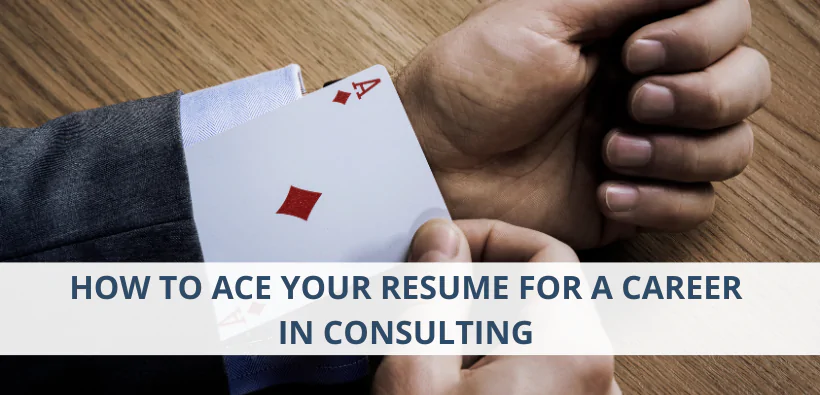 Ace Your Resume for a Career in Consulting
Starting a career in the fast-paced and intellectually challenging world of consulting can be a thrilling journey. As an aspiring consultant, you need to craft a compelling and professional resume since this document will be your first point of contact with your potential employer.
Yet, what does an outstanding resume for a consulting role look like? What should recent graduates pay particular attention to, who might have had no experience in a full-time job before? 
This article aims to shed some light on these questions. 
It's important to keep the resume precise and to the point, with a length of one to a maximum of two pages being appropriate. Finally, remember to tailor your resume to meet the specific requirements and expectations of the position you are applying for. To do this, read the job advertisement carefully and emphasize the skills and experiences that are particularly relevant or in demand.
Don't state everything you ever did! Write only what's relevant to the job and role.
Here you can see how much of your resume should be included in the overall application documents: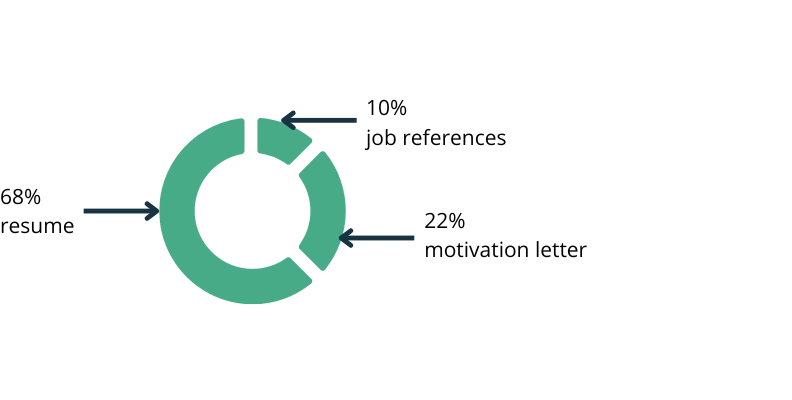 A well-structured, clear, and concise resume is crucial:
Start with your contact information at the top, followed by a career objective statement that summarises your goals and aspirations in the consulting field.
Next, outline your education, internships, skills, languages, additional qualifications, volunteering experiences, and references.
Be precise – Hiring managers typically only spend a few seconds scanning each resume.
For fresh graduates, the education section becomes particularly important.
List your degree, the university you attended, and the dates of your studies.
Highlight relevant courses, research projects, or theses that demonstrate your analytical and problem-solving abilities.
Don't forget to mention any notable academic achievements such as honors, scholarships, or high GPAs.
As a recent graduate, you might not have extensive work experience, but internships and extracurricular activities can be your secret weapons.
List any internships related to consulting or the business sector, detailing your roles, responsibilities, and key achievements.
Also, any leadership roles or involvement in student societies, clubs, or volunteering can demonstrate your teamwork, leadership, and project management skills.
But don't include nonwork-related activities like babysitting or dangerous hobbies
Consulting roles often require a blend of technical, analytical, and soft skills.
List any proficiency in data analysis tools, business intelligence software, and project management methodologies.
Emphasize your problem-solving, communication, leadership, and organizational skills.
Fluency in multiple languages is also a bonus in the increasingly global world of consulting. Also keep in mind that you can include online courses from Udemy, Coursera, or others.
Any additional qualifications you have obtained, such as a certification in project management, a course in a particular consulting methodology, or mastery of a specific data analysis tool, can make your resume outstanding.
Furthermore, if you want to start in a special consulting field like IT Consulting, you can try to get an agile certification like the Professional Scrum Master from Scrum.org which only costs a small application fee when you take the exam.
Begin bullet points with action verbs such as 'led', 'coordinated', 'analyzed', or 'presented' to make your experiences sound more dynamic and impactful. These words can help convey a sense of initiative and proactivity.
Tailor your resume to each specific job application. Use keywords from the job description and highlight the skills and experiences that the role demands. This can show recruiters that you have a clear understanding of what the role entails and that you're a suitable fit.
Lastly, ensure your resume is free of errors. A single typo can give the impression of carelessness. Let someone else proofread your resume or use a professional proofreading tool.
A stand outing resume is one that effectively showcases your skills, experiences, and achievements while demonstrating your understanding of and passion for the consulting industry.
Take your time to craft this vital document – it could be the stepping stone towards an exciting and fulfilling career in consulting.
If you want to take a look at some CV examples, you can use the PrepLounge CVs.