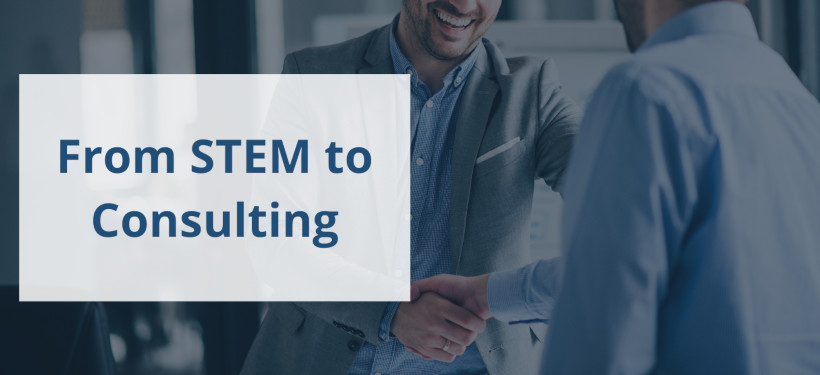 From STEM to Consulting – Tips for a Successful Career Start!
When thinking of a management consultant, you probably think of a typical businessperson with a high collar who has studied at a top university or private business school. Although most management consultants do have a background in business studies, companies are increasingly attaching great importance to the diversity of their consultants' degrees. They now range from mathematicians and natural scientists, engineers, and doctors to graduates with a linguistic or cultural studies background. Graduates with a STEM background, in particular, are very welcome at top consulting firms.
In this article, we will show you why a degree in science, technology, engineering, or mathematics may give you an advantage in getting a job at a management consultancy. Furthermore, we will give you six tips for your career start in management consulting and show you which entry options the industry has in store for you.
In the current war for talents, companies have a special interest in bringing those talents into their team who constitute the bridge between technical and business know-how. This is why, management consultancies are particularly keen to attract young professionals who have completed a degree in science, technology, engineering, and mathematics as additions to their teams.  Especially due to the increasing digitalization, the associated exposure to big data, and other technical topics, consulting firms are forced to approach clever minds from these relevant "non-business" areas. They want to provide the increasing number of clients from technical backgrounds, with those consultants who can understand and speak their language.
As someone with a STEM background, your strengths include your ability to implement, your affinity for numbers, your analytical skills, and your ability to simplify complicated tasks. These are exactly the things you need in consulting: you receive a lot of information from different people and have to draw the essential conclusions from it to understand correlations. Furthermore, your basic studies are generally more difficult to complete, involve more work and the academic content is more complex. A good degree on your part indicates that you are willing to work hard to achieve your goals.
For graduates in science, technology, engineering, and mathematics, the career path usually leads to the industry or research. Nevertheless, some students are already studying a STEM subject with the idea of entering consulting later on or decide to do so during their studies. After all, consulting is a professionally challenging, well-paid job that can open many doors in business and beyond.
Of course, you have to decide for yourself whether the job as a consultant is right for you, as it is a hard job with a high proportion of travel to a wide range of clients and demanding projects. In order to get some further insights, here is what our experts with "non-business" degrees say on how they got into consulting and what they particularly like about the job:
I don't have a tech background, but I studied Mechanical Engineering for 5 years. The idea of changing my plans and leaving engineering came up after an internship as NASA's researcher for the JPL laboratory. Even though the environment was super and from many points of view it was a dream job, I didn't feel motivated.
That's when I started doubting that engineering was the right choice and I started being attracted by consulting. The plus of being a consultant is for sure that you can learn a lot, trying completely different projects and industries in a short time and that you can see the impact of your work in a short period.
I always say that strategic consultancy is a "no-choice" because you are simply deciding to learn and try a lot of different things, having the chance to decide later what you want to do in your life.
Hi, aerospace engineer here :) Technical backgrounds are highly appreciated nowadays in consulting for the problem-solving & analytical skills and for the ability to quickly enter into new complex problems and structure them. To me, it's been a unique opportunity to gain in a small amount of time a good insight into the business environment in Italy and Europe and to build a broader profile.
Regarding how to manage the transition you are in the right place to do it :)
I studied for a master's in civil engineering before moving into strategy consulting. You are right I certainly didn't plan on doing this (true of many of my friends who made similar choices - banking, consulting, law et al.)
What appealed to me about consulting over engineering?
Variety / Novelty – I'm someone that can't do one thing for exceedingly long. I enjoy fluid and dynamic work which changes frequently. Consulting was great for that
Finishing school aspect – it seemed a great first step career from a content and signaling perspective (opening other doors later if I wanted to leave)
Perks – of course, the lifestyle had its appeal too! ;) (alas business travel quickly loses its appeal after you start recognizing gate staff at a rural German airport)
Non-business quantitative majors were generally perceived positively when I was in the firm – I could definitely notice this in approach and work styles.
If you decide to start your career in management consulting, you have a wide range of options to choose from. From international strategy consulting to in-house consulting and IT consulting. The possibilities are broad. We will briefly present the entry options to you here:
International Strategy Consulting Firms – Companies like McKinsey, Bain, and BCG (MBB) are increasingly looking for STEM graduates as they are dealing with projects that are more and more analytical and quantitative, and therefore need your expertise. Joining MBB is a real career boost and can open many doors in the industry for you after only a few years on the job. Also, these consultancies are distinguished by large projects with well-known clients. However, you must also be aware of the high level of willingness to travel and long working hours.
 
Inhouse Consulting – Inhouse consulting can be a good option for you if you are looking for a better work-life balance at a comparable salary. Companies with a technical background such as Volkswagen Consulting or TKMC are particularly suitable for consultants with a scientific background.
 
Boutique Consultancies – Boutique consultancies are characterized by their flat hierarchies and the possibility of taking on more personal responsibility. This offers more variety in everyday work, compared to international strategy consultancies. Especially boutique consultancies which are specialized in technology-oriented industries are looking for profiles like yours. These include boutique consultancies such as Andersch or Moonroc. 
 
IT-Consulting – Companies such as Accenture or IBM Business Consulting offer IT solutions and consulting for customers. They are specialized in this area and thus supervise large projects in the industry.  If you have an IT background, an entry into an IT consulting firm can also be an attractive career step, as you can find classic consulting services, but you also have the opportunity to focus on IT solutions.     
 
Internship in Consulting – Don't just think about it, do it! You could just start to gain your own experience and find out if consulting is the right thing for you. So why not try an internship and attend career events to get an idea of the working environment. Alternatively, you can also get involved in student-led consulting groups. Here, you have the opportunity to make contact with consulting companies and gain experience in real consulting projects that a pure STEM study program cannot offer on its own.
By now, you may have realized that consulting offers a valuable start to your professional life and provides many advantages in terms of personal and professional development. But is a STEM degree already an entry-ticket for McKinsey, BCG & Bain, or what do you actually need in order to be successful and get the job offer at a top consulting firm?
The very first thing recruiters are going to be looking at is your resume. This is your first hurdle and should be well designed. Consultants usually pay attention to the following factors in applications:
School/University reputation
Degree
Academic performance
Professional experience
Extracurricular activities
Experience abroad
​
There are so many things you can do in order to become familiar with the consulting industry. You may join the consulting club of your university and start practicing cases. This will give you an insight into how consultants work. Further, you can try out the Project Simulations on PrepLounge. Here you can go through the interactive projects and get to know different industries and topics. Speaking of different industries and topics: Reading magazines and newspapers will be a particularly useful tool in order to acquire business acumen and learn about different industries. Lastly, we suggest that you make use of our Consulting Q&A to pose your questions to the community and consulting experts or read through questions that have already been asked, to get an idea of the consulting industry.
 
Further, we recommend participating in recruiting fairs and networking events to expand your network and build up contacts in the industry.
One of our experts has several tips and insights at hand that will help you to successfully network during fairs and events and acquire referrals.
To be able to find a referral, I would suggest going through the following three-step approach:
1. Identify who are the people that can more easily help you
2. Write them a customized email
3. Have a call with the consultant, and indirectly ask for a referral
As general tips:
Don't use LinkedIn for your communication – emails work a lot better. There are several tools nowadays that allow finding very quickly the email of basically anyone.
When you write to your target connections, your goal should not be to ask questions, rather organize a call. Then in the call, you should ask the right questions to create a link with them.
Whatever questions you ask during the call, you should have a closing question to ask (indirectly) for the referral. Don't leave that to chances.
A management consultant needs to be a Master of Communication. In order to train this skill, it helps to practice as many mock interviews as possible – with other case partners or experienced MBB coaches. Always ask for feedback on this dimension (confidence, non-verbal, and verbal communication), as it will be an important factor not only during the interview but also on the job. You can also train your public speaking skills by giving extra presentations at your university or joining a debate club.
 
If you want to succeed in consulting, you have to succeed in your interview first! For this, extensive case preparation is needed. You should do the following:
Acquire the theoretical basics and work on your case-solving skills
Practice online with other candidates
Get support from coaches
Improve your mental math skills
For more tips on your case prep, don't forget to have a look at the following articles:
Case Interview – The Ultimate Guide for Your Case Prep
Case Interview Coaching: How to Make the Most out of Your Coaching Sessions in 6 Step

Did you submit your application? Next up is case interview prep. Remember: The more you practice with other candidates, the more confident you will become, and the sooner you will be able to secure a job at the consultancy of your choice.
 
The personal fit part of an interview is often underestimated by candidates, even though it is just as important as the case interview part. You should have a meaningful answer to the questions you may be asked, for example why you want to go into consulting. You should always emphasize your skills in dealing with other people and your ability to work in a team. This should enable you to convince the recruiters of your potential! If you want to dig deeper, the following guide might be interesting for you: Integrated FIT Guide for MBB
So, where we at? Do you have what it takes to be a consultant? If so, start your case interview preparation now and move one step closer to your dream job in consulting!