Dear PrepLounge community, 
I want to ask for some educated advice on the preparation plan I have drawn up for myself. 
The situation
I'm invited for interview days at Roland Berger (Munich) on February 24, and BCG (1st round) on March 23/24. 
My preparation so far
Since November I've been preparing part-time for case interviews. The "Case Interview Fundamentals" course from Crafting Cases served me as an introduction to the world of case interviews. Up to that point, I had not had any contact with interview formats for strategy consultants.
Hours spent on preparation since November: ~80-100h
Case Interviews with partners so far: ~ 10
The upcoming journey
Last week, I finished university and am now able to dedicate 100% to interview prep. I've worked out a plan to structure my preparation process for the next few weeks (see table below). During my past preparation, I have noticed that structuring and estimations are my major weaknesses. Therefore, I think these two elements shall be emphasized in my upcoming preparation. 
Short summary of the preparation plan
In sum, ~6 weeks á 56 hours prep time
Total hours dedicated to case interview & personal fit prep: 352h (152h till RB interview; 200h more for BCG interview)
Total # of cases planned: 42
Total # of drills planned: 211
My specific questions
Do you think the time dedicated to interview preparation as indicated on the spreadsheet is reasonable?
Are the weights allocated to each preparation method appropriate?
Do you think the resources (Cases, Drills, Videos, Casecoach) are appropriate/sufficient?
Am I missing important features of a good case interview preparation?
Maybe some of you are more experienced and have deeper insights as to whether there are other factors I've not considered so far which may have a significant impact on my success. I'm thinking about effects such as "case blindness" or "overdrilling", i.e., focusing too much on quantity and ignoring other important aspects of successful interview preparation. However, I do my best to account for such side effects by having an open mind, using various sources of information, and also generating business acumen (see screenshot for more details). 
I would really appreciate any feedback on my preparation plan. Perhaps this might be helpful to other candidates in applying for consultant positions as well.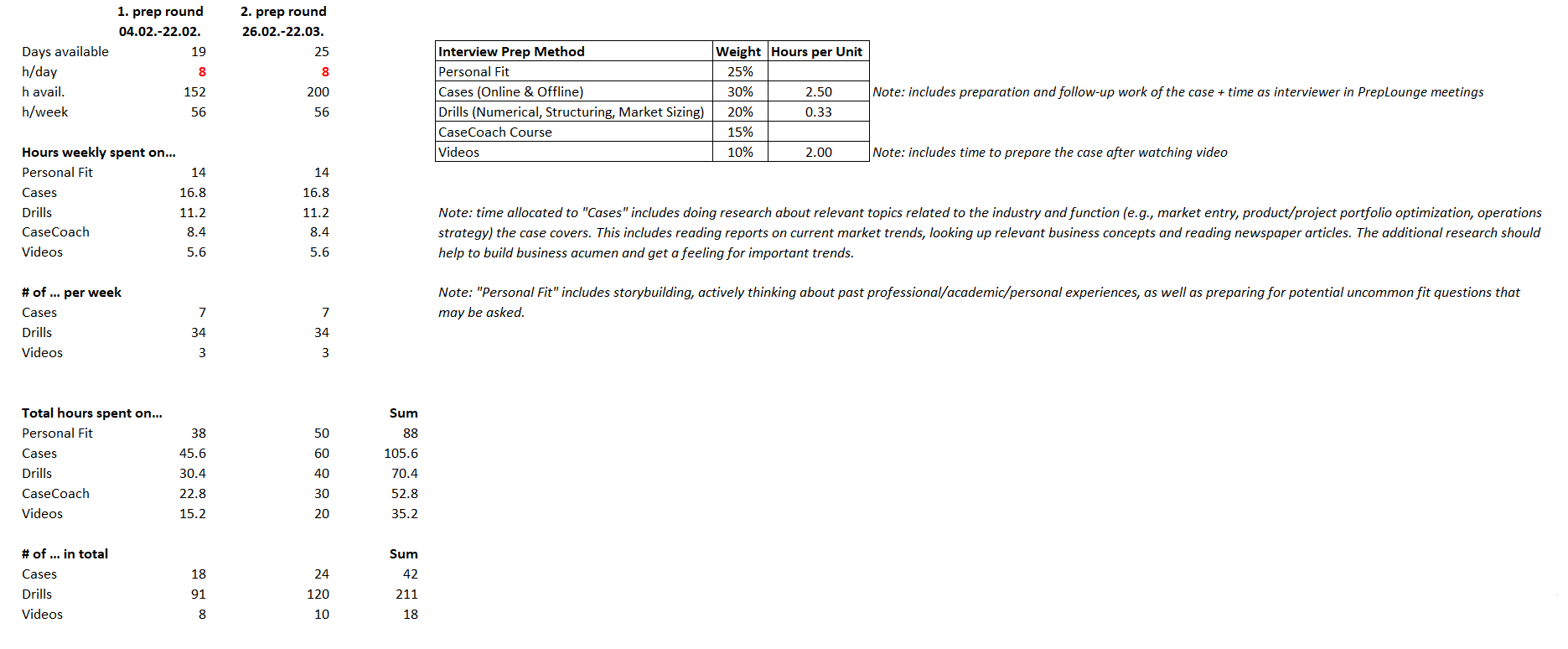 (I hope the info on the screenshot can be read, maybe you need to zoom in a bit)
Thanks in advance! 
P.S.: I know some of you will advice me to consult a coach for the best possible preparation. However, currently this is not an option for me. Therefore, advice specifically related to the prep plan elaborated so far would be appreciated. 
(edited)