Market sizing - Number of mineral water bottles in Dubai?
Overview of answers
Upvotes

Date ascending

Date descending
Best answer
Hello Mike,
You can easily approach this case in the following way:
Population of Dubai
Estimation of tourists in Dubai
Average water consumption per day. Be careful to consider substitutes (especially for young people) and the reduced water consumption for babies
Liters of water = # people * consumption
Average bottle capacity
# of bottles = Liters of water / average bottle capacity
I would skip the segmentation of the population by age in this case, since the water consumption per day is pretty much the same. I would just mention those 2 qualitative point when you have to estimate the average consumption per day.
Hope it helps,
Luca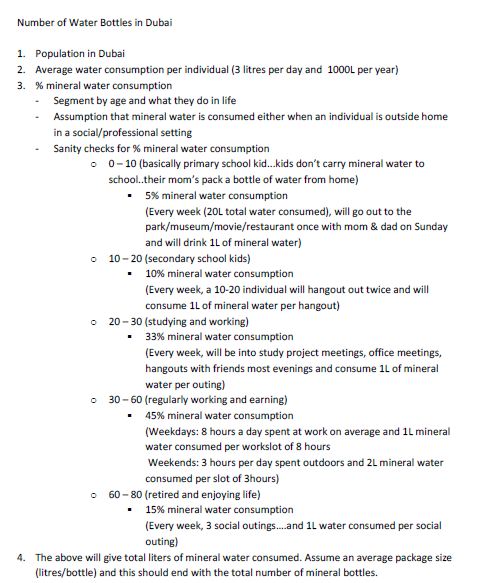 Agree with Vlad, there are several posts like this -and btw, the approach is the same one for all-.
Hi,
A good habit is to ask for help (not just in a subject line), and provide at least your ideas, so that we could give feedback
Best!
BCG |NASA |20+ interviews with 100% success rate| 120+ students coached |GMAT expert 780/800 score