[Healthcare Market sizing Question] Market size for HPV Vaccine?
How would I solve U.S. market size for HPV vaccines?
2 answers
---
Upvotes
Date ascending
Date descending
Hi,
HPV vaccines are recommended for boys and girls in the US (https://www.cancer.org/latest-news/who-should-get-the-hpv-vaccination-and-why.html) and before they become sexually active. Majority of vaccines are given ages 11 and 12, and the remaining to older teens and some to adults.
Assuming 320M in the US population, 80 yrs life expectancy and uniform distribution this gets us to 4M for each age.
Assuming all boys and girls should get the vaccine, the market size is as follows :
1. For boys and girls currently aged 11 and 12 that is 8M
2. For ages 13-18 - assume that only 50% got vaccinated before 13. Now obviosuly this is an over-simplification, you can also assume a declining ratio (60% at 13 and going down to 30% at 18 yrs who need to get vaccinated).
Total Population 13-18 = 24M and 50% of that is 12M
3. For women adults up to 40 - assume 80% have been vaccinated and 20% need vaccination (if you want a gold star you can take into account that most women have got the vaccine but almost no men have given that previosuly only girls were required to do so and that number now climbs to 80% of women and 0% of men as having the vaccines so 20% of women and 100% of men in this age group are not vaccinated, but this is something you can check with the interviewer)
Population of women only 19 - 40 = 44M, 20% = 9M
Total market size - ~ 29M
Hope that helps,
Udayan
(edited)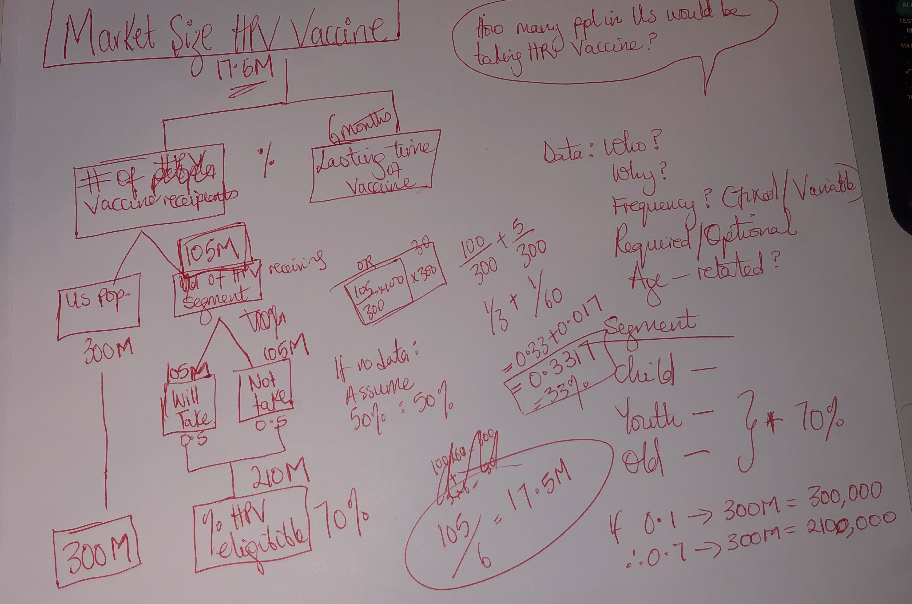 Related BootCamp article(s)
Market Sizing
Market Sizing Cases are used to test your quantitative and reasoning skills. The interviewer evaluates your structure, numbers-handling and business sense.
1 Q&A
Important Facts
It's essential to know some key figures regarding geographies, population, economies for your case interviews. We summarized them for you here.
1 Q&A
Related case(s)