At PrepLounge, your success is our success. Our mission is to help you get your dream job in consulting and we celebrate each offer our members receive. So far, we have helped thousands of candidates on their journey into consulting by offering everything needed for the case practice. With our help, you can get connected, practice cases, and sharpen your consulting skills with the best candidates and largest community worldwide. Our experience and the experiences of our members have shown that practice does make perfect and leads to success!

We believe in our community spirit, the support and motivation that comes with it - and our members do, too. We hope that this selection of success stories will help and encourage you that you can achieve your goals, as well, with your own determination and the support of our community. Thank you to everyone who is part of PrepLounge!
---
"I can't emphasize enough how much I learned from the people I met on PrepLounge"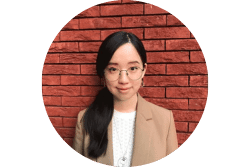 Eve

Master's in International and Sustainable Finance,
KU Leuven, Belgium

Taipei, Taiwan
Where have you applied and what was the outcome of your interview?
Applied for: McKinsey


Got an offer from: McKinsey

Took the offer from: McKinsey

How did you prepare for your case interview?

This is how I used PrepLounge: I subscribed to the premium version and essentially
used all the services: bootcamp articles, mental math practice tools, casing with
online partners, video tutorials, and Q&A forums. The most valuable part of PrepLounge
for me was the variety of casing partners; they were all from different backgrounds and
levels but equally dedicated. This gave a realistic simulation of the interviewers that you
might face in the real thing.

My tip for others when preparing for the case interview: Don't underestimate the
workload! Start early, and try talking to your partners after each casing session. I can't
emphasize enough how much I learned from the people I met on PrepLounge; many
generously shared prep techniques, case books, or pro tips that I never would've thought
of myself.
Can you share the experience you made during the case interview?

Things that did not go as planned during my case interview: Unlike a standard mock
casing session, during my interviews a case seldom finishes before time is up. My advice
is a strong start with a solid framework is much more important than rushing to the end;
slow and steady wins the race.

Things that went successful during my case interview: I got the impression that interviewers
understood how hard we had tried to get that interview, so they usually helped a bit when I got
stuck. Their patience was greatly appreciated and often what I needed to solve a question.

My tip for other PrepLounge Members and their case interview: Never break character! The
interviewers are trained to not let slip what they think of your performance during the process,
so if you're stressing out because you think they didn't like something you said, it's probably
unfounded fear. Just relax and try to make a connection.