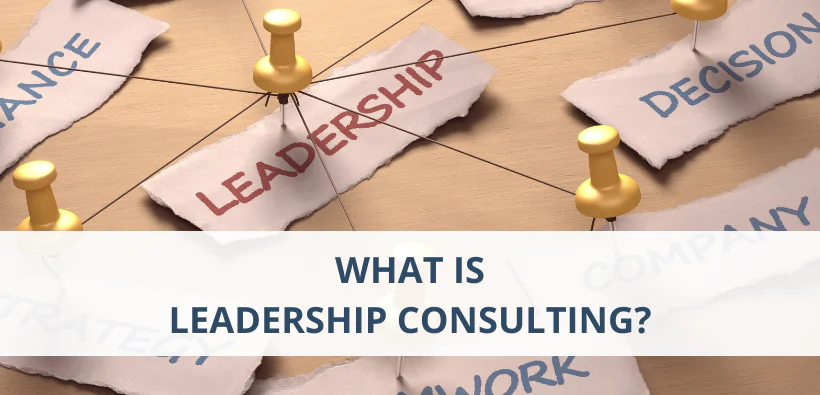 What Is Leadership Consulting?
Leadership Consulting is a consulting approach that aims to help leaders and organizations develop and improve their leadership competencies and strategies. In an increasingly complex and dynamic business environment, Leadership Consulting is gaining importance as organizations recognize that strong leadership is critical to the success and growth of their organization. This article looks at the basics of Leadership Consulting, its importance, and the benefits it offers to leaders and organizations.
Leadership Consultants are experienced professionals who have in-depth knowledge and expertise in leadership. Their role is to work with leaders and managers to help them develop their skills, improve their performance, and achieve their career goals. They analyze an organization's current leadership practices and strategies, identify challenges and opportunities, and provide customized solutions to increase leadership effectiveness.
Leadership Consulting is critical to ensuring leaders have the right tools and skills to succeed in an ever-changing environment. Here are some reasons why Leadership Consulting matters to organizations: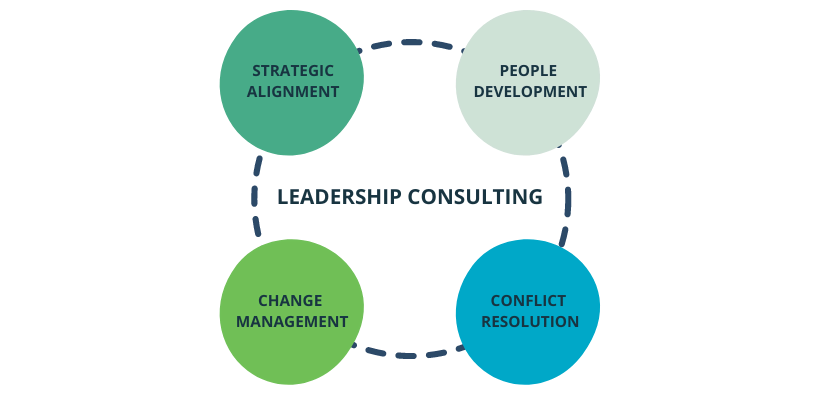 Strategic Alignment: 
Leadership consultants help leaders align their individual goals with organizational goals and develop a clear, effective strategy.

People Development:
Leadership Consulting promotes the development of leaders by strengthening their strengths and identifying areas that need improvement. This can positively impact the entire organization.

Change Management:
In times of change and transformation, leaders play a critical role in motivating employees and successfully implementing change. Leadership consultants help to support these processes and make them successful.

Conflict Resolution:
Conflicts and disagreements are inevitable in companies. Leadership Consultants help leaders develop effective conflict resolution strategies to maintain a positive work environment.
The Leadership Consulting process can vary depending on the specific needs of an organization, but generally includes the following steps:
Needs Assessment:
This involves identifying leadership challenges and opportunities by using interviews, questionnaires, and other analytical techniques, such as analyzing data.

Solution Development:
Based on the results of the needs analysis, customized solutions are developed to meet the specific needs of the organization.

Implementation:
The solutions developed are put into practice. This may include coaching, training or workshops to support managers in implementation.

Evaluation and Feedback:
progress is monitored and assessed, and feedback is gathered to ensure that the strategies developed are effective and delivering the desired benefits.
Leadership Consulting can create significant change in an organization by providing targeted support to leaders and teams to develop their leadership skills and work together more effectively. This type of consulting impacts the business in multiple ways:
First, Leadership Consulting focuses on targeted leadership development. Through individual coaching and training, leaders can improve their people management, motivation and problem-solving skills. This has a direct impact on the way teams work and overall productivity.
Another critical aspect is the strategic direction of the company. Leadership consultants help define a clear corporate strategy by clearly identifying the vision, mission and long-term goals. This clarity enables all employees to work toward the same goal and contributes to unity in the company's direction.
In times of change, Leadership Consulting plays an important role in change management. In mergers, restructurings or new strategic directions, consultants help executives manage change. They help overcome resistance, mobilize teams and ensure smooth implementation of change.
The importance of team building is also emphasized. Leadership consultants encourage the development of positive team dynamics and help resolve conflicts. They help strengthen collaboration, which in turn impacts team efficiency and cohesion.
Talent identification and development is another important aspect. Leadership consulting can identify promising employees and promote them in a targeted manner. This has a long-term impact on the stability of the company and the availability of competent managers.
Effective communication is a cornerstone of any successful business. Leadership Consultants help executives improve their communication skills, whether it be clear message delivery or active listening. There is also a focus on establishing a culture of open and constructive feedback.
Optimizing performance is another goal of Leadership Consulting. Consultants work with leaders to identify performance issues and find targeted solutions that increase productivity and efficiency.
Shaping a positive corporate culture and integrating company values into everyday work are also important. Leadership Consultants help foster a culture of collaboration, innovation and employee engagement.
Finally, Leadership Consulting also facilitates the individual development of managers. Through targeted support and training, strengths are emphasized, and weaknesses are addressed, ultimately strengthening the quality of leaders and their ability to meet challenges.
Overall, Leadership Consulting creates a solid foundation for strong, efficient and forward-looking leaders. These leaders are able to successfully lead the company through various phases and challenges, establish a culture of excellence, and drive innovation.
Leadership Consulting is an indispensable approach to helping leaders and organizations improve their performance and position themselves for success in an ever-changing business environment. By working with experienced leadership consultants, organizations can achieve long-term benefits by developing and nurturing their leaders in a targeted way.
Do you also want to enter the consulting industry as a consultant? Then prepare for your case interview with PrepLounge now!