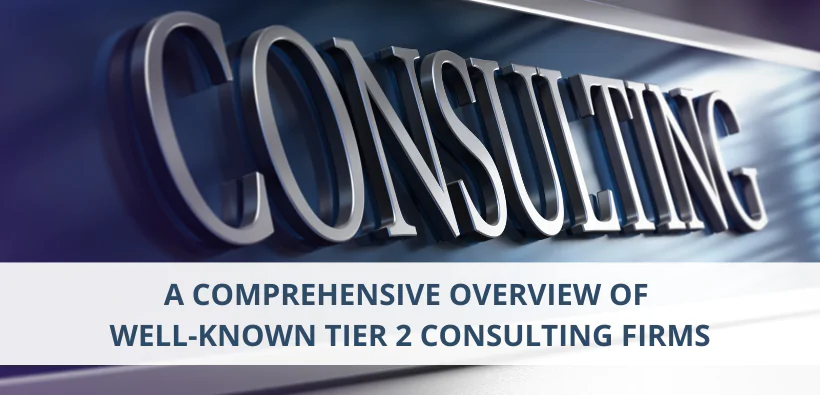 A Comprehensive Overview of Well-Known Tier 2 Consulting Firms
The management consulting industry is known for its diversity and the numerous opportunities it offers for entry-level and experienced professionals. In addition to the well-known "Big Three" consulting firms (McKinsey & Company, Bain & Company, and The Boston Consulting Group), there are a number of tier 2 consulting firms that are also highly regarded and offer exciting career opportunities. In this article, we will explore the concept of tier 2 Consulting firms and introduce six well-known firms as examples.
It is also important to mention that there is no official classification into tier 1, 2 and 3. The classification always depends on for example the sales volume and the respective market that is to be examined. For example, Roland Berger is sometimes regarded as a tier 1 in Germany. The following presentation should therefore only give an overview.
Tier 2 consulting firms are companies that are not counted among the "Big Three" consulting firms, but that are also successful and large, internationally operating consulting firms. They have a strong market position, but their business scope and visibility are lower compared to the leading firms in some areas. Nevertheless, they provide high quality consulting services and are highly sought after by clients for their expertise and knowledge.
The six well-known tier 2 consulting firms that we will look at in more detail below are: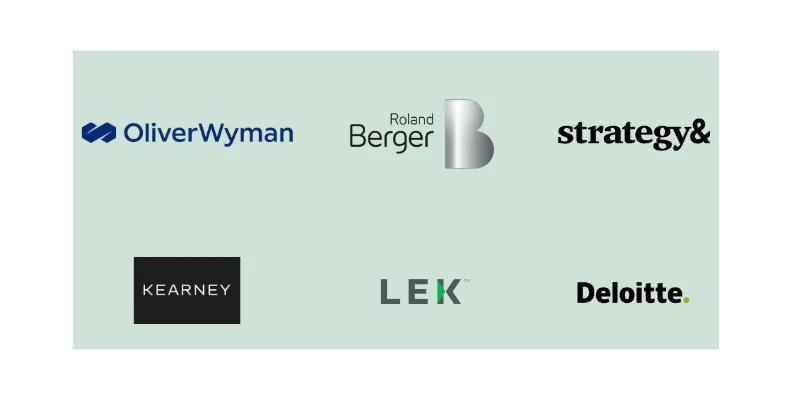 Oliver Wyman:
Oliver Wyman is a global management consulting firm headquartered in New York. The company had over 5000 employees in 2019 and is known for its expertise in financial services, energy, retail, and healthcare. Oliver Wyman emphasizes analytical skills and innovative approaches to help its clients* overcome complex challenges. In German-speaking countries, the company has offices in Berlin, Frankfurt (am Main), Munich, Hamburg, Düsseldorf, and Zurich, among others.

Roland Berger:
Roland Berger was founded in Munich in 1967 and is one of the largest independent consulting firms in the world. The market leader in Germany is active in various industries, including automotive, aviation, telecommunications, and energy. Roland Berger is known for its strong strategic capabilities and international presence. A specially established Roland Berger Foundation is active in promoting education and thus demonstrates social commitment, including by taking on numerous pro bono projects. The company has offices in Berlin, Düsseldorf, Frankfurt (am Main), Hamburg and Stuttgart.

Strategy&:
Strategy& (formerly Booz & Company) is part of the PricewaterhouseCoopers network and offers consulting services in the areas of strategy, digitalization, and transformation. The company has expertise in various sectors such as telecommunications, financial services and technology. Strategy& places great emphasis on innovation and supports its clientele in developing long-term competitive advantages. The company has a presence on all continents. Strategy& was the second highest paying employer in the US in 2017. In Germany, they have offices in Berlin, Wolfsburg, Fürth, Munich and Böblingen. In Switzerland they are represented in Wattwill, in Austria in Vienna.

Kearney:
Kearney was founded in 1926 and is now a global consulting firm with a focus on strategic management consulting. The company works across a range of industries, including consumer goods, automotive, energy and healthcare. Kearney stands out for its analytical skills and close collaboration with clients. In 2016, the salaries paid were among the highest in the USA. In Germany, they have offices in Berlin, Munich, and Düsseldorf.

LEK Consulting:
LEK Consulting is a global management consulting firm focused on strategy and performance improvement. The company works in a variety of sectors including technology, healthcare, retail and private equity. LEK Consulting is distinguished by its data-driven solutions approach and its focus on measurable results. The German office is located in Munich, and other locations include Melbourne, São Paulo, Singapore, Paris, and Tokyo.

Deloitte Consulting:
Deloitte Consulting is the consulting arm of Deloitte, one of the world's largest accounting and consulting firms. Deloitte Consulting offers a wide range of consulting services in the areas of strategy, technology, economics, and transformation. The company is known for its industry-specific expertise and its ability to develop innovative solutions. Deloitte Consulting has several offices in German-speaking countries, including in addition to major cities, for example, in Nuremberg, Aschaffenburg, Mannheim, Hanover, and Leipzig.
Salaries in tier 2 consulting firms vary by company, experience level, and location. Looking into the earning potential and salary structures in tier 2 consulting firms, it is clear that in the long run, salaries at leading consulting firms are generally higher than at tier 2 firms. Nevertheless, tier 2 consulting firms also offer competitive salaries and attractive benefits based on individual performance and company success. In addition, tier 2 firms occasionally advertise attractive starting salaries, or offer attractive bonuses.
Working at a tier 2 consulting firm can be an excellent way to gain valuable experience and grow professionally. Many consultants who started their careers at a tier 2 consulting firm have later made the jump to one of the leading consulting firms, such as McKinsey, Bain or BCG. However, there are also career opportunities within the tier 2 firms themselves, where employees can advance to senior positions and work on challenging projects.
Moving from a tier 2 consulting firm to an MBB (McKinsey, Bain, BCG) consulting firm usually requires outstanding performance, excellent skills and a strong network. It is important to continuously develop your skills while working at a Tier 2 firm, to acquire additional qualifications and to achieve outstanding project results. Networking events and contacts with consultants in MBB firms can also be helpful to facilitate the transition.
Commuting to work can be tiring. The location of the office is therefore an important factor for more life satisfaction. In most cases, the large consulting firms are located in larger cities. Those who prefer to compensate for the often stressful workday in the tranquility of a smaller city could find a bit more peace in a tier 2 company in locations such as Augsburg, Hanover or Wattwil, for example, or may even come to work without having to move away from their home region.
However, the location factor can also be relevant internationally if you would like to work abroad. Again, some of the tier 2 firms have a stronger presence on certain continents or are located in smaller cities.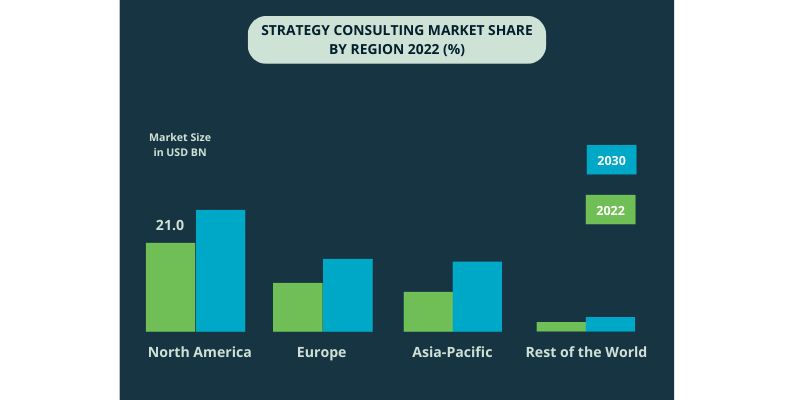 It can also be important that tier 2 firms are often specialized in niche areas. Thus, even with rather unusual personal interests, one can find exciting projects in these very areas and shine with relevant expertise that one must first painstakingly acquire. In addition, it is usually a refreshing change to be able to contribute skills and expertise that you have acquired privately in your day-to-day work.
Tier 2 consulting firms are looking for consultants with a wide range of skills and abilities. Important factors include analytical skills, problem-solving, strategic thinking, communication skills and teamwork. Consultants in tier 2 firms, like those in tier 1 firms, must be able to analyze complex problems, develop creative solutions, and communicate effectively with clients and team members. Industry knowledge is also important, as Tier 2 firms often operate in specific sectors and require expertise to best serve their clients.
Tier 2 consulting firms offer exciting career opportunities and high-quality consulting services. Companies such as Oliver Wyman, Roland Berger, Strategy&, Kearney, LEK Consulting, and Deloitte Consulting have made a name for themselves in various industries and offer challenging projects and attractive salaries. Working in a tier 2 firm can open the way to further career opportunities, whether in a leading consulting firm or in senior positions within the company itself. However, moving from a tier 2 consulting firm to an MBB consulting firm requires excellent performance, exceptional skills, and a strong network. It is important to continuously develop and acquire additional qualifications to improve your chances on the job market and to strive for the next career step.