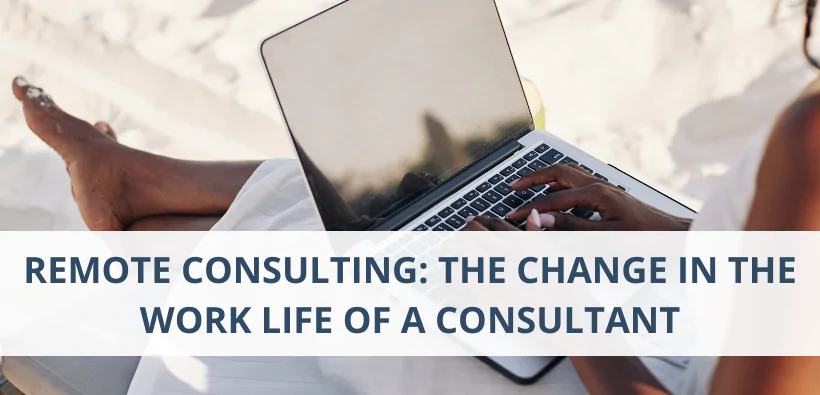 Remote Consulting: The Change in the Work Life of a Consultant
Management Consulting is traditionally a client-side profession. Projects are done in small teams that co-locate themselves at the client office. This allows the consulting team to work in close collaboration with the client teams, allowing them to establish trust with the client, respond to dynamic and last-minute requests, and singularly focus on the client's problem. In most consulting firms, processes are designed in a manner that maximizes a consultant's presence at the client site. Being at the client site means extensive air and land travel while living in hotels and out of suitcases.
Consulting in the Middle East is a good example to demonstrate the situation. Until 2020, most management consulting firms' offices were in Dubai which was commonly touted as the most metropolitan city in the region, and hence its appeal for the global consulting firms. A small portion of the consultants would work on projects within Dubai – while the remaining majority would be posted on projects across other cities in the UAE (Abu Dhabi, Al Ain) or other nearby countries such as Saudi Arabia (Riyadh, Jeddah), Qatar, Kuwait, Oman, among others. Consultants would take the early morning flights (6/7am) at the start of their week (typically Sunday to Thursday), land in the other country with their carry-on, and head straight for the client office. They would spend the rest of the week till Wednesday in the client city, working out of the client office (or sometimes even at the consulting firm's local office in that city if needed). Finally, on Wednesday evening, most of these consultants would fly back to Dubai and then work out of the Dubai office on Thursday. This system was dominant and prevalent since 2010 and earlier.
All of this got a major shake-up in 2020 when the pandemic happened. Air travel was pretty-much halted overnight and face-to-face interactions were restricted. Consulting was robbed of its singular essence – of being a client-side profession. The major shake-up due to COVID gave rise to remote work, and a host of other changes in the consulting profession. Let us go through them one by one.
In Management Consulting, remote work brought about more than just a shift of location; it necessitated a transformation in how consultants interact with clients, collaborate with team members, and manage their daily responsibilities.
This transformation was underpinned by several critical components: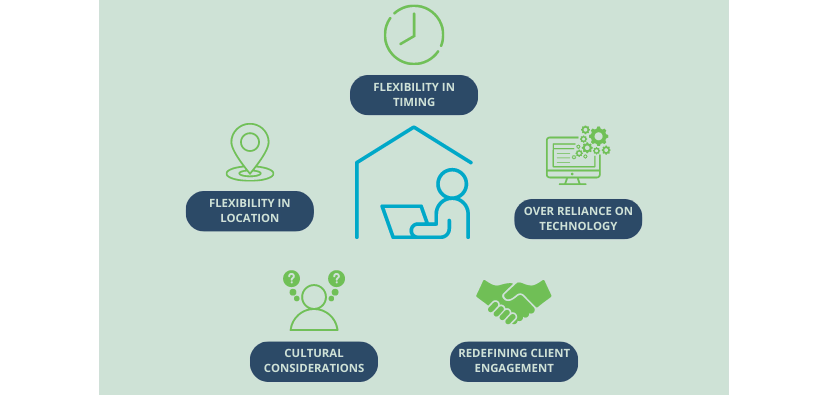 Flexibility in Location:
For the initial few months of COVID-induced lockdown, consultants had full flexibility to work from any location in the world. Firms recognized that many consultants had temporarily returned to their home countries to take care of their family and loved ones. And since no one could even leave their homes, no point in coming to the client location, the firm's office, or even the office country.

Flexibility in Timings:
The ability to work from home also necessitated a flexible attitude towards timings. Although consulting was never a 9-to-5 profession, it just became a lot more unconventional with work-from-home. Suddenly, you were assumed to almost always be 30 seconds away from your laptop. The 9-to-9 started looking like 7-to-11, with calls happening almost always during someone's lunch or dinner hours. The 30-minute commute reduced to 10-seconds from the bedroom to the study (and then back). Being stuck at home all the time also meant that taking care of the family, taking care of oneself, taking care of the house, and taking care of work – all mixed with each other. Consulting companies started coming up with new ways to work around everyone's increased personal commitments. BCG, for example, introduced a 2-hour protected time window that the consultant could take at any time during the day. This helped in clearly demarcating a personal boundary.

Over Reliance on Technology:
Consulting was already there in terms of relying on technology for most daily tasks – peppered with in-person meetings. But work-from-home took this reliance on technology to all the way up to eleven. All meetings became Zoom calls, stand-ups became a daily 10-minute Zoom instead of a quick sit-down over coffee, white-boards were replaced with sketches been shown over the camera (and later with annotations on Zoom calls), task planning systems like Trello got necessarily pushed into the mix, and many more things. Suddenly, being able to mute Zoom at appropriate times became more important than chiming-in at the right time. And suddenly, being able to share only a specific window became more important than connecting that HDMI cable. A lot of tech skills either became more important or lost complete importance.

Redefining Client Engagement:
The biggest adjustment came in client interactions. While consultants among themselves were already decent in the art of Zoom calls (especially with the Partners), the clients were clearly not prepared for this. Not being able to interact with the consultant face-to-face meant a lot of anxiety for the clients at the beginning. It also meant that for a while, the sales pipeline was stalled for the Partners. If they couldn't meet, they couldn't sell. However, since everyone was working from home, the clients were forced to adapt themselves not just for the consultants, but even for their daily business interactions. On the other hand, the Partners also developed different approaches to interact with the client without appearing too distant. Project Managers started putting in a mandatory daily checkpoint with the client, replacing what would have otherwise been a knock on the door as such.

Cultural Considerations:
Typical work culture in consulting firms would rely on autonomy, accountability, and entrepreneurial initiative. Working from home took that to a new level. Suddenly, you were being blindly trusted to always be working towards the outcome.
The pandemic's impact on management consulting extended far beyond the remote work paradigm, bringing forth a series of multifaceted changes that continue to shape the industry. After the first few months of a shockingly abrupt and complete work-from-home protocol – we started seeing many changes that kept on evolving all the way into as late as 2023.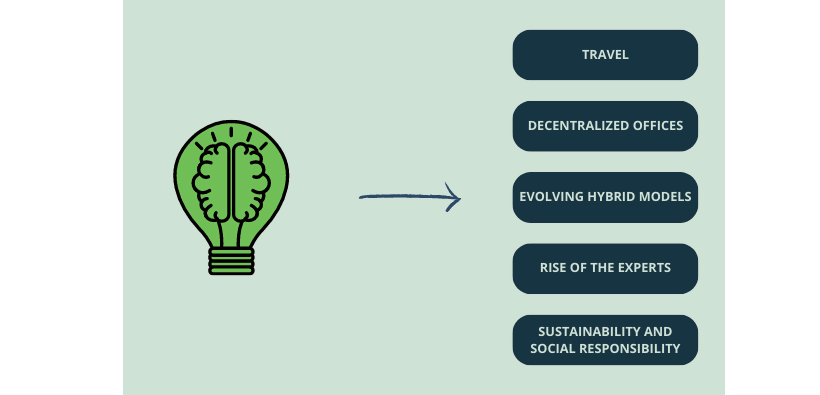 Travel:
2020 and most of 2021 was spent locked-down in our homes, while the later part of 2021 started seeing some travel back up again. While some clients were now more than happy to work on a fully remote basis (with the odd consultant visit for steering committee meetings), some clients and even some projects necessitated on-site presence. The Middle East has many foundational projects happening in the far reaches of the desert – and many times that calls for a direct visit. Plus, many projects were in direct engagement with the top hierarchy of the clients and showing-up was still the deal.

Decentralized Offices:
For the Middle East, the pandemic essentially broke-up the centralized staffing model from Dubai. We now had decent sized offices in other countries as well – notably Riyadh/Saudi and Doha/Qatar. Firms started directly recruiting for these offices as well. This meant even less travel, and better client presence. Although it meant additional administrative overhead for the firms – but the benefits were worth it.

Evolving Hybrid Models:
With an in-between travel policy now fairly established - consulting firms embraced hybrid models, a delicate balance between remote work, office presence, and client presence. This wasn't just a logistical arrangement; it was a cultural shift, recognizing individual preferences and client expectations. Time-zones and locations became less and less of an issue. Cross-office staffing became a lot easier – when we wanted to bring-in an expert consultant from another country, we wouldn't need to fly them in anymore.

Rise of the Experts: 
Subject-matter experts are the trump card in consulting. Teams often use them to showcase domain dominance in front of the client – and for most of the time it is actually a very effective and pragmatic way of working a case. However, before COVID, having an expert on the case for a week meant a massive bill. The expert would fly in, stay for the week, fly out, and be with us for the whole days. This meant that generally cases had 1 or 2 experts on call at any given moment. Now, with remote work firmly established – those visits were reserved only and only for the very off-chance that in-person presence would benefit use. Most of the experts now being leveraged fully remotely – lowering the costs quite a bit. And now we could have many more experts in the same budget. I remember doing a project where we would at times have 6–8 experts on the call for some highly technical expertise.

Sustainability and Social Responsibility:
Reducing travel also gave a chance to consulting firms to work on their sustainability strategies. While advising clients on their ESG activities, consulting firms had lost the track with excessive travel and subsequent carbon emissions. Firms were also able to sell the story to clients on a positive note as well – and maintain a balance between travel and remote work.
The multifaceted changes brought by the pandemic presented a complex landscape of benefits and challenges: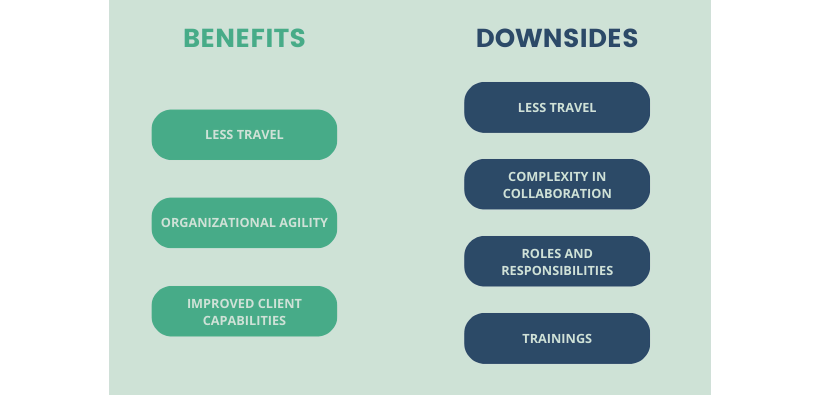 Some of the benefits of the evolved working model in consulting are as follows:
Less Travel:
Absolute win for many consultants – especially those living with their families.

Organizational Agility:
Global firms could now staff consultants from anywhere in the world without worrying about any work authorization and travel related delays. Plus, these consultants could continue working while associated to their home office locations – and would not need to be reassigned to the client-office locations. This meant they could then be further reassigned even more flexibly. With geography less of a barrier, aspiring consultants may find it easier to land roles in top consulting firms or to work with clients based in different parts of the world.

Improved Client Capabilities:
Remote work also forced many of the digital-unfriendly clients to learn and adapt. This meant lesser time wasted in the client trying to connect their audio and video successfully
Some of the downsides of this new model of working are the following:
Less travel:
Many of those points and miles seekers were now progressively losing their frequent traveler status, and suddenly they had to start paying for their vacations. Boom.

Complexity in Collaboration:
The new working paradigms introduced collaboration challenges, not just in logistics, but in maintaining the essence of teamwork and creativity. The lack of face-to-face interaction can make it harder to build relationships with clients or to foster a team spirit. Earlier what was just an unscheduled tap-on-the-shoulder with your Project Manager, was now a scheduled 10-min touch-point – squeezed between 2 back-to-back client meetings. The team banter and joys of working like a crack team from a corner room were gone. It was now replaced with instant messages and random phone calls.

Roles and Responsibilities:
With client interaction almost remote, coordinating with the client became much more centralized on the Project Manager. Earlier, a consultant could just get up and walk up to their client's desk and discuss something they were working on. Now, a lot of those requests were being channeled through the Manager. This made it more challenging for junior members to develop client rapport.

Trainings:
Learning & development too was affected. Those week-long off-site/off-country workshops were now replaced with 2-hour Zoom-based workshops. Definitely not quite the same thing.
The management consulting sector, historically rooted in face-to-face interactions and client-site engagements, has undergone a transformative shift due to the unforeseen challenges of the pandemic. The working model in consulting has seen more evolution in the last 3 years, than in the last century. The rapid adoption of remote work models has unveiled both opportunities and challenges, reshaping the traditional paradigms of consulting. It is a testament to their commitment to client delivery, and at the same time their commitment to leverage their employees well. And while consulting does indeed garner some of the smartest people in the room, their drive, and focus is also one of the reasons that helped the consulting industry adapt so quickly.
While the newfound flexibility, decreased travel, and technological advancements offer consultants a chance to redefine their work-life balance and operational efficiency, they also present hurdles in maintaining team cohesion, client rapport, and the immersive learning experiences of yesteryear. As we navigate this evolving landscape, it becomes imperative for consulting firms to innovate continuously, ensuring they maintain their essence of client-centricity, team collaboration, and knowledge dissemination. The story of the post-COVID consulting world is one of adaptation, resilience, and an ongoing quest for equilibrium between the digital and physical realms of engagement. Only time will reveal the long-term impact of these changes, but one thing is certain: the consulting industry is poised for a future that's as dynamic as its past.
BCG Dubai Project Leader | I will transform your thinking about Consulting Interviews
Professional Experience: BCG, Opera Solutions
Languages: English,
Location: United Arab Emirates
Agrim is an interview coach, former BCG Project Leader, and Solutions Analyst at Opera Solutions. He is a Specialist in PEI / Fit / Unorthodox Cases / CV / Market Sizing. Agrim helped a lot of candidates to land offers from McKinsey, BCG, and Bain. He is an expert in the Middle East (Saudi Arabia / Dubai / Qatar / Abu Dhabi / Oman / Kuwait). As a consultant, Agrim worked as a Project Leader at BCG for four years. Before that, he was a Solutions Analyst for Opera Solutions for two years.