How to prepare for cases on industries where you have zero knowledge in?
Overview of answers
Upvotes

Date ascending

Date descending
Best answer
Hi Hrag,
Thank you for the interesting question.
As a consultant you should demostrate how you can break down the problem of a client into smaller pieces. It comes with practice, just to make sure you feel confident during the interview you can deep dive into different industries beforehand.

I suggest the following tools to prepare for an industry:
Try to solve the case in that industry and break down the drivers of the business based on your business judgement
Check out the structure in a case book/with your partner and understand what was wrong and ways for your structure improvements
Read articles on WSJ, the Economist etc. regarding that industry
Find and read research papers in an industry of inerest with google scholar
Solve the case again
NB: When you do 3 and 4 structure all your thoughts and put them on a slide. I attach the slide my mentees did as an example.
NB: There is a very cool game, which is called CONSULTING BINGO. Cross the industries, for which you already practiced cases and compete with friends (exampke attached).
I hope it was helpful.
Kind regards,
Egor Iakovlev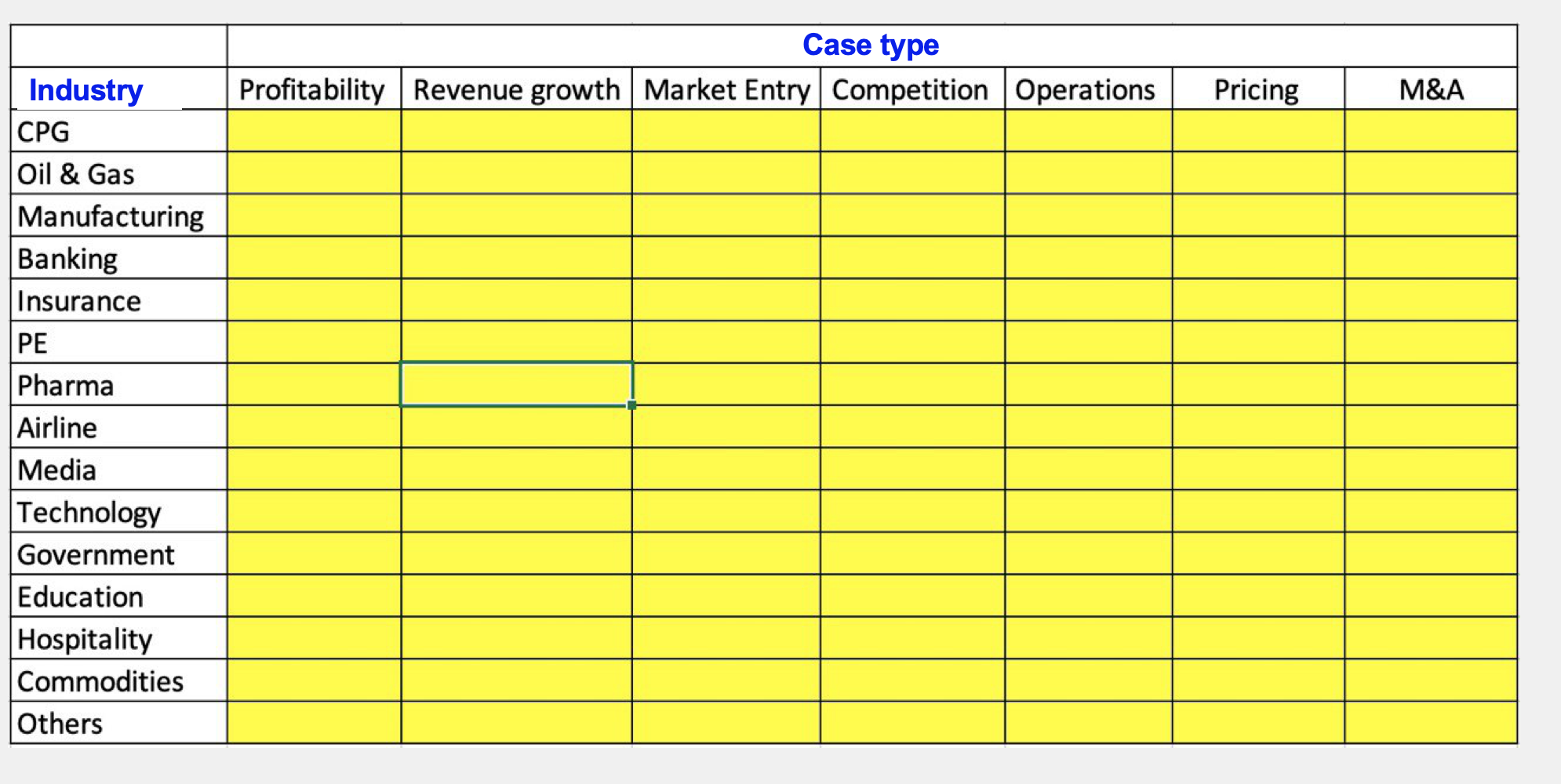 This is where understanding the mechanics of the case is important. In the vast majority of cases, we mostly want you to show us how you think - regardless of prior / industry knowledge.
Yes, specific industries or types of cases will more often call on specific questions (e.g., in a growth case, ask about what the consumer really wants; in a utility case, fixed costs are likely to be a topic) - but if you think in a structured / MECE / logical way, you will get there anyway.
Hi,
The approach that helped me and my candidates:
Do the case in the industry
Download and read the annual reports for investors of the top public companies in the industry. They have everything - cost structure, revenue trends, KPIs, etc
Get back to the original case and think how you would solve it differently having all this info
Best