Career & Application at CYLAD Consulting
Everything about the company, job opportunities and the application process
To CYLAD Consulting website
Functional Focus
Operations, Organization, Strategy, Transformation / Separation / Integration
Industry Focus
Automotive, Construction and construction suppliers, Energy, Machinery and equipment, Pharma & Healthcare, Transportation/Logistics
About Cylad Consulting
At CYLAD Consulting, we help leaders of industrial companies develop their business and improve performance. On every project we take an innovative, pragmatic and result-oriented approach, guaranteeing solutions that are tailored to client needs. Further, we offer our assistance in implementing these solutions, to ensure maximum efficiency and success. Consulting is a people business and our consultants are our greatest assets. We are always looking for strong candidates willing to take matters to the next level.
Career at Cylad Consulting
CYLAD Consulting aims at defining our consultants' personal aspirations and career development.
Apart from an excellent academic track record, our Consultants are capable of a structured way of working, always thriving to go the extra mile. We expect them to actively participate in teamwork, communicate clearly – both in writing and in speech – and actively engage in client as well as in-house projects.
After at least 2-3 years of professional experience in consulting and relevant industries or functions, it is possible to climb to the next level within CYLAD. We expect our Experienced Consultants to be able to act as a reliable counterpart to our clients' project teams and to show a profound level of problem solving and task managing skills. At this level, consultants deliver end products independently, work autonomously throughout the week and start to coach less experienced colleagues.
For the next career step, Senior Consultants have a track record of at least 4-5 years in consulting and in relevant industries and functions. They are able to structure and manage project modules independently with end-to-end ownership and develop people skills on projects and within CYLAD Consulting. A Senior Consultant is a sparring partner to our clients' project leaders and drives individual problem-solving tools and frameworks.
A big step forward is to become a Manager at CYLAD. After gaining at least 7 years of professional experience in consulting and in relevant industries and functions, our Managers take on the leadership of small and large project teams. They independently develop project solutions and specific approaches, tools and frameworks for our clients. Managers can handle multiple kinds of projects, generate leads with new and existing clients and are capable to act as main contact for clients over the course of the entire project.
As a Principal, you have a track record of more than 10 years in consulting and in relevant industries and functions. Our Principals develop long-term relationships with key clients and build up networks with new and existing clients. They leverage expertise to develop and capitalize innovative content on multiple projects with an ability to represent CYLAD Consulting externally on key subject matters. They orchestrate know-how generation as well as project development and delivery.
CYLAD's highest career level is Partner grade. Over many years of close collaboration and professional counseling of clients, our partners have built a strong basis of long-term client relationships. They typically have developed strong industry and functional expertise in selected areas. As Partners of CYLAD Consulting they drive both client development in respective industries as well as people and knowledge development internally.
At CYLAD Consulting we provide an environment designed to support your personal development by pro-actively supporting you with training, individual initiatives and experience-sharing between consultants. The training approach we offer greatly contributes to your knowledge of business issues and your ability to perform in-depth valuable analyses. Our training sessions are either led by our own professionals or by carefully selected third parties. You will also have the opportunity to attend external courses. Flexibility is the key to success in your personalized training program. Twice a year we organize our CYLAD University for the staff from all offices with a customized training program for the various seniority levels and functions among our team.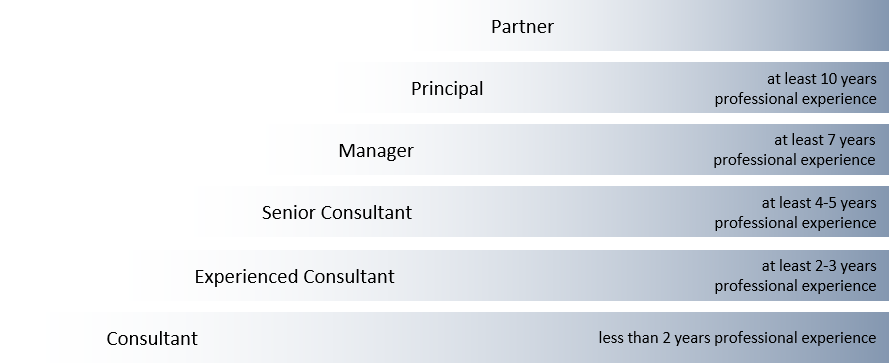 Application Process at CYLAD Consulting
Phone interview
Case interview
Case interview
Partner
interview
Characteristics
Language:
German/English
Self-organized
travel
Individual recruiting day
One-day decision
Jobs at CYLAD Consulting
Consultant in strategy and management for industrial projects
June 26, 2020
Permanent position
Hamburg, Zug
Economics/business studies, Engineering sciences, Industrial engineering, Natural sciences, Pharmacy
Master, MBA
Experienced Consultant in strategy and management for industrial projects
June 15, 2019
Permanent position
Hamburg, Zug
Economics/business studies, Engineering sciences, Industrial engineering, Natural sciences, Pharmacy
Master, MBA
Senior Consultant in strategy and management for industrial projects
June 01, 2019
Permanent position
Hamburg, Zug
Economics/business studies, Engineering sciences, Industrial engineering, Natural sciences, Pharmacy
Master, MBA
Publications by CYLAD Consulting
Companies similar to CYLAD Consulting