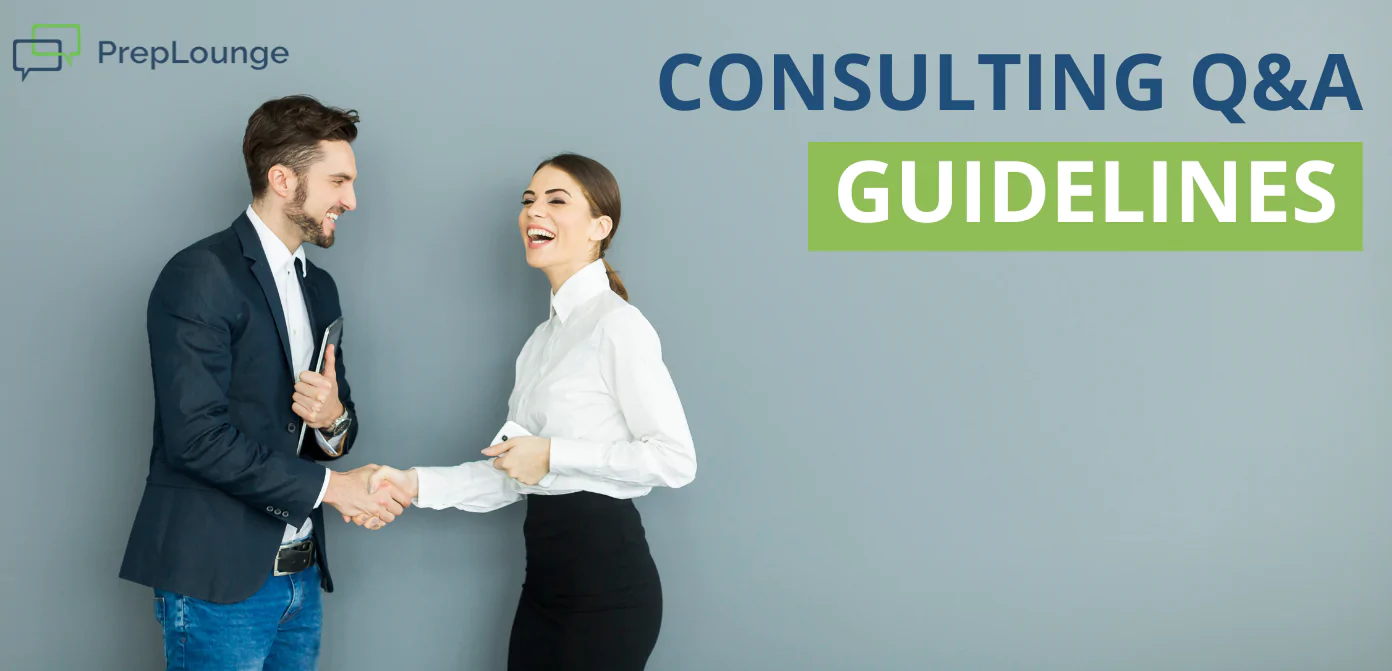 Consulting Q&A – Guidelines & FAQs
Welcome to the Consulting Q&A – the heart of our PrepLounge community!
Here you can ask any questions related to your career in management consulting and benefit from our experts' many years of consulting experience. Have fun browsing and don't forget to upvote the best answers provided by our experts!
Do's: What kind of questions can I ask on the Consulting Q&A?
Please search the Q&As before asking a question and check if your question has been asked before. If the answers given don't satisfy your needs, feel free to submit a follow-up question or open up a new thread. In general, you can ask and share anything that you struggle with on your path to becoming a management consultant. For example:
You are considering a career in consulting? Ask for insights and find out if the job is right for you!
You are applying to consulting firms? Share a story of your last interview or ask about the interview process at a specific firm!
You are prepping for cases? Get some guidance and support during your case preparation!
You have landed your job offer? Learn how you can do well on the job to get your next promotion!
You want to exit consulting? Find your next step by exchanging experiences with our community!
There are almost no limits – other candidates and our coaches are here to help you!
Don'ts: What shouldn't I post on the Consulting Q&A?
To ensure the quality of our Consulting Q&A, we kindly ask you to refrain from posting the following types of questions or answers:
Please do not write posts seeking case partners. Instead, use our Candidate Listing to find a suitable partner to practice with.
Please do not ask or offer to share any type of purchased case prep material (whether it is PrepLounge's or another company's product). Ask yourself: Would you like it if someone did this to your own material?
Please do not spam our Q&As with advertising or non-consulting-related content.
And of course: Refrain from personal attacks and abusive posts! It should go without saying that you are respectful of others in the community.
We hate to censor the Q&A, but we are forced to delete content that violates these guidelines.
What are upvotes and why are they important?
Our goal is to make it as easy and fast as possible for you to find the best answer to your question. You are the candidate with a question and only you can tell which answer is most helpful for you. Whenever you read a Q&A, please always reward the person who has taken the time to write the most helpful answer by giving them your upvote. If you have follow-up questions, you can discuss them in the comment section or open a new Consulting Q&A.
How many XPs do I get when taking part in the Consulting Q&A?
Besides benefiting from the shared knowledge and experience of our users and experts, you can also collect PrepLounge XPs for your leaderboard by actively taking part in the Consulting Q&A. With no other activity on PrepLounge, you can gain more points than by contributing to the Consulting Q&A!
+     2 XP – You upvoted an answer
+     5 XP – Your answer got upvoted
+    10 XP – You posed a question
+    20 XP – You added an answer
+    10 XP – Your question has 100 views
+    25 XP – Your question has 250 views
+   100 XP – Your question has 1,000 views
+   250 XP – Your question has 10,000 views
What does it mean when a question has been merged?
Over the last few years, thousands of questions have been asked on our Q&A. With increasing activity, it couldn't be avoided that the same questions were asked repeatedly. We will now start to merge similar questions in order for you to find the best answers in just one Consulting Q&A. This means that your question might be merged if it has been asked already. You can still find all of your questions under the tab Your questions".
(Answers of experts who have answered multiple questions that have been merged, will be merged, as well. They can manually choose their main answer and edit it, as well.)