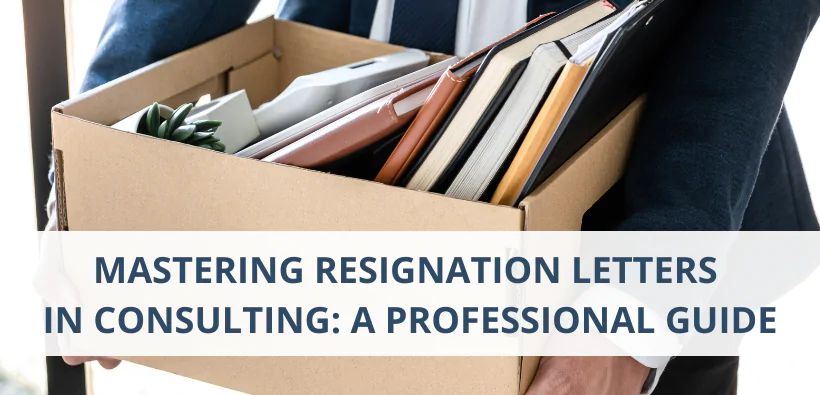 Mastering Resignation Letters in Consulting: A Professional Guide
Writing a resignation letter is something that almost every employee has to do at some point, and is therefore an important step in their career development. In the consulting industry, where professionalism and good communication are of great importance, it is therefore even more crucial to write a correct and respectful resignation letter. In this article, we'll give you a detailed guide on how to write such a letter to appropriately communicate your departure from a consulting firm.
In the following sections, we will dive into the art of the resignation letter together. From choosing the right words to the structure that gives this important step a clear form - we accompany you on this way. Whether you're seeking new opportunities, looking to grow professionally, or facing a change, a well-crafted resignation can pave the way for your next step. Let's explore together how you can master this important moment in your professional journey with confidence and elegance.
Before you start writing, take time to be clear about your reasons for leaving. Consider what aspects of your current position are unsatisfactory and how you would like to advance your career. Think about what you want your new job to look like, what your responsibilities there would be, and also what might be a disqualifying factor for you not taking the job.
Choose the timing of your resignation carefully. It is advisable to discuss this in a personal meeting with your supervisor before submitting your resignation letter. Pay attention to the contractual notice periods and try to offer the company a reasonable transition period. In the consulting industry, where handoffs and seamless transitions are important, it is helpful to offer to be supportive during the transition period. You could suggest completing projects, creating documentation, or ensuring a smooth handoff to your successor to ensure ongoing tasks can be taken over without issue. In some cases, however, the companies have specified a notice period in which you must continue to work anyway. In consulting, as in other industries, this is usually 3–6 months.
Make sure that the resignation letter has a professional layout that is easy to read. Use a professional font and formatting. Before sending the letter, it is crucial to check it carefully for spelling errors, grammar problems and stylistic inconsistencies.
A professional resignation letter should include the following elements:
Here you explain your decision to leave the company and give reasons for your resignation. It is important to provide understandable reasons for your decision. This could include aspects such as professional development, changes in your personal life or a new career opportunity. Stay as factual as possible and avoid negative comments about the company or colleagues. Focus on how the new challenge better fits your career goals.
Also, keep this section short and factual. For example, you could write:
If your resignation letter contains sensitive information, such as client projects or company secrets, you can emphasize the need to maintain confidentiality during the transition period. This shows your sense of responsibility and professionalism to your current employer.
The penultimate paragraph of your resignation letter is also important. Show appreciation for the time you spent at the company. Emphasize the positive aspects of your experience, such as the opportunity to work on challenging projects, learn from knowledgeable colleagues, or your contribution to achieving company goals. This shows that you are respectful of your previous employer and that you are acting professionally despite your resignation. Thank your supervisor for the opportunity and the experience you were able to gain. You could also express your hope that the company will continue to be successful, and perhaps even mention that you are not averse to working with them in the future.
End the letter with a friendly final formula, such as "Sincerely," followed by your full name and signature.
After you have drafted and submitted the resignation letter, it is recommended that you speak personally with your supervisor about your decision. This shows respect and allows you to address any questions or concerns directly. Such a conversation can also serve to maintain open communication and avoid potential misunderstandings.
If you are in a situation where you did not part on good terms with your employer and still need to draft a resignation letter, it is especially important to maintain a professional and respectful tone. 
This resignation letter will focus on professionalism and respect, even if the relationship with the employer was not ideal. It is important to remain calm and matter of fact without making negative or confrontational statements. Emphasize your willingness to work together during the transition period, while still showing gratitude for the positive aspects of your time with the company.
Writing a resignation letter in the consulting industry requires care and professionalism. A well-written letter shows respect for your current company as well as your employer and makes the transition easier for everyone involved. Remember that this is an important stage in your career. Accordingly, invest time and effort in writing your resignation letter calmly and communicating your decision appropriately.
But note that this is only a general sample. You should, of course, tailor your resignation letter to your individual needs and specific company culture. In addition, we recommend that you consult with a trusted source or expert before sending the resignation letter to ensure that all important aspects have been considered.