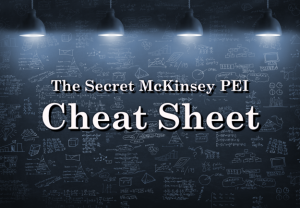 The Secret McKinsey PEI Cheat Sheet by Robert
Learn how to correctly prepare and structure your McKinsey PEI
Impress your McKinsey interviewer with a perfect PEI
Save tons of time in your PEI prep
Is this product the right choice for you?
Even many top-notch candidates don't receive a prestigious McKinsey offers. They fail to jump-start their career in an intellectually challenging environment, miss out on the once-in-a-lifetime opportunity and leave a huge amount of money on the table.
To succeed in your McKinsey PEI, this ebook contains everything you need to know to choose the best examples for your own PEI, perfectly structure them and focus on the critical aspects within your examples.
About The Secret McKinsey PEI Cheat Sheet by Robert
If you are serious in your McKinsey interview prep and really want to get inside the world's most prestigious top management consulting firm with top-notch C-level clients, intellectually inspiring environment and challenges, and all that fancy lifestyle like business class flights, 5-star hotels etc., this is exactly what you need.
And: It really is a super-tiny minimal investment into your future career, compared to a 75-200k per year salary job offer. Not even taking into consideration all the intangible value of having McKinsey on your CV as a door opener for many other future opportunities. So better make sure not to miss out on that!
Everything you need to know for your successful McKinsey PEI and gaining your prestigious McKinsey job offer is now available at your fingertips.
You will know precisely how to impress your McKinsey interviewers to secure your 75-200k dream job offer.
Relax your mind and demonstrate confidence via all channels since you know exactly what is awaiting you during your PEI and how to answer the questions.
Save tons of time for your PEI prep by heading into the right direction from the outset and use your available time to further improve case performance instead.
Differentiate yourself from other candidates already early in your interviews before the case is even starting and create a positive spill-over effect of your PEI performance.
Once you understand the secrets of the PEI, it is the easiest and most predictable part of the whole interview process, and you don't want to miss out on that.
About the Author
McKinsey offers w/o final round interviews - 100% risk-free coaching - 10+ years MBB coaching experience - Multiple book author
McKinsey & Company, Consulting Case Interviews, Solutions Factory Consulting GmbH, Mayr-Melnhof Group

English, German

Austria
Hi, my name is Robert and I wanted to say hello and welcome you to your McKinsey PEI prep – it's great to see you preparing for the McKinsey PEI at all (you wouldn't believe how many candidates are going to McKinsey interviews without a solid PEI prep – needless to say, a surefire way to unnecessarily lose your McKinsey offer!).
As we haven't had a chance, yet, to get to know each other in one of my high-impact interview coachings, I just felt it's good to give you a brief idea about my background as well. I am a multiple book author on consulting interview prep, a high-impact case interview & PEI coach having secured McKinsey offers for candidates even without having them go through final round interviews [yes, they only needed to sign the contract with a partner, without any more interviews by them], most viewed writer on 'case interviews' on Quora.com with more than 100.000 views on my answers, PrepLounge Expert with >95% recommendation rate and some more things like that. I neither intend to brag with all that, nor to bore you to death – just want to emphasize that this is serious stuff which works 100%!
The Secret McKinsey PEI Cheat Sheet by Robert
USD 9