EDIT: We have now opened a new thread for the second step of the #combatcovid challenge and find solutions for the problems arising from this global health crisis.
Dear PrepLounge community, dear PrepLounge experts,
First of all, we hope that you are well and healthy during this global health crisis the world is experiencing right now.
On PrepLounge, we and most of our community are no doctors, nurses or cashiers who must risk their health for each and every one of us every day. Most of us are management consultants now in their home offices or university students doing online courses. All we can contribute is by staying at home and preventing the virus to spread any further.
Or is there more we can do? We are a global and digital community of thousands of bright and smart people! Why not take the additional time we have to put our brainpower together and try to create some value during this crisis?
The coronavirus has caused and will cause many problems and issues in so many areas of our lives, economies, businesses, politics, health care systems etc. What are they and how can we solve them? #combatcovid
In a three-step approach, we want to answer these questions together as a community. Today we will start with:
Step 1: Let's identify the specific problems and issues this crisis may cause. Can we make a comprehensive MECE list of them?
[Step 2: Let's find solutions to those problems!]
Experts and candidates, let us know your suggestions by Friday, March 27th! Any contribution is valuable!
As a global community, we know we have access to so many parts of the world and also countries in which the virus may have not yet spread. Please act early and let's all keep in mind the necessary prevention measures against COVID-19: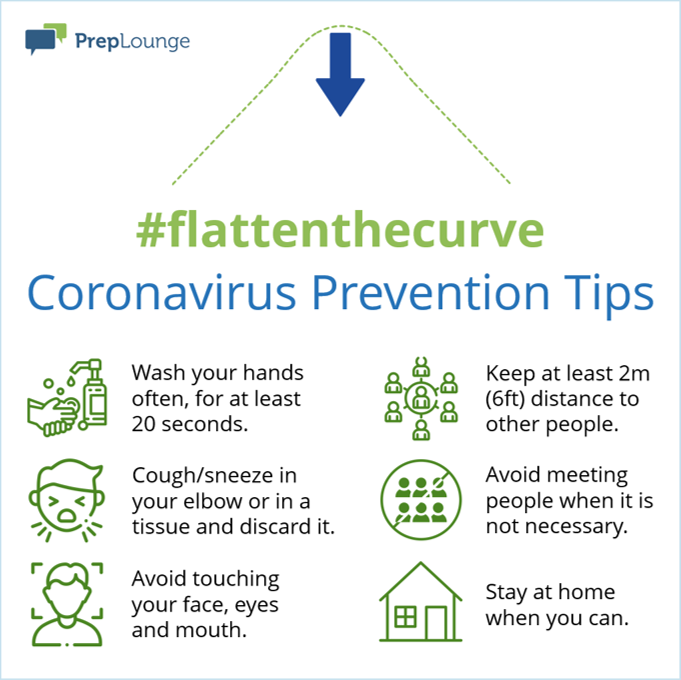 Until then, all the best and stay healthy!
Christine
PrepLounge Community Management