How to get top performer award in MBB? Is there any specific criteria?
Overview of answers
Upvotes

Date ascending

Date descending
Best answer
Hello!
There is no such thing as a top performer award.
However, the intuition is right, there is a different "ranking" of your performance that is discussed in a comitee every 6 months.
Dimensions taken into consideration:
Problem solving skills
Anlytical skills
Client management skills
etc.
I leave you a graph that comes from the Integrated FIT guide for MBB (https://www.preplounge.com/en/shop/tests-2/integrated-fit-guide-for-mbb-34). It provides an end-to-end preparation for all three MBB interviews, tackling each firms particularities and combining key concepts review and a hands-on methodology. Following the book, the candidate will prepare his/her stories by practicing with over 50 real questions and leveraging special frameworks and worksheets that guide step-by-step, developed by the author and her experience as a Master in Management professor and coach. Finally, as further guidance, the guide encompasses over 20 examples from real candidates.
Feel free to PM me for disccount codes for the Integrated FIT Guide, since we still have some left from the launch!
Hope it helps!
Cheers,
Clara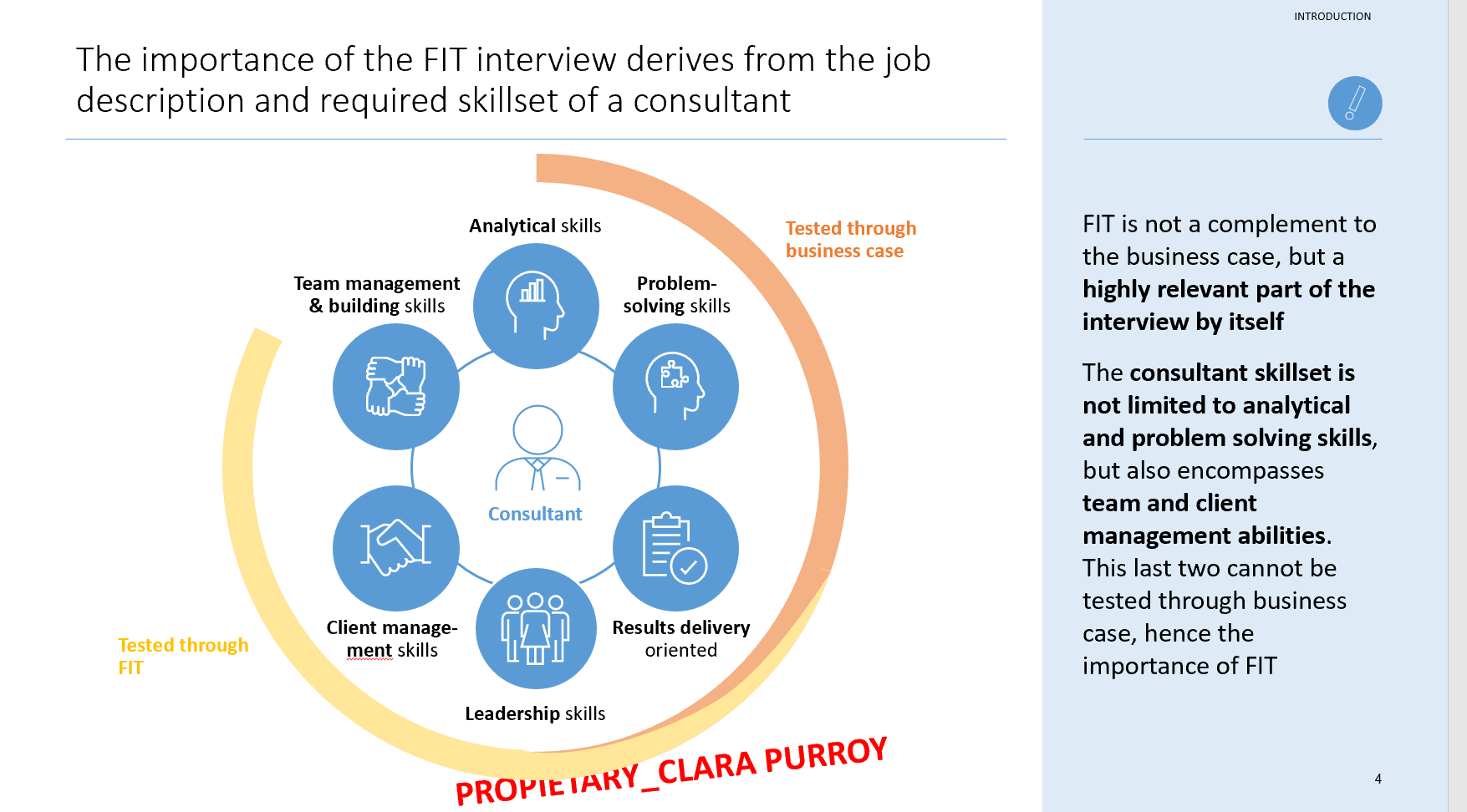 First: Read the 25 tips in my consulting handbook here: https://www.spencertom.com/2018/01/14/consulting-survival-guide/
--------------------------------------------------------------------------------------
Second: In terms of things you can learn/do to prepare beforehand:
1) Daily Reading
The Economist, The Financial Times, BCG/Mskinsey Insights
2) Industry deep-dives
Learn, in-depth, how the industries/companies your office advises, work. (PM me for an industry overview template)
3) Analytics tools
4) Excel
5) Powerpoint
Best practices/standards
Different layouts
Quickly editing/updating slides
Thinking in PowerPoint
6) Presentation skills / sharp communication
There are some online/virtual classes for this
--------------------------------------------------------------------------------------
Third: In terms of doing well in your role when you're there:
1) Understand the context/prompt (what role are you in, what company, who's watching, etc.)
2) Understand the objective (what, specifically, is expected from you...both day to day, and in your overall career progression)
3) Quickly process information, and focus on what's important - Take a lot of information and the unknown, find the most logical path, and focus on that.
4) Be comfortable with the unknown, and learn to brainstorm - think/speak like an expert without being one
In summary, there will always be a flood of information, expectations, competition etc. and not enough time. Find out which ones matter when. (i.e. be visibile and focus efforts on the things that people care about)
Earn Respect: https://www.preplounge.com/en/consulting-forum/as-a-new-joiner-how-to-earn-seniors-respect-instead-of-being-too-obedient-7006
Navigate Effectively through politics: https://www.preplounge.com/en/consulting-forum/how-to-navigate-through-office-politics-as-a-new-joiner-7016
--------------------------------------------------------------------------------------
Fourth: Here are some great prior Q&As for you!
https://www.preplounge.com/en/consulting-forum/what-makes-a-good-consultant-how-to-get-a-good-review-6790
https://www.preplounge.com/en/consulting-forum/how-hard-is-it-to-excel-in-top-consulting-firms-6762
https://www.preplounge.com/en/consulting-forum/how-to-become-an-engagement-manager-and-partner-quickly-6722
https://www.preplounge.com/en/consulting-forum/need-to-learn-skills-in-the-ample-free-time-before-starting-at-an-mbb-what-should-i-do-6774
For each level there are a specific criteria that you must met and the result will determine where are you in the performance rating. The criteria can be different for different firms but in general it goes along the lines of:
Problem solving / Structured thinking
Communication written and verbal
Teamwork and collaboration
Role model and company value
Item no. 1 is usually has the largest weight and overriding the other item. i.e. if you fail in item no. 1 then eventhough you are excellent in other items it will not matter.
Hope this helps :)
There is nothing like a top performer award in MBB
In MBB every 6 months evaluation cycle happened when they put consultants according to their performances. They will be put on the range - below expectations, at the expectations, above expectations, and a way above expectations. And it's not one person who will be above expectations, there will be multiple.

So, it's not about being top one or smth, but if you are talking about excellence it's basically a way above expectations.

There is no single answer, but depending on your level and functions you are getting into.
But want to be among the top performers at MBB, I highly encourage you to take a program that is specifically referred to this and to make sure that you will start well with MBB and always be a top performer.

Do have any further questions on this?
Feel free to contact me in PM
GB
HI,
I will follow a generic approach that would apply to any consulting firm. It is a highly competitive environment within a consulting firm because the peer group is a highly intellectual bunch. So to shine in that lot takes a lot of hard as well as smart work.
Always remember that you need to do more that what is expected and better that your peer group. This is how you grow faster.
1. Project Delivery - Always ensure that your do an excellent job on the project. Put in that extra effort to ensure that your project deliverables exceed expectations. That means you need to have those skills to do that. So equip yourself with those skills through lot of practice and knowledge through lot of reading and analyzing. ( I always volunteered to take more than 1 project. This helped me to have the highest metrics in terms of chargeability.)
2. Client Feedback - Nothing can be as strong as a good client feedback. But do it in a genuine way and not my unnecessarily soliciting it from your client.
3. Assist in business development, practice development - Be involved in all these activities since it helps you stay connected and at same time you are aware of whats happening around you in the practice.
4. Networking - Very important to be networked well.
My story - Joined Accenture Strategy from a non-target B-school, to be honest a non-tier B_school. I worked hard by taking up more projects than my peers, working on lot of proposal design, practice development, helping in developing service offerings, recruitment etc. I became a practice lead in 3 years, replaced the person who was the existing practice lead. He came from one of the top 5 b-schools in India and had double my experience in years.
End of the day what differentiated me from others was my passion for consulting and strong work ethics. Trust me, very few have it. At the same time, meritocracy is not eveything. Being in the grapevine matters a lot too. So its for the individual to figure out as to how he/she navigates in this dynamic environment and creates a space for self.
Along with perks of being a top performer comes the negative side as well. You will develop lot of enemies within peer group as well as across hierarchies. I had situations where Lead Partners blocked my promotion even though I was rated No 1 in the peer group. This is just the tip of the iceberg. Rest you figure out once you start working in these firms. :)
(edited)
McKinsey | Awarded professor at Master in Management @ IE | MBA at MIT |+180 students coached | Integrated FIT Guide aut