Problem Definition
A leading online real estate marketplace in Germany – your-new-home.com – is struggling with stagnating sales after many years of high growth rates. In a preliminary project with Parthenon, the market environment has already been examined in detail – competitors, new entrants, customer needs, etc.
As a result, you are asked to identify growth areas and to quantify the potential sales uplift for the management.
---
Comments
Good candidates structure the case in 3 phases.
The goal of phase 1 is to understand the business model of online marketplaces. In addition to the core product "placing offers and connecting supply and demand", advertising revenue (e.g. through banners on the website) is a relevant revenue driver. These advertising revenues is what the management seeks to focus on in the case (the core product has already been screened and shows no further potential due to fierce competition in pricing).
In phase 2, the candidate should first calculate current advertising revenues and subsequently quantify the additional revenue potential of the growth options he or she proposed.
In phase 3, the interviewee should present his measures to increase revenues for online advertising (incl. corresponding sales uplift) to the management.
---
---
Detailed Solution
Paragraphs highlighted in green indicate diagrams or tables that can be shared in the "Case exhibits" section.
Paragraphs highlighted in blue can be verbally communicated to the interviewee.
Paragraphs highlighted in orange indicate hints for you how to guide the interviewee through the case.
The candidate could use the following structure:

1. Background / Business Model
Please describe the business model / revenue streams of online marketplaces such as your-new-home.com?

Share diagram 2 to illustrate the revenue streams.
The interviewee should understand here that the core product of online marketplaces is connecting demand and supply and thus generating fee revenues. In addition, he or she should also find out that almost all online business models generate revenues with online advertising.
The focus of the management in this project is advertising sales – but how to quantify these?
Share diagram 3 to illustrate ad revenue drivers.
In general, sales are a multiplication of quantity and price.
The interviewee could think about various price concepts – e.g. cost per click (CPC – as soon as an end customer clicks on the advertisement) or cost per View / Mille (CPM – as soon as an end customer just views the advertisement). The latter will be considered as relevant price component in this case.
Regarding the quantity, the applicant should talk about three factors:
1) the number of page views,
2) the average number of ad slots per page that the end customer sees, and
3) the fill rate of the offered advertising slots (not all slots are sold continuously)
2. Calculations / Solution
How much sales has your-new-home.com generated in 2017 with online advertising?
On request, the following numbers can be communicated verbally (simplified, therefore, to calculate average)
Quantity page views in 2017: 900 mn
Quantity ad slots per page: 3
Fill rate: 33 %
CPM cost per mille : € 9

Very good applicants differentiate between expensive premium inventory -10 % of ad impressions at € 15 - and remaining inventory - 90 % of the AIs at € 1 CPM.
How to increase sales?
(in bold calculated options in this case)
Quantity: Increased Marketing spend (SEO / SEA) to push views
Quantity: More Ad Slots per page (e.g. 4 instead of 3)
Price: Simply increasing CPM (difficult due to intense competition)
Price: Offering higher valued ad slots (e.g. with Videos slots or better Targeting)
Other pricing models: CPC instead of CPM
Out of the box: Mobile / App monetization, Key Accounts offerings, …
What is the revenue potential to be realized?
Option 1: More ad slots per page (4 instead of 3)

Option 2: Increased CPM through video slot (replacing 1 static slot)
On request share the CPM for video, which is € 20.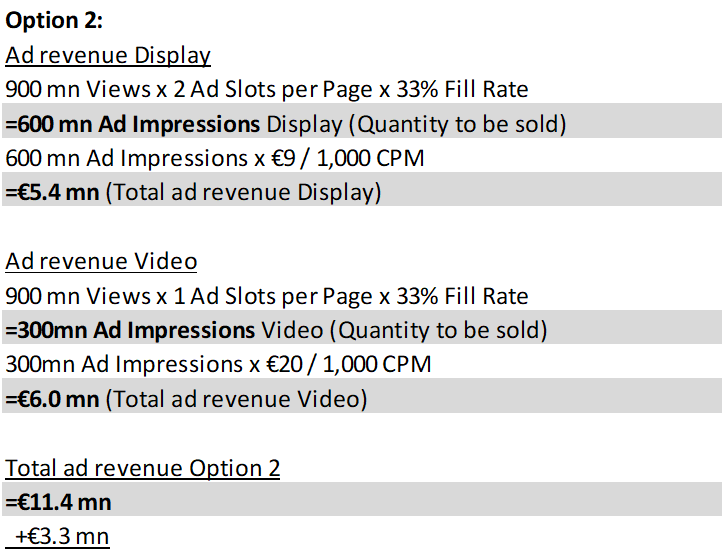 3. Plausibility / Recommendation
Both options result in a desired additional revenue of € 2.7 and € 3.3 million respectively
Theoretically, both options could be implemented in parallel, thus realizing even more revenue
Increasing the ad slots from 3 to 4 (Option 1), however, could disrupt the core product as end users / visitors are disturbed by the mass of advertisements and move to the competition

The exact effect of the respective options could be found out in an A / B test: In an identical period, a test group is shown 4 ad slots instead of 3. The comparison group will continue to be shown only 3 ad slots. As a result, it can be compared whether the visitors of the test group leave the pages faster, for example, or click on fewer pages – making our website less attractive

Regardless of the test, you would tend to recommend Option 2, as the financial effect is greater, video material from the end user / site visitor may even be considered more interesting, and no increase in ad slots is necessary