What is the best way to prepare well for McKinsey PEI? Thank you very much!
Overview of answers
Upvotes

Date ascending

Date descending
Best answer
Hey there,
I have written a detailed article on the PEI and will share some quotes from it below:
1. Learn about the PEI dimensions
Below are the three dimensions plus some ideas on what to include:
a. Entrepreneurial Drive
Set a goal for yourself and pursue it relentlessly against all odd
The focus here should be on overcoming obstacles, showing ambition and dedication as well as ingenuity
b. Personal Impact
Persuade a group or individual to adopt a certain idea or plan of yours
The focus should really be on the influencing tactics you used to reach your desired outcome
c. Inclusive leadership
Show that you can manage a diverse team, leading it to a successful outcome
The focus here should be on all traits that make a great leader (e.g., inclusiveness, mentor, mediator, go-to person, people person,...)
2. Select the right stories with the right content
When it comes to the selection of your McKinsey PEI stories, you need to think about three dimensions in the following order:
a. Fit with the actual dimension that is asked. The stories need to fit the criteria set out by McKinsey to match with Entrepreneurial Drive, Leadership, and Personal Impact. For content ideas see above.
b. Diversity of experience. Your stories should be from different walks of life, e.g., jobs or careers, universities, extracurriculars, etc. Don't take all stories from one experience.
c. Recency. In general, the more recent the better. Unless you interview for an experienced hire or more senior position, your stories should not date back more than 2-3 years.
Make sure that
you draft two stories each to always have a backup story in case the interviewer rejects the first story
you are aware that the interviewer might interrupt you a lot to ask detailed questions, which means your stories need to go very deep as you should be ready to answer very focused questions such as ''what did you say at that moment?'', ''How did he react'', etc.
create catchy headlines for each story that already convey the main message
you create content for each story to be able to talk freely for around 10 minutes
3. Learn how to communicate them most effectively
Communication is key in the interview. Speak like a consultant, follow a logical, top-down structure, and make sure to
focus on yourself and your own role all the time
keep the context brief and really focus on your own actions (context 2 minutes, your actions 8 minutes)
I have developed a framework specifically for the effective communication of McKinsey PEI, the SCORE framework. Reach out if you want to know more about it.
4. Shortcut get it right quickly: Book a session with a coach that knows these dimensions in and out to make sure that
a. they contain the right content
b. they are communicated in the most McKinsey-like way
c. you can anticipate and prepare for the detailed drill-down questions the interviewers will ask
No story I worked on with my candidates has ever been rejected. Reach out if you need help!
I have written a detailed insider perspective on the PEI that covers all aspects and will help you prepare strong stories here: https://www.preplounge.com/en/mckinsey-pei
Cheers,
Florian
(edited)
Hi there,
Craft your stories and PRACTICE with someone. This is truly the best way!
Now, how do you go about creating the stories?
Personal Stories
Step 1 - Categorize the main stories
There are 5-10 "themes" you need to prepare for. i.e. Leadership, teamwork, challenge, etc. (note: These all fit into the 3 McKinsey PEI themes) Figure out this list and make sure your stories cover this range (PM me and I can provide you with a template for this list)
Step 2 - Create FLEXIBLE stories that cover a range of categories
You need to create 4-6 stories that each cover a range of topics. They need to be powerful stories that can be adjusted and adapted based on the question asked.
One of my "core" or "killer" stories was usable for Initiative, Achievement, Leadership, Challenge, Change of direction, AND Persuasion.
Write down these stories along STAR or similar format...use bullet points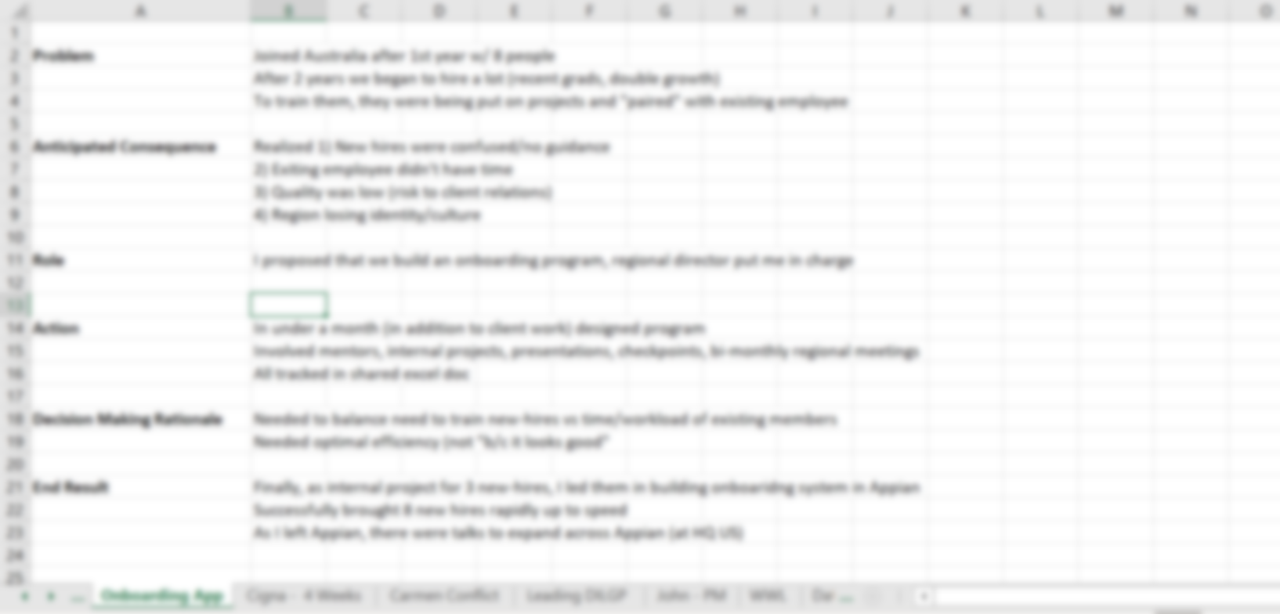 Step 3 - Organize these stories so you know which ones can be used for what and PRACTICE
Make sure you cover the whole gambit. Then, practice getting asked a question and thinking of which stories apply. I can assure you, no-one is coming up with full stories in a few seconds. Rather, they have practiced how to adapt an existing story to the question asked.

Hi there,
I would recommend the following:
Understand the difference between, leadership, impact and drive areas. You can find a link with their differences here: https://www.preplounge.com/en/consulting-forum/mckinsey-pei-difference-drive-and-personal-impact-918
Identify good stories for each area. Ideally you want to have at least two stories for each dimension.
Use a structure for your story. I would suggest to use the STARR model (Situation, Task, Action, Rational for Action, Results)
Identify for each story one sentence clarifying what the story is about and start with it. Think of it as the title of an article.
Practice live, collect feedback from people listening to you, reiterate until you get fluent and persuasive
Best,
Francesco
The approach I use with my clients is twofold:
1-Decide WHAT to say
++ Understand the questions typically asked
++ Select stories that answer the questions (and get at what they are really asking)
++ Figure out the details that matter and those that don't
2-Decide HOW to communicate it
++ What framework works best for you (STAR, PARADE, SCORE, etc)
++ Selling yourself by talking up your accomplishments without coming across as boastful
++ Preparing to go deeper to address the follow-up questions
The key to preparation is to make sure you've done part 1 first, and then do part 2. Don't jump too quickly to part 2, but don't forget about it either.
Hope this helps!
Allen
Hello!
If you want to deep dive on the topic, the "Integrated FIT guide for MBB" has been recently published in PrepLounge´s shop (https://www.preplounge.com/en/shop/tests-2/integrated-fit-guide-for-mbb-34)
It provides an end-to-end preparation for all three MBB interviews, tackling each firms particularities and combining key concepts review and a hands-on methodology. Following the book, the candidate will prepare his/her stories by practicing with over 50 real questions and leveraging special frameworks and worksheets that guide step-by-step, developed by the author and her experience as a Master in Management professor and coach. Finally, as further guidance, the guide encompasses over 20 examples from real candidates.
Furthermore, you can find 5 free cases in the PrepL case regarding FIT preparation:
Feel free to PM me for disccount codes for the Integrated FIT Guide, since we still have some left from the launch!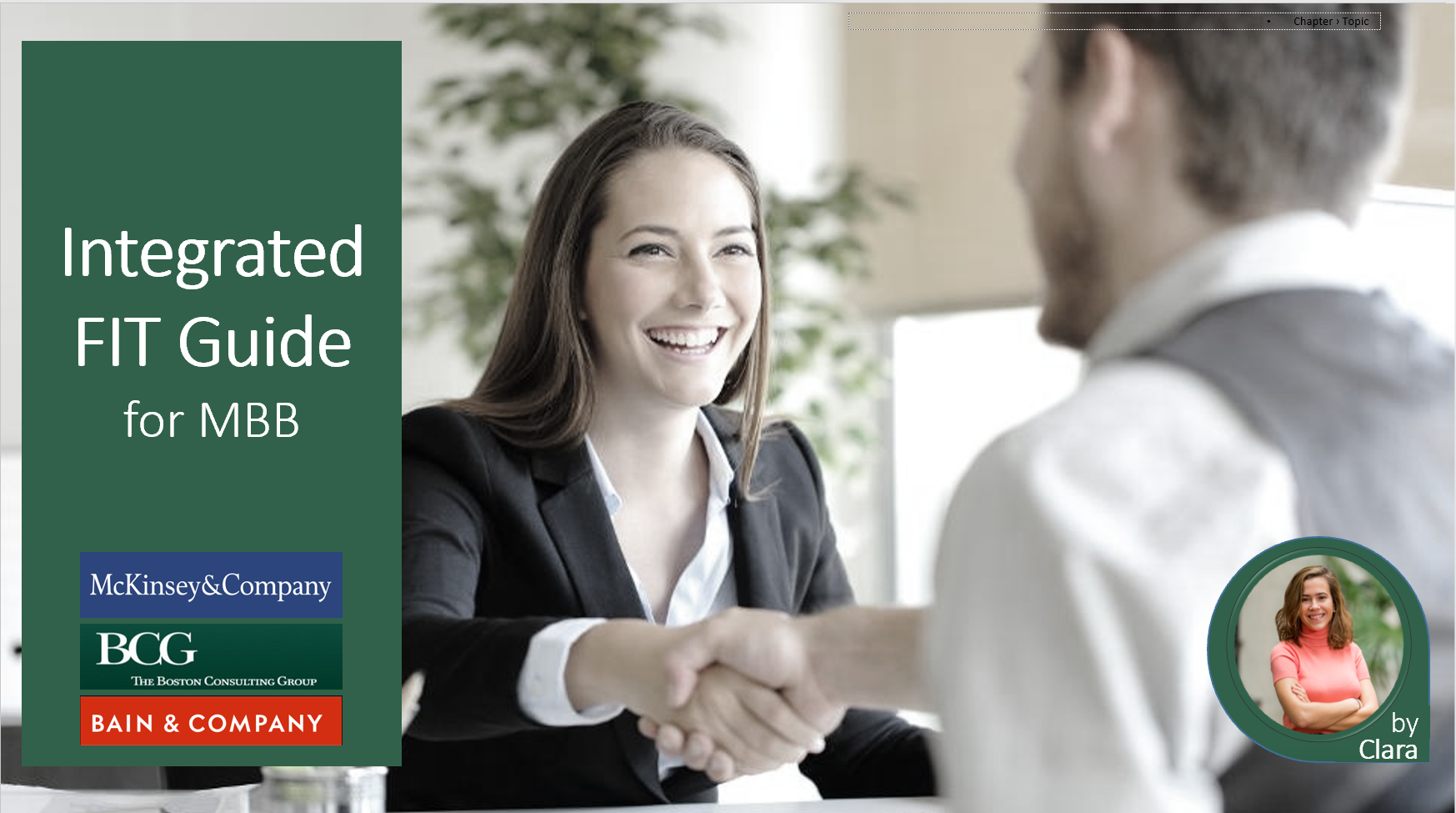 1. Read https://www.mckinsey.com/careers/interviewing thoroughly where McKinsey essentially tell you what they will ask you and what they are looking for in each dimension
2. Take a framework like the PARADE method to structure your story, highlight the key parts of the story that addresses what McKinsey is looking for in the specific dimension, and to reflect on the details of the story that your interviewer will ask about (e.g., key conversations, reason behind your decision, etc.)
3. Practice telling your story in an engaging way, both as a "speech" (for a disengaged interviewer) as well as a conversation (for a very engaged interviewer). Delivery is super important. A good story will go to waste if you can't tell it in an effective way
4. (Optional) book a session with a former McKinsey interviewer to get any feedback on both the story, structure and delivery. I personally think the ROI of a coaching session for PEI is extremely high as you will then be fully prepared for something you can actually be fully prepared for (vs. the case)
Good luck!
(edited)
To really be well prepared for McKinsey PEI, you need to master the following 4 steps :
Go through the 3 PEI story types and understand what exactly is being asked
All of your PEI stories will fall into one of 3 buckets
Entrepreneurial Drive - the focus here is on demonstrating where you have used your own drive to solve a challenging problem (not a problem someone asked you to solve)
Personal Impact - Focus here is on how you used your soft skills to influence someone else's decision (always someone more senior to you not someone junior)
Inclusive Leadership (Note this used to be Leadership before - do not make that mistake) - This is a new one. The emphasis here is on demonstrating inclusive leadership in a professional setting. Think about situations where someone has struggled because of who they are and how you helped them be heard etc. Do not talk about volunteering for a ause here, that is the most common mistake candidates make.
Once you know what is being asked - focus on what past experiences you can draw from
Prioritize experiences in the following order
Professional/Work related experiences

Volunteering experiences where you had a lot of responsibility

Experiences from extracurricular/leadership activities at college (if recent)

Experiences from extracurricular/leadership activities outside college
Do not rely on the following
Personal stories - avoid anything that has to do with personal achievements

Outdated experience

Helping family business outside of formal employment - if this is your only experience then its fine but typically you want to focus on other experiences

Most importantly do not fake it! Very easy to tell when something is not real
Try and select at least 2 experiences for each of the 3 PEI buckets
Now the focus is on creating the stories themselves. The following is critical
BE STRUCTURED - Do not assume you will be able to wing it during the interview with a few bullet points. Follow a systemic structure that works. I highly recommend using the Situation, Complication, Resolution framework. It is simple and also favored at McKinsey.

Use TOP-DOWN communication - read up on how to communicate using a top down framework. This will help you in staying focused and communicating clearly

Write down everything in detail - Once you write down everything in detail, you will be able to notice the issues and fix them quickly
After you have 5-6 stories
Practice practice practice - practice in front of a mirror, record yourself on video and definitely practice with others
Get feedback - we are all biased and like to do things a certain way. It is very important to get feedback from people that know what a good story sounds like. Ask people at the firm or coaches to give you feedback and incorporate it into what you do
All the best to you, feel free to reach out to me for more in-depth understanding of the points above
Udayan
#1 rated McKinsey Case and PEI Coach | 5 years at McKinsey | Mentorship Approach | Imbellus Expert