Some good final questions to ask to the interviewer for last round Mckinsey?
Overview of answers
Upvotes

Date ascending

Date descending
Best answer
Hi!
There is a whole lot of great questions you can ask. My best advice is to really think through what interests you most about the job, the firm, or the industry! If you have a particular interest (industry sector, nonprofit area, social engagement, etc.) you can ask if there are touch points/adjacent areas in the firm you could explore. Also, make sure to relate your interests and questions to your background and/or career/life objectives.
That being said, here are a couple of example questions – but by no means exhaustive:
"Can you tell me about your background, and in particular how you ended up as a [company name] consultant?" (if the interviewer has a rather exotic professional/educational background)
"I'd be interested to hear what your most challenging case has been thus far in your career?"
"What do you think are the biggest misperceptions that applicants have about consulting?"
"I'm really interested in [particular interest, such as public sector consulting or renewable energy]. I'd be interested to hear what you know about that area at [company name]"
"I've heard from various people who say your firm is [something good about the company] but also that [something bad about the company]. To what extent is this impression accurate?"
"If the interviewer has enough tenure: From your position, how do you think the economic cycles have affected the consulting business over the years?"
"What was your perspective on [company name] before you came in, and how was that changed in your time there?"
"If you could recommend 2 books that all prospective management consultants should read, what would those be?"
"When you think back to your university days, what would be the 2 or 3 things that you wish you'd learned that would have better prepared you for the job today?"
Cheers, Sidi
In general, I would not worry too much about the questions at the end of the interview. They will (almost) never be the deciding factor between getting an offer or not - the interviewer will have already made up their mind.
That being said, some thoughts on what to ask:
1) Ask questions about the interviewer/their experiences at the firm/in consulting. People love to talk abou themselves (much more than questions about the company they work for), and will also give you a chance to connect on a more personal level).
2) Questions about specific practices/details that are not easily found online (e.g. if you are interested in the Financial Sectors practice, ask what the company/office in doing in this space.
DO NOT ask:
1) Generic questions that can be easily found online: this will make you seem lazy/uninterested in the company. Any question you consider asking (in advance), do some googling and only ask it if you can't find the answer easily
2)Questions asking to compare the firm to any competitors
Cheers!
Hi,
The main objective is to have a good conversation and highlight your intellectual capacity and curiosity. Thus:
It is ok to ask:
Questions that cause positive emotions and highlight consulting pros (e.g. Mck people, making friends, building the network, relationships with clients)
Questions on the topics you are excited about (e.g. transformation of consulting in the age of data science and AI, questions about specific industries / functions (check McKinsey website for related articles), recent state of the economy in your country and implications on the projects and industries, Firm expansion and growth)
Non-business questions (e.g. team retreats, firm traditions and celebrations, etc)
Asking for advice (skills / behaviors / tools that help to develop as a consultant / work with clients, etc)
It's not ok to ask:
Questions that can cause negative emotions (e.g. work hours)
Information you should learn before the interview (e.g. typical career path)
Questions that may show that you are unfamiliar with consulting work (Are you specialized in strategy or operations?)
Be prepared and good luck!
Hello!
Congrats for moving to final round!
As it has been outlined, its very similar, but :
Cases you can expect are more "free riding" - less organized than the ones your found in the 1st round or most prep pages
Stronger emphasis in the FIT part, as outlined before by other coaches.
If you are interested in deepening your knowledge and preparation on the FIT part, the "Integrated FIT guide for MBB" has been recently published in PrepLounge´s shop (https://www.preplounge.com/en/shop/tests-2/integrated-fit-guide-for-mbb-34)
It provides an end-to-end preparation for all three MBB interviews, tackling each firms particularities and combining key concepts review and a hands-on methodology. Following the book, the candidate will prepare his/her stories by practicing with over 50 real questions and leveraging special frameworks and worksheets that guide step-by-step, developed by the author and her experience as a Master in Management professor and coach. Finally, as further guidance, the guide encompasses over 20 examples from real candidates.
Furthermore, you can find 3 free cases in the PrepL case regarding FIT preparation:
- Intro and CV questions > https://www.preplounge.com/en/management-consulting-cases/fit-interview/intermediate/introduction-and-cv-questions-fit-interview-preparation-200
- Motivational questions > https://www.preplounge.com/en/management-consulting-cases/fit-interview/intermediate/motivational-questions-fit-interview-preparation-201
- Behavioural questions (ENTREPRENEURIAL DRIVE) >https://www.preplounge.com/en/management-consulting-cases/fit-interview/intermediate/behavioral-questions-entrepreneurial-drive-fit-interview-preparation-211
Feel free to PM me for disccount codes for the Integrated FIT Guide, since we still have some left from the launch!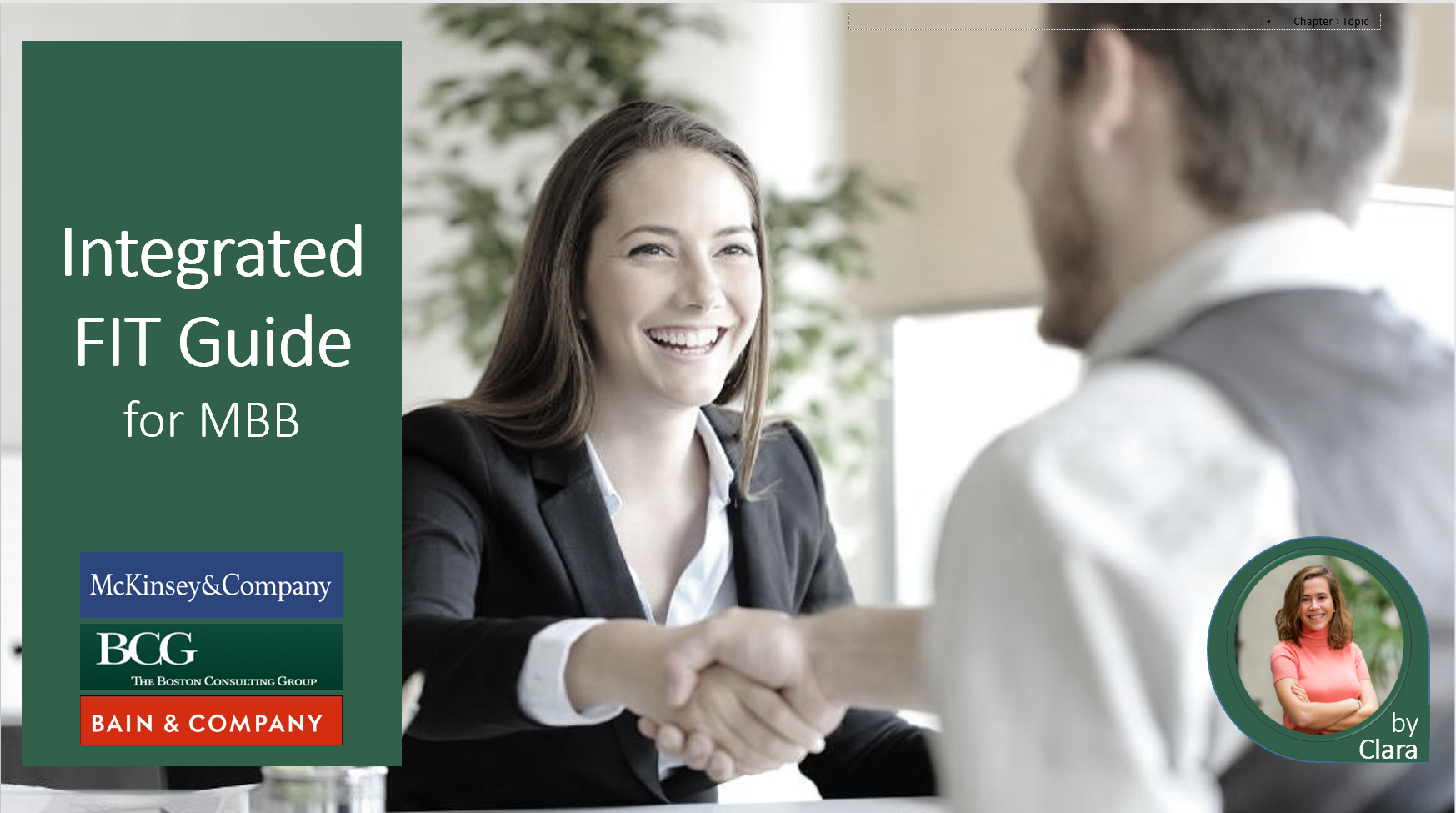 McKinsey Senior EM & BCG Consultant | Interviewer at McK & BCG for 7 years | Coached 300+ candidates secure MBB offers