Is there any material available for the BCG test? Or a sample test? The profile is for a KCM intern.
Overview of answers
Upvotes

Date ascending

Date descending
Best answer
Hi,
I have uploaded both test samples here (Online test is about airlines). I've also added BCG written case sample (Next round) and Bain written case:
https://www.dropbox.com/sh/zor4m49eyx5qxal/AABeUN6mtiGkWhEklRjszX2Oa?dl=0
(PM me for a password)
As for particular recommendations for online test:
Try to find as many people in your country as you can who have done the test. Ask them for the topic, industry, and questions they remember. For example in one of the countries there was a test about airlines and reading a couple of articles / company reports / wikipedia articles with industry terms could significantly improve performance
Try to practice tests with strict time-management. McKinsey PST from the official web site and all mck and bcg -like tests you can find online
Additional resources can be GMAT Integrated reasoning from the official guides and apps if you feel that you are not p[erforming well
As far as I remember calculator is allowed on BCG test. Make sure you know how to simplify calculations and use it fast
Best!
Hi there,

BCG has been rolling out a new BCG Online Case (also called the Chatbot Interview) since 2019. It is a 8-10 questions test structured in 2 parts:
8-10 questions to be taken in 25-30 minutes
1 video interview question at the end, where you have to provide a recommendation
The main differences compared to the previous version (BCG Potential Test) are the following:
8-10 questions instead of 23
25-30 min instead of 45
Calculators allowed
Presence of open questions
Video sum up at the end
The main challenges based on the candidates I helped are the following:
Time. Questions are not particularly difficult, however you will feel time constraints also due to the fact you don't know how difficult the next questions could be - thus how much time they may require
Chatbot interaction. Unlike a test like the McK PST, you cannot proceed "at your own pace". You will have to follow the evolution of the test as questions are revealed one by one
Math. Candidates often find the math quite challenging given the time constraint
If you want to prepare in the best possible way, I created a guide exactly for that.
This guide will:
Show you the perfect strategy to answer the 5 types of questions in the Chatbot
Offer you a clear strategy to optimally structure the One-Way Video Assessment
Provide insider information from previous applicants who succeeded the Online Case
Structure a clear preparation plan based on 6 FREE PSTs and Potential Tests
Replicate the same experience of the interview thanks to 2 FREE Complete Chatbot Cases (Casey-style)
And much more ;)
You can download the guide instantly here:
https://www.preplounge.com/en/shop/tests-2/bcg-online-case-secrets-69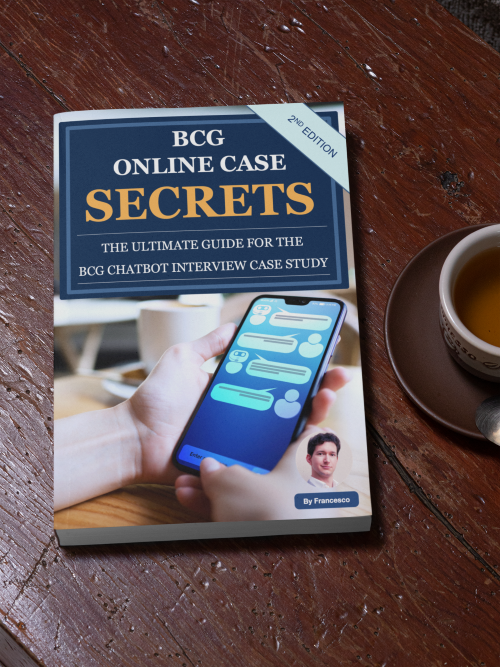 As an extra bonus, I am currently offering the BCG Potential Test #1 (worth $39) and Graph Analysis Cheat Sheet (worth $29) for free with the guide. That may change in the future so hurry up if you are interested ;)
If you need additional support or have any questions on the guide please feel free to PM me, I will reply within 12 hours. 
Best, 
Francesco
Dear A!
So, I would recommend you to:
• Practice GMAT for BCG
1) Keeping your math trained with GMAT exercises is always a good idea. Free resourced can be found online, for example:
http://www.mba.com/global/the-gmat-exam/prepare-for-the-gmat-exam/test-prep-materials/free-gmat-prep-software.aspx
2) Also, tests that usually are for investment banks (with graphs analysis) are useful. Free resourced can be found online, for example:
https://www.tptests.com/Candidate/practice/Instructions
3) Official BGC Potential test examples:
https://www.bcg.com/careers/path/consulting/practice-interview-cases.aspx
Hello!
I would practice leveraging GMAT.
GMAT unfortunately only gets better with practicing. Good news is that there are many ways of doing so!
There are free exams in the internet that you can use for practice (the one of LBS MBA page, Verits prep, as well as some free trials for courses such as the one of The Economist (https://gmat.economist.com/)
Hope it helps!
Cheers,
Clara