Problemdefinition
Der in Deutschland führende Online-Marktplatz für Immobilien – dein-neues-zuhause.de – kämpft nach vielen Jahren hoher Wachstumsraten mit stagnierenden Umsätzen. In einem Vorprojekt mit Parthenon wurde das Marktumfeld bereits detailliert beleuchtet – etablierte Wettbewerber, Neu-Einsteiger im Markt, Kundenwünsche etc.
In der Folge wurden Sie damit beauftragt, Wachstumsfelder zu identifizieren und das mögliche Umsatzpotenzial für die Geschäftsführung zu quantifizieren.
---
Kommentare
Ein guter Bewerber sollte diesen Case in 3 Phasen strukturieren.
Ziel der Phase 1 ist es, das Geschäftsmodell der Online-Marktplätze zu verstehen. Neben dem Kernprodukt der Anzeigen sind Werbeeinnahmen (z. B. durch Banner auf der Webseite) ein relevanter Umsatztreiber. Diese Werbeeinnahmen sind es auch, auf die sich die Geschäftsführung in dem Case konzentrieren möchte – das Kernprodukt der Anzeigen wurde schon durchleuchtet und birgt kein weiteres Potenzial aufgrund des starken Wettbewerbs.
In Phase 2 sollte der Bewerber zunächst die aktuellen Werbeeinnahmen errechnen, um dann das zusätzliche Umsatzpotenzial der von ihm vorgeschlagenen Wachstumsoptionen quantifizieren zu können.
In Phase 3 sollte der Interviewte der Geschäftsführung einen Vorschlag unterbreiten, wie der Umsatz innerhalb der Online-Werbung gesteigert werden könnte und welches Umsatzpotenzial dadurch quantifiziert wurde. Welche Implikationen könnte dieser Vorschlag für das Kerngeschäft der Anzeigen haben?
---
---
Detaillierte Lösung
Grün hervorgehobene Paragraphen deuten auf Diagramme/Tabellen hin, die mit dem Interviewten geteilt werden können. Du findest sie unter "Case-Exhibits".
Blau hervorgehobene Passagen kennzeichnen Informationen, die dem Interviewten verbal mitgeteilt werden können.
Orange hervorgehobene Paragraphen kennzeichnen Hinweise, die Dir helfen, den Interviewten durch den Case zu führen.
Der Kandidat könnte nach folgendem Lösungsschema vorgehen:

1. Hintergrundverständnis / Geschäftsmodell
Wie generiert ein Unternehmen wie dein-neues-zuhause.de Umsatz?

Teile Diagramm 2 zur Illustration der Umsatztreiber.
Der Bewerber sollte hier verstehen, dass das Kernprodukt der Online-Marktplätze das Anzeigengeschäft ist. Zudem sollte er aber auch herausfinden, dass nahezu alle Online-Geschäftsmodelle – wie auch dieses – einen starken Umsatzbringer im Bereich Werbung hat.
Fokus der Geschäftsführung in diesem Projekt sind die Werbeumsätze – doch wie setzen sich diese zusammen?
Teile Diagramm 3 zur Illustration der Treiber der Werbeeinnahmen.
Generell setzt sich der Umsatz aus Menge & Preis zusammen.
Der Bewerber könnte über diverse Preis-Konzepte nachdenken – u. a. Cost per click (CPC – sobald ein Endkunde auf die Werbung klickt) oder Cost per View / Mille (CPM – sobald ein Endkunde die Werbung sieht). Letzteres betrachten wir in diesem Case und bildet die Preiskomponente.
Bezüglich der Menge sollte der Bewerber auf drei Faktoren zu sprechen kommen:
1) die Anzahl der Seitenbesucher ("Views"),
2) die durchschnittliche Anzahl der Werbe-Slots ("Ad Slots") pro Seite, die der Besucher sieht, und
3) die Auslastung ("Fill Rate") der angebotenen Werbe-Slots (nicht alle Slots sind durchgehend verkauft)
2. Berechnung und Lösung
Wie viel Umsatz hat dein-neues-zuhause.de im Jahre 2017 mit Werbung generiert?
Auf Nachfrage können folgende Zahlen verbal mitgeteilt werden (vereinfacht, daher mit Durchschnitt zu rechnen):
Anzahl Seitenaufrufe (Views) in 2017: 900 Mio.
Anzahl Werbe-Slots (Ad Slots) je Seite: 3
Fill Rate: 33%
TKP / Tausend-Kontakt-Preis: 9 €

Sehr gute Bewerber unterscheiden zwischen teurem Premium-Inventar -10% der Ad Impressions zu 15 € - und Restplatzinventar – 90% der AIs zu 1 €.
Wie könnte der Umsatz gesteigert werden?
(fett gedruckte = die beispielhaft berechneten Optionen)
Menge: Mehr Marketing (SEO / SEA), um Views zu erhöhen
Menge: Mehr Ad Slots pro Seite verkaufen (z. B. 4 statt 3)
Preis: Einfach Preise erhöhen (schwer umsetzbar, da starke Konkurrenz)
Preis: Dem Kunden Mehrwert bieten (z. B. durch Videos oder Targeting)
Andere Preismodelle: CPC statt CPM
Out of the box: Mobile / App besser monetarisieren, Key Accounts spezielle Angebote unterbreiten (z. B. Homepage als Fixpreis pro Tag), …
Welches Umsatzpotenzial könnte dadurch erreicht werden?
Beispiel 1: Mehr Ad Slots pro Seite verkaufen (4 statt 3)

Beispiel 2: Höherer Preis durch Einblendung von Werbevideos (1 statischer Ad Slot wird ersetzt)
Auf Nachfrage wird der TKP für ein Video mit 20€ gegeben.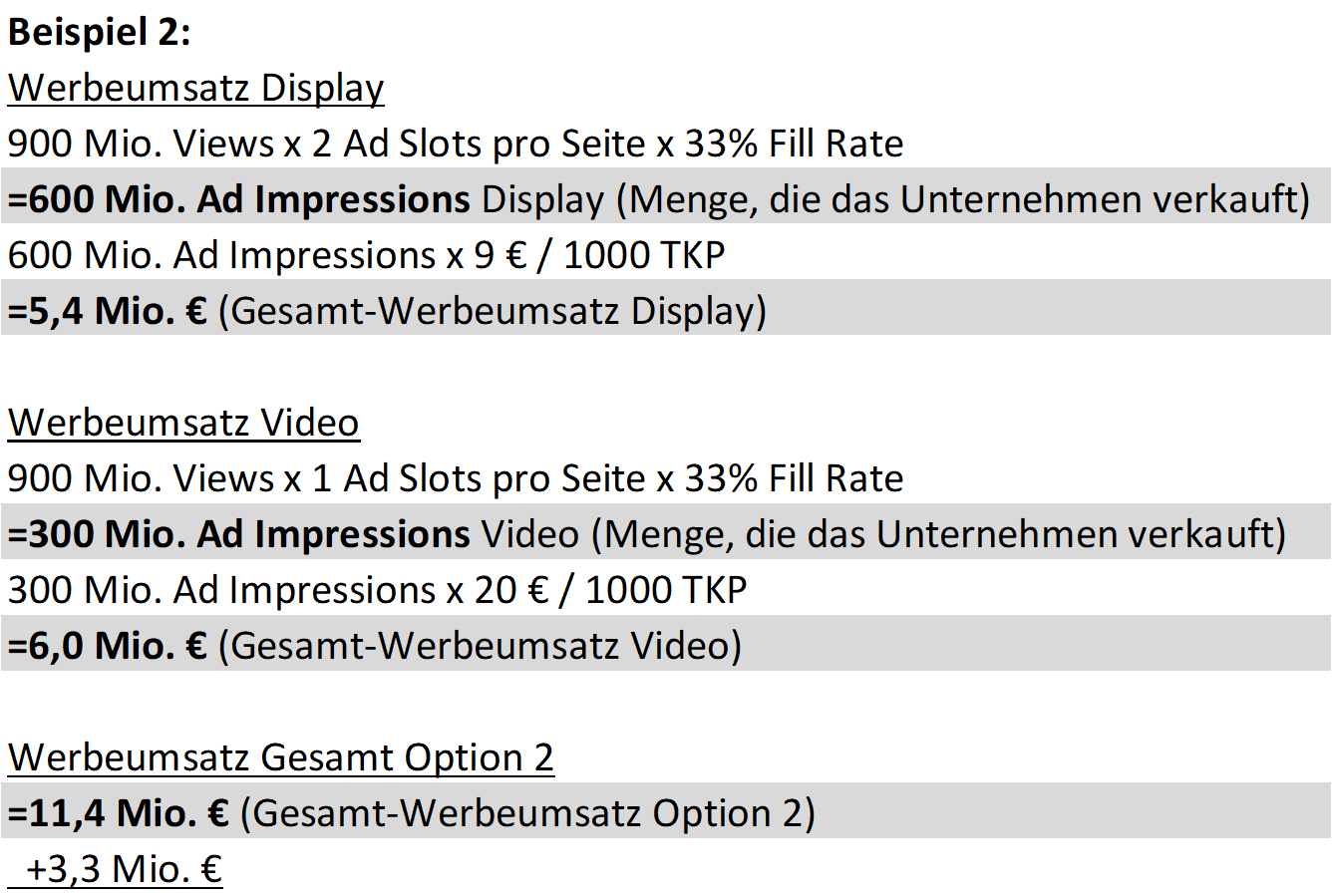 3. Plausibilität / Empfehlung
Beide Optionen bringen einen gewünschten Zusatzumsatz von 2,7 bzw. 3,3 Mio. €
Theoretisch könnten auch beide Optionen parallel umgesetzt werden
Das Erhöhen der Ad Slots von 3 auf 4 (Option 1) könnte jedoch das Kernprodukt stören, da die Endkunden / Besucher von der Masse an Werbung gestört werden und zur Konkurrenz abwandern.

Den genauen Effekt von den jeweiligen Optionen könnte man in einem A/B-Test herausfinden: In einem identischen Zeitraum werden einer Versuchsgruppe z. B. 4 Ad Slots gezeigt statt 3. Der Vergleichsgruppe werden weiterhin nur 3 Ad Slots gezeigt. In der Folge lässt sich vergleichen, ob die Besucher der Versuchsgruppe beispielsweise schneller die Seiten verlassen oder weniger Seiten anklicken – unsere Webseite also weniger attraktiv wirkt

Unabhängig von dem Test würde man zu Option 2 raten, da der finanzielle Effekt größer ist, Video-Material vom Endkunden / Seitenbesucher evtl. sogar als interessanter eingeschätzt wird und keine Erhöhung der Ad Slots notwendig ist